Blind Havoc's increasing audience creates community
In a generation consumed by social media, a vital part of growing up during the teenage years is the way one expresses themselves. Walking down the school hallway or scrolling through Instagram, it is evident that Generation Z has created its own sense of style. Recently, a brand on the uprise, Blind Havoc, is gaining the attention of students. Starting as just a dream, Blind Havoc became a reality for Jayton Metcalf. After the global pandemic hit, Jayton saw a need to bring back positivity, as the world around us was uncertain. The name Blind Havoc was inspired by Jayton's focus on ignoring the chaos/havoc and spreading positivity.
Blind Havoc is a fashion retailer that started in March 2020. Mostly known for their streetwear look, Blind Havoc sells hoodies, sweatpants, t-shirts, and more. 
Owner Jayton Metcalf feels "very blessed to have accomplished one of my biggest goals/dreams – getting Blind Havoc into the Mall of America 'Third Degree Heat.'" 
The meaning behind the name Blind Havoc is partly influenced by COVID-19.  The message behind "Blind Havoc" is to ignore what is negative and seek out the positive. 
"My inspiration behind Blind Havoc is to spread as much positivity as possible. I started Blind Havoc a couple of weeks after COVID-19 began with hopes to bring positivity to as many people as possible,"  Jayton said. 
The hardest part of starting a brand from scratch is letting the world know. In addition, marketing and promoting is a vital way for businesses to thrive, as well as meeting new people and creating connections.
 Jayton said networking might be the most important part of running a business. You never know the connections a stranger you meet for the first time could have. 
"
I started Blind Havoc a couple of weeks after COVID-19 began with hopes to bring positivity to as many people as possible."
— Owner Jayton Metcalf
Starting out as an entrepreneur and creating a name for himself in the world does not come easy. Although, with major support from friends and family it is not always easy to only look at the bright side.
 "When you're starting out and people tell you it's not going to work out or say, 'I can't see you doing that', just remember Oprah was told she didn't have what it takes to be on TV. Believe in yourself," Jayton explained. 
With streetwear on-trend, it is now more than ever versatile. Dress it up or dress it down, pair it with statement piece sneakers or layer it for more dimension, Blind Havoc can be worn either way.
 "Personally, I would wear Blind Havoc clothes because I love the streetwear style and I'm always in comfortable clothing,"  junior Lydia Knutson said. 
Creating a clothing brand from the bottom up takes time, effort and lots of research. Everything is a process and learning how to operate a business involves many steps like developing a business plan, creating designs, researching a manufacturer, as well as marketing towards your targeted audience. 
"There were definitely times where I would second guess myself when I would compare my brand to other brands that have been established for years. It was difficult in the beginning but I was able to push through," Jayton explained. 
Starting out with a new business or career can be intimidating, and often times many fall into the hole of comparing themselves to others. Ignore the havoc and remember, "Don't compare yourself to anyone, be the best you,"  Jayton added.
About the Writer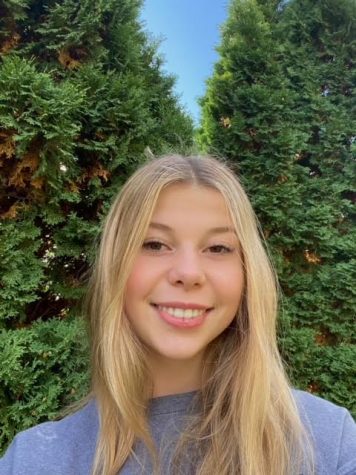 Brynn Winter, Distribution Reporter
My name is Brynn Winter and I am a junior distribution reporter for the Pony Express. I enjoy the outdoors and going for hikes. I love spending time with...