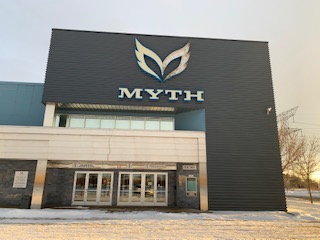 Photo by Olivia Fear
This year, prom will look quite different because it will only be for seniors, which has never happened before. Prom will not take place until the end of May, but students are apprehensive about what to expect this year.
Recently, there was an announcement from the Prom Committee, as well as the Student Council that prom will happen this year. Most students did not think the event would happen due to the pandemic, but they are making it happen.
Usually, prom is held at Myth Live in Maplewood, but this year there is a chance that it could be moved outside, and masks will also be a requirement. There are a few options for where prom could be this year.
"As of right now we have three options of what prom is going to look like. Option one is at the JX, but right now they are only allowing so many students so tickets would be very limited. Or we would have to do two different time slots when students would come, which isn't ideal of what we want to do," senior Gionna Carr said.
Because of the size of the senior class, they are exploring hosting the event outside.
"Option three is at the high school, but we would have prom outside. This would allow more students to attend and have more sense of comfort if they are worried about the viruses. With all three options as of right now, only SAHS seniors will be allowed to go and masks will be required. Things might change though depending on case numbers of the virus," Carr added.
Some students are concerned with the safety of the event, but would also like to have the chance to have a prom this year since seniors have not had any special events yet this year. The high school usually provides certain events or school days dedicated for seniors only.
"One of my concerns with prom this year would be attendance.  This is one of our last opportunities to get together as a class and I hope many of my classmates take advantage of it.  An obvious concern is the possible spread of COVID-19," senior Brynn Wurgler explained.
Many juniors are upset that they cannot attend prom this year, since it is something many of them have been looking forward to, especially since it is usually a smaller number of students due to the dance only being for upperclassmen.
Junior Katie Hardtke said that she is concerned about students missing out on something so important to her high school experience. "I understand that with everything that has happened this year that  students are still trying to be provided with activities that would be considered as normal, like prom for example. Although it is only for seniors this year, coming from a junior I don't understand why they would make it only for them because we've been waiting two years to go," Hardtke explained.
Seniors are feeling disconnected from their classmates and teachers, and are hoping that the event will be a success even with the different format.
Wurgler hopes prom will be "as normal as possible" this year. "It would be great if juniors could attend, however, I understand the concerns with space and social distancing," Wurgler added.
Prom is often a major highlight for students during their junior and senior years. For more information visit the SAHS prom committee Instagram page.