Reddit Beats Wall Street, not really
The day is Jan. 27. The price per share of GameStop (GME) has reached a soaring high of $347 as Redditors on WallStreetBets (WSB) sit atop their massive piles of cash they rightfully stole from the big bad hedge funds of Wall Street. Justice has been restored and these Average Joes have truly completed the David vs. Goliath story. Although this sounds like a wonderful saga, in reality, that is not how it happened.
Now, I know what people may be thinking, But the Redditors did in fact make money and caused a short squeeze damaging hedge funds and it was all part of their movement. But it is just not that simple. Large hedge fund companies were crucial to the inflation of GME and many of these companies made millions off the fiasco.
According to NerdWallet.com, "The easiest way to buy stocks is through an online stockbroker. After opening and funding your account, you can buy stocks through the broker's website in a matter of minutes."
The stock market allows almost anyone to buy and sell stocks with relative ease. This being said it should not come as a shock to people that hedge fund companies like Maverick Capital, Shellback Capital, and Landscape Capital Management invested in GME. A professional in the investment industry Joe* said, "There are hedge funds making over $500 million on GameStop."
On the other hand,  everyday Reddit investor has received their fair share of issues. According to the New York Stock Exchange (NYSE), the price per share of GME rose from $17 in early January to $347 in late January and has since been incredibly volatile. After spiking multiple times the share price now rests around $45 as of Feb. 17.
"This is risky. This is dangerous. You know, you might find the pot of gold at the end of the rainbow, but the chances of it happening are not great," personal finance teacher Philip Schut explained.
Many investors bought in around the peak hoping for the stock to rise higher and higher, but rather quickly the stock plummeted. In addition to Reddit investors losing money, their master plan was public knowledge the whole time.
"
This is risky. This is dangerous. You know, you might find the pot of gold at the end of the rainbow, but the chances of it happening are not great."
— Phil Schut
According to the Reddit privacy policy, "When you submit content to a public part of the Services, any visitors to and users of our Services will be able to see that content."
Junior Soren Gabor explained they followed the WSB subreddit and there was a sense of jovial surprise amongst people. They were trying to increase the stock price heavily and cause damage to Wall Street. With all these messages being relayed through a public medium, big companies could watch from a distance, planning their next move, or even step in themselves and add to the conversation.
According to Cnet.com, "Robinhood is an investing app launched in 2015. It's popular among millennials, who make up a majority of its users and can conduct a variety of investments for free." 
At this point, if the evidence was too scarce to prove that Redditors did not beat Wall Street, even the medium used by most individual investors has strong connections to hedge funds. Robinhood teamed up with hedge fund company, Citadel, receiving large amounts of funding in exchange for information.
"The trading information is clearly worth something and it might have played a role in the parabolic rise in the GME stock price. Someone got in ahead of the Robinhood accounts and further contributed to the demand for the stock," explained a local investor professional Joe said.
Overall, the meme stock saga proves to be incredibly interesting, but it is far more important to focus on what happens behind the curtain. Think about who has influence and control over one's actions, and act accordingly. Although a situation may appear to be a win, there can always be a greater power pulling the strings, working things in their favor.
*Names have been changed to protect the identity of the source.
Leave a Comment
About the Contributor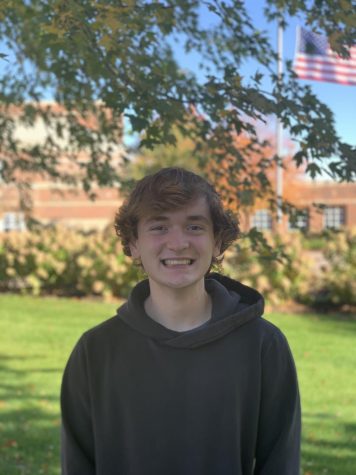 Connor Quaderer, Podcast Reporter
My name is Connor Quaderer and I am a junior podcast reporter for the Pony Express. I like to play basketball and go for runs. I love spending time with...