Teachers return to school weeks before students
Stillwater board members declared all grade level teachers will be back in the building starting Feb. 16. Elementary students started returning during February, and by March 8, all students will be back in school. In-person school should be available as an option to those who choose to partake in it. Social, emotional and educational needs are more easily met in person.
Elementary students were the first welcomed back into the building, and two weeks were given as a trial period to see how it would go. It was then decided on Feb. 16, all staff had to return to in-person school. Secondary students would remain at home, with an exception for those who needed extra support.
March 1, middle schoolers will be welcomed back into the school, with high schoolers starting March 8. A lot of different perspectives have risen from community members, parents and teachers about bringing back all high school students. Most concerns surround the safety of so many students in a classroom
According to school and district management, 65 percent of educators say schools should stay shut down until we are through COVID-19, and enough people are vaccinated to form herd immunity. Parents not having a place for their kids to go during the day has caused various problems. The stress level for both child and parent, being out of their job and to learning right alongside their child as help and support is needed. 
"I feel thankful that I have the option to teach from home. It has been a challenge for sure, but I have grown so much as an educator and person this year. I have an amazing class of first-graders and parents that bring me to tears with their support and love each day," first-grade teacher Molly O'Shea said. 
O'Shea has a unique experience with teaching from home. She has had the opportunity to teach from home since September, without the worry about changing models with her students and learning new ways to teach. She has made those connections with her students and their families virtually.
Other teachers who feel everyone should be back in school. The interaction and participation of students who are at school implementing face-to-face learning is 60 percent higher. There are social and emotional skills learned in school that are not feasible from home. Some teachers are having a harder time feeling hopeful that they are making an impact from home. 
Middle school teacher Neal Mayerle feels "much more confident and effective as a teacher being in person" so he is excited to get back. He believes that the in-person teaching style is more effective for his students and himself. Teachers feeling confident with their teaching helps not only what the teacher is providing, but the students and the content of what they are learning.
"
I'm excited that we get to go back."
— Neal Mayerle
Furthermore, teachers in the community are starting to have the opportunity to get vaccinated. The views on the vaccination vary. Although the school district is not requiring it, it is highly recommended. Masks will be used at all times, and precautions have been put in place, but the vaccination could bring safety in the schools to the next level. 
"I do hope vaccinations for all staff members and students that are 16+ become available soon, though, I know it makes it tough for some people to live with that anxiety at work/school each day," explained high school teacher Ryan Miller. 
Teachers can get vaccinated anywhere they choose, but recently there have been clinics set up for use of teachers only. In Minnesota, teachers have now been put higher and prioritized, due to the amount of close contact they have in their daily lives at school.
In addition, as students and staff heard the news of returning to school, custodians started to once again prepare the school for people to be present in those particular spaces. Desks and chairs have been limited in each room, and wipe downs after each class has been a requirement. Maintaining a clean environment for students and staff increases the chance of us staying in school. 
"The staff, administration, and custodians have done an amazing job preparing the school so it is a safe environment. They have gone above and beyond creating the precautions that are in place," Mayerle added. 
As students make their way back, safety is the most important thing. With not only the vaccine, but PPE, the chance of staying in school the rest of the year is much higher. 
The thoughts and opinions of students and staff returning to school vary widely.  Although not everyone agrees it is the right thing to do, focusing on how to make it better and safer for everyone can make it a better experience for everyone.
About the Writer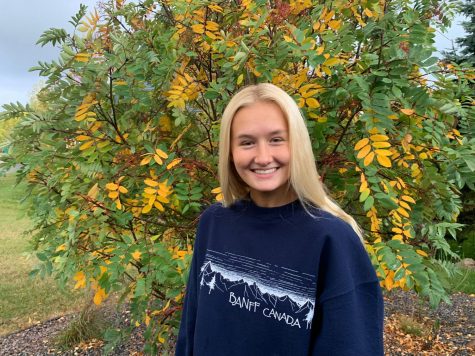 Annika Citsay, Distribution Reporter
My name is Annika Citsay and I am a junior Distribution Reporter for the Pony Express. I am involved in track during the spring. I love to hangout with...