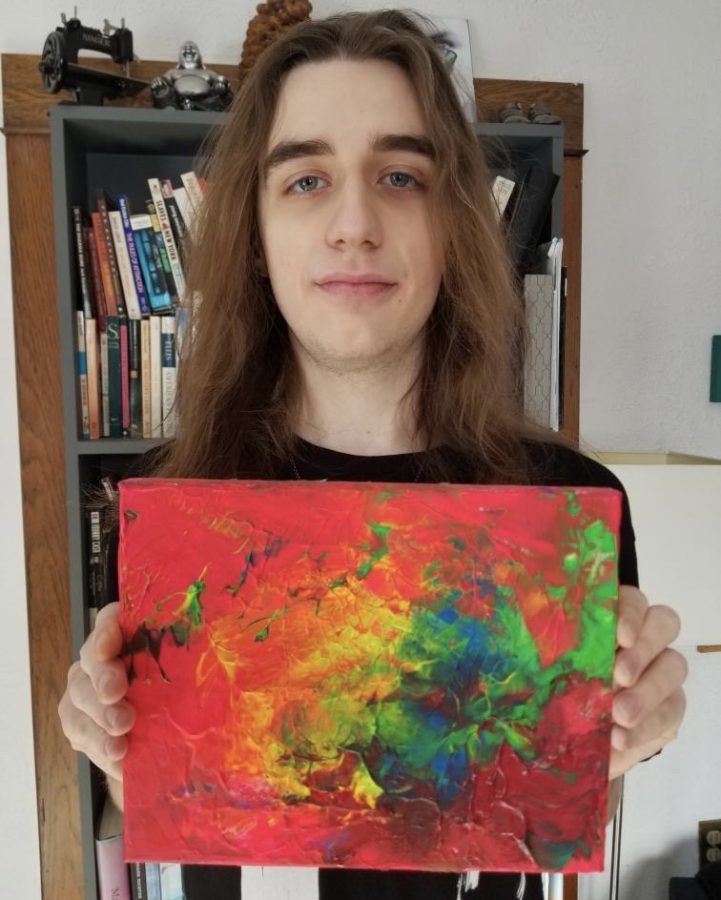 Photo submitted by Nathan Duin
Edina junior Jackson Duin paints his way into Stillwater
For most toddlers, the first word is "mom," "dad," or something along those lines, but for Edina High School junior Jackson Duin, when he was three he pulled out his pacifier after seeing a painting on the wall and exclaimed, "Art!" Even his namesake was inspired by art: Jackson was named after the famed abstract artist Jackson Pollock.
From a young age, Jackson has always noticed art and ran with it. "He was born with it in a sense, I do not recall a time where he wasn't interested," his father Nathan Duin said.
Jackson would explore the local art museums and galleries with his parents, and was even on a Walker Art Center poster as a child. Art has called to him since he was little, and he continues to use his natural sense of art to explore more. On his personal Instagram account, @jacksond2004, Jackson posts a new painting nearly every week.
"I start by prepping canvases with gesso and white paint. I then layer acrylic paint until I get a certain feeling that tells me it is done," Jackson explained.
Jackson and Nathan have become a dynamic duo, pandemic not withstanding, by traveling across the Twin Cities and viewing art galleries and various curations together. On their joint Instagram page, @artworldexploration, Nathan is clearly the man behind the camera, capturing the moment that Jackson is experiencing and taking in a painting. Even while they are stuck at home, however, they still manage to keep their followers intrigued. On Jan. 14, they posted a picture of a young Jackson mesmerized by a plush toy art sculpture.
Jackson noted that him and his father, "always have something to talk about, and the art road trips we have taken are some of my favorite memories."
Jackson has risen to relative fame within the Twin Cities art community, often interviewing either up-and-comers or well established artists. In Dec. 2020, Jackson passed the milestone of 30 interviews on his personal blog, 3 Art Questions with Jackson.
"
I then layer acrylic paint until I get a certain feeling that tells me it is done."
— Jackson Duin
Carolyn Payne at Soo Visual Arts Center in Minneapolis told Jackson he should start a blog when he was younger and Jackson said he loved the idea, and added the interview idea on his own. Getting to be in contact with important artists has been exciting and a "gift," according to Jackson.
After years of learning, working, and absorbing the local art scene, Jackson gained a momentum, but unofficial accolade: the youngest ever to curate a gallery at Art Reach St. Croix. The "Distilled and Direct" gallery curated by Jackson, only 15, featured works by Lisa Bergh, Tara Costello, and Susan Solomon.
"Duin's eye and intuitive art wisdom directs viewers to a commonality of differences," reads a poster promoting the gallery.
"Essentially, to distill it got the idea looking at it on our wall, we had all three artists conglomerated on the wall," said Nathan. "We already knew Susan Solomon, they're friends," Nathan said motioning to Jackson. "They had an exhibition together at Aspen Ridge, so he then contacted her and it all sort of came from there. It took about a year and a half, actually."
And after a year of working, organizing, and curating, Jackson finally had a final product. From Jan. 7 to Feb. 13, he hosted his first ever gallery.
"It is hard to describe, and I was so nervous when the walls were blank but once the show was on the walls I was so happy. It was a very fulfilling experience," Jackson added.
While Art Reach was the first, the Duin's are hoping it is first of many.
"Some of his things that were postponed [because of] this pandemic," Nathan explained. Some things, "will still happen. There is one in particular that he had already to go and all the paintings are done, where he would put them up at the downtown Pizza Luce in Minneapolis. But obviously, who knows. If I had to guess, his Pizza Luce show is not going to be until 2022, realistically."