A unique hobby of remote control car racing
On Friday night, even in a year marked by COVID-19, one can still expect teens to be hanging out their friends. However, if one were to look for senior Isaac Bursch on a Friday night, he'll be at work. Except he won't be working, he'll be racing cars. Remote cars, to be more precise.
Bursch works and races at DollarHobbyz. Every two weeks, he has to rethink which of the nine cars he owns will work best on the new, yet still duct-taped, track configuration. Once he decides. He spends the week figuring out the best turns and speeds to take to get the best time in the tracks' new set up.
"Last time I was here was Monday. I was here for a solid nine hours. We put down a good 500, 600, laps. But it was blast," Bursch said, popping the yellow plastic top off the car, revealing wires and gears, just like popping the hood of a real car.
"After that four, I think it's at the four at the end of that jump," Bursch said, pointing to a big "4" plastered on the far wall, right before the newly position ramp on the course. The computer "counts time, it'll count averages, average lap times, fast times." Walking over to the computer that determines whether or not Bursch goes back and tinker some more, he says "my last lap, 14 seconds. 12 is my fastest."
Bursch has been tinkering and racing cars since he's been in fourth grade. "First time I saw one, was quite a few years before that. They got rid of them," said Bursch, glancing down at the battery charger to see if his car was ready to yet again be test driven. "He actually gave me some of his old ones. It was pretty cool, it was a little Traxxas Summit VXL, it was tiny. It was stupid, it broke all the time. I had a blast with it though.
After that initial gift, a passion ignited in Bursch. By the time he was ready to move on from the "stupid" and "fun basher" cars and moved to more of the on-road cars. On-road cars, according to RCCarGuide, are "designed for racing at high speeds" and "require the smooth surfaces of … racetracks."
"You can't show up to race day with a car completely untuned and expect good results," Bursch said. "I did it with my on-road truck. It didn't go so well. For most of the race I was on the side of the track."
Partially because Bursch has only won one race, but also because of the harsh reality of being the best in the business, he won't pursue racing as a career. When he starts talking about what he wants to do instead, something in his demeanor changes. He talks quicker, fewer pauses, and becomes more certain about what he wants to say.
"I'd be more into having my own business, though. If I could be making cars… I can have my own design, it doesn't have to be cars. It could be motors, it could be speed, it could be tired, anything here," Bursch said, waving his arm towards shop where he spends most of his time looking out at the track, looking at what other drivers are doing to see if he can replicate their styles. Just as quickly as he started dreaming, he got back to work. "What I'm doing right is changing a gear in the car. It needs more top end."
While Bursch often uses preparation for races as a way to relax, his passion doesn't stop at the industrial glass door to DollarHobbyz. One of his closest relationships is actually built all round their bond for racing.
"
It's different than when you're just doing it by yourself, because then you have someone to actually talk to as you do it,  versus setting up at the race. It's more fun because there's a little bit more competition involved."
— Tyler Luhmann
"We met in English class last year, and he saw a sticker on my phone about RC cars. 'Oh, you got cars?" Bursch said, goofily imitating his friend. "And there we go. We went driving that afternoon."
It's different driving with a friend, Bursch's friend Tyler Luhmann said. "It's different than when you're just doing it by yourself, because then you have someone to actually talk to as you do it,  versus setting up at the race. It's more fun because there's a little bit more competition involved."
Even in separate interviews, both friends have the same pleasure of racing: putting "down a good lap. It'll just be on 14 second laps just back, and back, and back, and back, and then you put down a 13 and you'll be like, wow. I'm going fast," said Luhmann.
Bursch and his friends often just go driving or hang out, and Bursch will stop them because he found a good crawling spot. They jump out of the car, then grab the cars out of the trunk, which are kept in the back for this very reason. After getting set up, they finally position their car right and snap a photo.
"They were just in the back of the car, back of the truck. If you find something cool, go and take them out. Let's just bring 'em," Bursch said, before remembering a time he and his friends went to specifically find picturesque scenes.
"Up north last summer, Grand Marais. We went up hiking right on the border. You've seen it on my Instagram, the one where it's the big valleys?" he said before stopping himself to show a picture of a RC truck on a cliff overlooking a lush, green valley. "The intent was I was gonna go find a good crawling spot. I didn't know if I'd find that. I kind of knew, but not really."
After having a charged battery and finally having chosen the right gear, Bursch walked down from the pit and handed over the controller to his friend and co-worker, Mitchell Welch. Welch, who says he's been driving RC cars "ever since [he] can remember," walked onto the racing podium while Bursch stood at the same level as the track, watching Welch drive his newly tuned car around the track.
"It's all over the place. It's all over the place, Mitchell," Bursch said not completely pleased with the alterations. "I'm looking to see how the car is driving. How much gas, how much speed how it's hitting the jump, seeing how the car handles. Like, see, the front pop up," he said, pointing to a car mid-air, seemingly popping a wheelie.
After Welch relinquishes control of the car and Bursch walks back onto the racing platform. After doing a few 14 second laps, he says, as he would to anyone who's never tried racing and wanted to convert: "Here, take the controller."
Leave a Comment
About the Contributor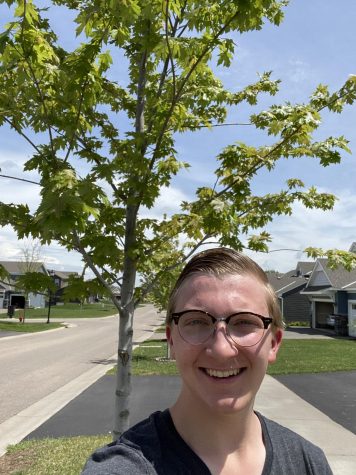 Alex Steil, Online Editor-in-Chief
My name is Alex Steil and I'm a senior online editor-in-chief this year. I'm principal cellist of the Con Amici Chamber Orchestra, associate principal...