Senior Joelle Carpenter receives the Jennifer Houle scholarship for 2020
Senior Joelle Carpenter, like many seniors, is applying for scholarships before she heads off to college, but one of the scholarships she has received already is much different than most. Carpenter is 1 of 6 athletes to receive the Jennifer Houle memorial undergraduate scholarship which is given to seniors to help enable the future success of Stillwater students. 
The scholarship is named after an alumni, Jennifer Houle, who was celebrated after her sudden and unexpected death 5 years ago due to suicide, she was an important person who helped her community for the better. Houle's parents made the decision to honor their daughter by helping young student athletes to pursue future dreams.
Houle and Carpenter both shared love and pride in the community by helping out, spreading kindness, and keeping up to par with one's education, but the one big thing the two have in common is the love for the volleyball court. 
The two girls were leaders and the glue that kept the girls volleyball team together, "keeping everyone together and she was such a hard worker," junior Carley Saeger said after being asked what Carpenter's main role on the team was. 
Being a student athlete is hard, especially when balancing PSEO, volunteering, staying focused while playing and keeping up on homework.
It can be hard to always be optimistic and happy all the time, but for Carpenter, it is not a problem.
"
My biggest inspiration is knowing that, in the end, it'll all be worth it."
— Joelle Carpenter
She shares how she keeps the stamina and what keeps her motivated while juggling so many things at once. "My biggest inspiration is knowing that, in the end, it'll all be worth it. I just have to keep working towards it," Carpenter said. 
In order to obtain such a scholarship the essential requirements are to have excellent academic performance, leadership, and contributions to your community in outstanding ways. One must be a leader not only on the court, but off as well. 
Although there have only been 6 students, including Carpenter, that have received the scholarship, it is said that the previous five have benefited greatly from the gift given, including Houle's cousin, Rachel, "For me personally I am now a college athlete and it helped me reach my next level as a recipient of the general scholarship."
When asked about whether or not Carpenter believed it would grow her future and further her education she said, "It's going to help with the cost in college for sure, but it mostly had a big impact on me to think that I shared some of the same traits as Jennifer Houle and just the fact that I was awarded means a lot to me.¨ 
The Jen Houle scholarship was made to show student athletes and high school students in general that it is okay to talk about feelings and that nobody is never alone. There are special students and peers out there that have bright and bold finish lines they set for themselves and never stop working until they cross it, senior Joelle Carpenter is just that, a hard worker, a leader, an optimistic personality, and loving human who worked hard during her four  years of high school to achieve the maximum she could and now moves onto the next stages of her life with a community rooted title over her head that will lie deep in her heart for the rest of her years.
About the Writer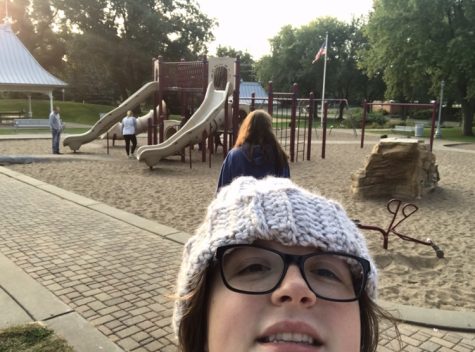 Josie Crombie,
My name is Josie Crombie and I am in 11th grade and I am Broadcast Editor/Field Reporter. I work a lot and I like playing all sports. I love my family...