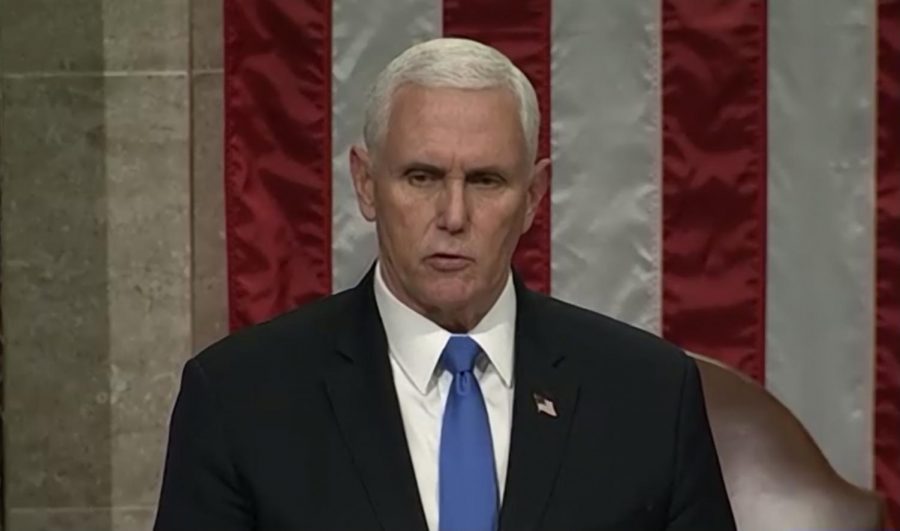 2021: a year of new political goals and vision
2021: a year of new political goals and vision
January 14, 2021
After the Electoral College confirms Joe Biden's win on Jan. 6, Biden will be the oldest president ever to hold the office at 78. While the oldest, he will have some of the most daunting tasks faced by an incoming president, like the COVID-19 pandemic and a worsening economy. Biden will bring a radical departure of process compared to his predecessor, President Donald Trump. While he has been in public life for nearly 45 years, there is still much to be determined on how he will govern, and what politics in 2021 could look like.
Even though Biden will not directly impact the Minnesota State Legislature, state Rep. Shelly Christensen (D-Stillwater) still thinks his humility and professionalism will help set a better tone for the national stage. Professionalism that includes talking with other legislators, instead of yelling across the chamber floor.
Trump has "definitely infected us." Christensen added, "Hopefully, just modeling what we see in Washington in terms of professionalism, and respect, and kindness, and all those things, hopefully that will be a huge change." 
Biden has been vocal, especially regarding Congress's second stimulus package, about the federal government needing to do more, but specifically helping local and state governments just as much. Biden has urged Congress to extend the moratorium on evictions, has advocated for $2,000 stimulus checks, all while urging support for local and state governments.
"[The stimulus package], it's a down payment. An important down payment that's going to have to be done," Biden said at a press conference Dec. 16. "I compliment the bipartisan group on working together to get it done."
"There was an ask from local governments, state and county governments, for help from the federal government. Minnesota, we passed the bill last week [Dec. 15] to help businesses to help families," Christensen said. "But we're really one of the only states that did that. Most states are pretty damn broke right now, so we need federal help."
While some state governments and the federal government are working on COVID-19 economic relief, Young Republicans co-president senior Eliza Darby thinks that the vaccine is the most important milestone for politicians to achieve in the first months of 2021. Operation Warp Speed started distributing vaccines on Dec. 14. Even so, nearly 17 million vaccines have been distributed, but only 5 million people have actually been inoculated.
"[The vaccine] was a big step for our country, and obviously for the entire world as well, to get the vaccine out," Darby said. "That's a really big leap that we were able to make. I think that that's kind of made a lot of people's stress go down. Not necessarily even in politics, but just once COVID can die down a little bit, I think in general [mental health] will improve, especially kids and teens. It's going to be really vital for us to get this distributed quickly to decrease the number of suicide."
"
Hopefully, just modeling what we see in Washington in terms of professionalism, and respect, and kindness, and all those things, hopefully that will be a huge change."
— Shelly Christensen
While the pandemic itself will remain at the front burner through at least spring, there are many other issues that either have entered the mainstream psyche or, at the very least, were caused by the pandemic. Namely among these are business protection. A tally by the StarTribune counted 94 Twin Cities restaurants closed in 2020.
"We need to take care of businesses, we need to take care of families. The virus has opened up all sorts of wounds that we knew were there, but now they're glaring," Christensen said. She went on to list education inequities have only been exaggerated through distance learning, that pay for health care workers is "embarrassing," and that Minnesota is "ground zero for the George Floyd issues and justice disparities."
While Darby also stated racial justice is the single biggest problem, aside from the pandemic facing the country, she specifically said Biden could be a reason the nation can see more progress. Some of the biggest racial disparities in Minnesota is education. The Federal Reserve Bank of Minneapolis said that test scores for white students are around 20 percent higher than African American students. That gap has been consistent since 2002.
"We have Joe Biden as president, I think that he's going to probably take more steps towards bettering lives for other minorities in the United States, but not on a large scale point of view. You can't end racism in a year," Darby said.
A study done by Pew Research said only 13% of Biden supporters and 5% of Trump supporters were hoping for "unity and rising above partisanship." While neither Christensen nor Darby said political division is the biggest problem to be solved in 2021, they both hoped for a more unified approach to politics. 
"I'm hoping that politics will kind of die down in 2021, especially once the vaccine is distributed and people, hopefully, back to their normal jobs and things like that. Politics won't really be at the forefront of everything, kind of how it was in 2020, where everybody was working from home and then politics really, honestly, kind of in your face this year. I'm hoping next year, it'll move out of the big light of 2020, and other things will come in, instead of just focusing on politics and COVID all the time," Darby said.
"There's always that opportunity" to work together and be united Christensen said. "[Division] is the most difficult thing for me to handle, because it's not in my nature to be combative. It's not in my nature to, you know, publicly call people out. It's in my nature to care, sometimes too deeply … For me to continue to practice and model civility, that's what I have to do. Because I don't have it in me to play the other side."
Getting back to normal
The United States came out with a COVID-19 vaccine that is now being distributed all over the country. This vaccine is currently available for people who work in hospitals and nursing homes, it will be open for the general public sometime in mid to early 2021, therefore this will change many lives and the way people are dealing with COVID. 
Infectious disease experts say that the COVID vaccine is about 70 percent to 95 percent effective depending on what shot people get, but people would still be asked to wear masks. This being said, many people are eager to be able to see family and friends again once the vaccine is open to the public. They trust the vaccine and the effectiveness, therefore many people will be more comfortable being around other people. 
"I trust their expertise and I would feel comfortable being around people again if the numbers of those infected go down to safe levels and a fair amount of the population has been vaccinated… I look forward to seeing family and friends again. It has been really difficult not gathering for birthdays, celebrations, holidays or even for dinner," social studies teacher Kevin Klancher explained.
The Covid vaccine is very new and there is not a lot of information out there about all of the side effects and long term effects. Many people are on board with this vaccine, but others are wanting to wait to learn more about it. Healthcare workers have been the first people to have the opportunity to take this vaccine and many are lining up right away.
"I think the most important thing to be aware of is that this is a new type of vaccine and there is not a lot of data to prove long-term effectiveness and long-term safety," Dr. Mark Hill added. "Most folks working in the hospitals were eager to get in line and some health care workers were disappointed when they learned they were not first priority in phase 1a."
Many schools across Minnesota have been shut down due to COVID including our own Stillwater schools. There is talk about students and staff, beginning with elementary, being back in school early in 2021, many teachers around the district hope that school will be somewhat normal by the end of this year (2020-21) or next year (2021-22). 
"I see our schools being fully open by next August with no limitations other than we still might be required to wear masks," Klancher said. "I look forward to doing hands-on activities and labs again in my Psychology class and also group projects and partner work in my U.S. History classes."
Covid has changed many people's lives, especially those who are working in hospitals. In fact, many people have been quitting their jobs due to safety and because this is not what they "signed up" for. Therefore, many people working in hospitals can't wait for things to go back to normal in hospitals and everyday life. 
Hill explained, "I look forward to not worrying about whether my N95 is fitting properly or if it is still functioning properly and whether I took it off and stored it correctly.  Several little things affect the day to day workflow. But mostly I look forward to unrestricted socializing with family, friends and colleagues, and venturing out to restaurants, concerts, sporting events and skiing without reservations!"
The Covid vaccine has the potential to change many lives but does not mean the virus will go away instantly.
Leave a Comment
What to focus on after COVID-19
There is no doubt that after our crazy year of 2020, everyone's a little nervous to find out what 2021 has in store for us. Everyone's anxious to know if the pandemic will worsen and if so, how badly. Many also wonder how many more beloved celebrities will pass away so unexpectedly, or even if global warming will start to worsen again once life is back to normal after it's small recovery, causing more deadly and raging fires throughout the world. Although no one can answer these questions and be 100% accurate, we can still learn what we can to predict and prepare. 
In October of 2020, The Medical Futurists wrote one of their articles off of a common question that many of late now have. In one of their surveys, 538 civilians asked how they and the public could be reassured that the vaccine is safe to take. The simple response given to them was, "trust science, not politics."
When asked what she hopes for in the new year, Pediatrician Dr. Mollie Malaney of Stillwater, MN's Health Partners Medical Group, responded saying that she hopes "science becomes a bigger force for change rather than myth or theory." 
Dr. Malaney goes on to explain how she hopes more people will start to trust science and get vaccinated allowing us to get some normalcy back in our lives.
Just days before the announcement of the Pfizer vaccine, a new healthcare organization named Mira, wrote an article on public health citing Dr. Anthony Fauci, the director of the National Institute of Allergy and Infectious Diseases. Fauci explained that if we produce a vaccine that is only 70 percent effective by early 2021, by the end of the new year we should be able to be less strict about wearing a mask or cloth face covering but not be done with them all together. 
As a counter question to this research, Malaney was asked if she sees us continuing to wear masks, even after our threat has weakened. Her partially hope filled response was her belief that we will not be needing to wear masks all day, every day in the future, but she does believe in medical places, such as the Stillwater Clinic, that the requirement of face coverings will continue when doctors and sick patients meet.
In a BBC article of the possible long term effects of our COVID-19 pandemic circling around the climate revolution, BBC wrote off of satellite data that revealed the drastic drop in atmospheric levels of nitrogen dioxide and how some regions in the world have dropped close to 30-40 percent. The slow down of the world has also dropped 2020's CO2 emissions by 8 percent.
"
The pandemic was a gateway for so much more online use."
— Ivy Lariviere
Former Stillwater 2020 graduate, Ivy Lariviere, was questioned for her opinion on this research. Lariviere explained, "I definitely think that there will be a rise in CO2 emissions, but I don't think it'll be as much as what it was before the pandemic." 
She agrees that the newer advancements of staying at home will help us to keep our emissions down as more and more people will not be commuting, but staying at home.
In an interview of how this pandemic is changing our world, Professor Emily Landon from the University of Chicago expressed how she hopes more medical centers will go back in time a little by reusing gowns and masks by getting them laundered, helping us by cutting back on our medical waste by huge percentages.
After hearing of Professor Landon's hope and opinion, Dr. Malaney explained how the Stillwater Health Partners Clinic is already reusing and getting their gowns laundered. She explained how in the non-surgical fields, it's easier for them to be able to reuse them without the worry of cross contamination. On the point of reusing masks Malaney expressed how surgical masks are better, by a big enough extent, at trapping particles that reusing cloth masks in a medical field would be too tricky and risky for people's health.
As some medical facilities take a couple steps back in time with cloth gowns, a McKinsey Global Survey of executives found that digitization of online interaction has been accelerated by three to four years just in this single year of 2020.
Lariviere purely believes and said, "the pandemic was a gateway for so much more online use," She goes on to explain how things for work and education were sped along but also technology for entertainment, giving an example of theater production.
The new year of 2021 is becoming to be known and named as the year of hope. After 2020 everyone is sceptical of what more is to come but with news of two new vaccines, our hope for the future is looking stronger and greater even though our lives may never be the same as they were before.
Leave a Comment