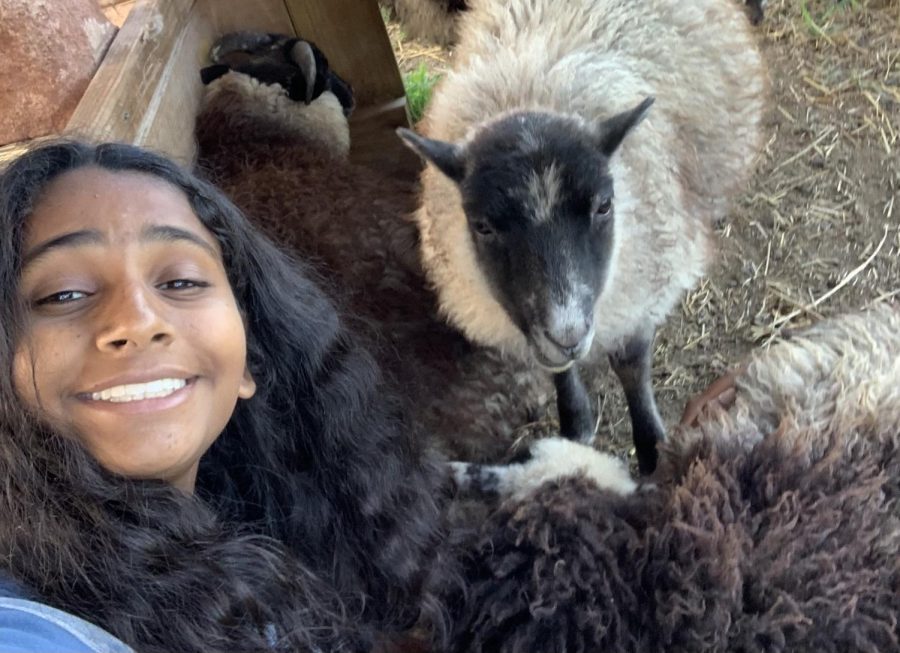 Photo submitted by Pinty Nidersson
Nidersson learns responsibilities from her own backyard
The stall door creaks open on a bright morning at the Nidersson Farm. As she steps out into nature, the grass crunhes under boots while her beloved sheep run to greet her. After taking in the scene of large pastures and the scent of fresh hay, she begins her daily chores to start her day.
Junior Pinty Nidersson doesn't just have a few animals in her backyard, she has a whole farm. This was and is a unique way for her to learn real world responsibilities, on a small world scale.  
"It gives me an opportunity to learn how to be responsible and how to use my time wisely when it comes to taking care of animals," Pinty explained. 
From the city to the country
Pinty has always been a determined hard worker. After her and her dad decided to care for sheep, she had to step up her game. Over the years, Pinty has mastered many skills other people do not ever have the opportunity to attempt. 
Going from the big city to the farm was not easy for Pinty. At such a young age, with everything so distant she missed the closeness of a development in her previous St. Paul setting.  
The biggest change was the isolation Pinty thought. It took a longer time for her to get used to the fresh setting, but her animals helped her through the transition. When she got her sheep, the company helped her "because I knew that I could just go out and hang out with them and I wouldn't feel alone."
When Pinty and Brad Nidderson, her father and owner of Nidersson Farm, decided to get into sheep farming they took a lot of time to make sure they chose the right type of animal. They wanted a fun way to improve their land. The sheep keep all the weeds down by grazing and they rejuvenate the soil which is ecologically beneficial.
"We settled on Shetland breed, they're easy to raise and very harty and multiple colors are interesting. I found a breeder that I just kind of looked online for research and found this breeder all the way in Michigan that was the closest I could find sheep at the time to Shetlands," Brad explained. "So we ended up driving to Michigan to get our first flock of sheep."
Learning responsibilities right at home 
Living on a farm, Pinty has different opportunities than some people her age. One of her favorite things is the quick access to all of her animals.
Pinty's favorite thing about living on a farm is that she can wake up and can just go straight out into her backyard. There is a bunch of sheep at easy access for her to feed and care for, and appreciate. 
Pinty was very young when she and her father took on these big responsibilities. She grew from this opportunity and takes the time to learn new things and truly listen to her animals. They're sort of like kindergarteners, Pinty thought. 
"I've learned that you need to be patient with these living creatures," Pinty said. "You have got to really take it slow because you know their animals are not human. They have a characteristic to them that they want to be loved and they need to be taken care of."
"
I've learned that you need to be patient with these living creatures"
— Pinty Nidersson
Pinty is constantly a positive person. She has helped some of her close friends become more open to the optimism she expressed every day. Pinty met one of her best friends, 2019 graduate Josephine Ramirez through their shared passion of Mountain Biking. 
"I have learned many things from spending time with Pinty, one of the most important being the value of having a positive and energetic approach to life. This compelling attitude has helped me to become more expressive and optimistic, something I will always be grateful for," Ramirez explained. "I first met Pinty at the Friday captains practice for mountain biking. One of the things I noticed when we first met is Pinty's enthusiastic energy. She is always happy, and has a good attitude toward everything she encounters."
Pinty's life outside of the farm
Pinty doesn't just care for her animal's well being, she loves them too. She takes the time to get to know their individual personalities.
One of the things Ramirez has experienced on Pinty's farm is to really see the amount of work that it takes to run the farm and care for the animals. "She spends time bonding with her animals; and has names for all of her sheep. My favorite animal on Pinty's farm is Thor, a feisty llama who protects the sheep from predators," Ramirez said. 
Pinty is not just a hard worker at home, but a hard worker in the classroom. She enjoys academic challenges and goes above and beyond to make real connections with her teachers. 
English teacher Lisa Donovan really likes positive students. She thinks she interacts really well with student's with Pinty's attitude. "She's not hard to like. She's not a student who you have to like to pull out of her shell and she's easy to talk to," Donovan said. "I think I respect a lot of what she does. She's very balanced in her life." 
"What inspires me to work hard, is the satisfaction that at the end of the day I know my sheep, and all my other animals like my chickens, my dog, and my llama that they all feel at home. They all feel that they can close their eyes without worrying about too much," Pinty explains. "Because you know as a farmer, you need to be strict but also caring for your animals. So, with that comes responsibility. And, my dad inspires me. He gives me pointers on how to take care of these creatures. We both do it together."
Nidersson learns responsibilities from her own backyard