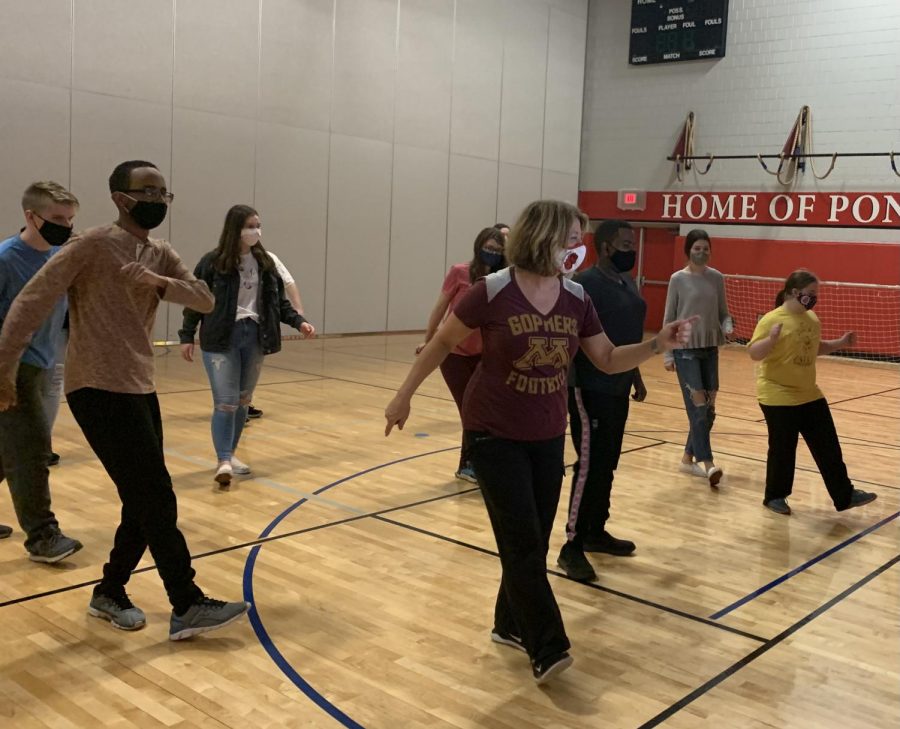 Photo by Ella Hamilton
Paula Harrisons journey in teaching creates unity
Paula Harrison looked down at the icy cold water, grabbed the warm hands of the anxious teenage students next to her and they jumped in. The freezing lake water was so cold that when her body hit the water she instantly felt numb. Planning for this event started happening months before. Students with and without disabilities worked together to raise money for Special Olympics to be a part of the Unified Movement at Stillwater High School. 
Harrison not only teaches Unified as a gym course but she also teaches inclusion and acceptance while helping kids form relationships. The Unified class is a part of the Special Olympics Unified Movement. 
"She means really well, wants the best for all the kids, too. She works hard, she's always trying to do things that, you know, really haven't been done before and when she came to the high school the unified program was something that she had wanted to do right away when she got here" explained Jon McAllister, special education teacher.
Paula Harrison who is a physical education (PE) teacher at the high school knew there needed to be better connections between kids with and without disabilities at the high school, so she took it into her own hands when she proposed the idea of Unified PE. Paula had been talking to other Developmental Adapted Physical Education (DAPE) teachers and they had told her about the unified class. She instantly knew, this is totally what I want to do when I go to Stillwater.
The Beginning of Unified
Harrison has been a dedicated teacher for 26 years, ten of those at the high school. She worked passionately to implement the Unified program at Stillwater by contacting administration, counselors, and the head of special education for secondary. She had to get the course approved by these people before she could start planning and getting ready for the class. Harrison knew how much work it would be to start up a new class, but she felt passionate enough about Unified to put in the work. 
"So I wrote the course proposal that first fall. I had to have it done by September 29th. So it was kind of a good thing I did it that quickly because it takes a whole year for it to become a class," Harrison explained. 
Harrison started the class with a total of 13 students enrolled in the first semester of Unified PE. Almost no one knew what to expect within the class because it was a new course for Stillwater. In the beginning, Harrison admits that she did not know as much as she does now. She has learned how to find students who are committed rather than students who think they are taking the class for an easy gym credit. She learned to ask students purposeful questions to find out if they were a strong fit for the class, "like being positive, being inclusive, and understanding." 
"So I think in the beginning you just, you don't know that whole statement is you don't know what you don't know. And then when you find out more and you learn from it and you grow, then it becomes clear to people. So, you know, things that I would have done differently. I think I'm doing now, and that's at least we're doing it now and helping," Harrison said.
Positive Outcomes of Unified
Three years into the program things are going well and kids are actively and independently creating connections with each other. Students are connecting on social media, joining TRUST Club to have more social time together outside of Unified, and doing zoom calls during distant learning. Overall, there are so many positives for all the students enrolled in Unified due to these social connections and friendships developed.
"They have done, we've had parents that have talked about what a difference it's made for their kids. We have people doing things outside of school that normally wouldn't do anything outside of school," McAllister said.
"
A perfect Unified School is not having to explain that we're all in this together, that we're all students, it doesn't matter."
— Paula Harrison
Students not only take this course for a gym credit but for the friendships they gain. When Harrison first thought up the course, she knew she needed to design it so that students could be getting their gym credit. The health and fitness part of the class is highly important. However, she felt that it needed to be more than just a gym class, that the most important part was increasing engagement between kids with and without disabilities. She wanted kids talking to each other, working out with each other, and playing sports together all the while forming friendships and breaking down barriers.
Harrison passionately expressed, "When I see the students and the partners that are the friends and the partners working together, and they're just doing amazing things like today we had a conversation after the lesson because now they've gotten into the partners are teaching the friends lessons like they taught a basketball lesson. And, you know, they're talking about what to work to help them be successful and just listening to them talk about things and seeing the smiles on their faces and the success, you know, and that and the jokes they tell each other."
Harrison is excited about how much the class is growing, from 13 students to over 50 enrolled. The word has gotten around because of the positive things that have been happening in Unified and that has contributed to this growth. Harrison has worked hard to identify and talk to kids that she thinks would like the class, and has done a lot to promote it by working with counselors to spread the word outside of the classrooms. Now more people around the high school have started to be involved.
"Just accept everyone for who they are and I think that they're getting to know the students with disabilities on a more personal level, that eliminates a lot of the biases or other things that people may have had prior to. I also think it means that there's just more of the school population in general that is more respectful of all kids," McAllister explained.
Harrisons number one goal for Unified is not only to bring change in the high school, but to bring it out to the community. Her hope is to create more awareness to then create opportunities for kids to continue the movement after highschool. 
"It means you know having a group of having sort of a generation of people that, you know, as they leave school into college become adults that then hope that they volunteer with Special Olympics, or do other things or possibly go into a career related to someone with disabilities, whether it's something related in medicine or whatever else but I think the real movement is that everyone belongs," Harrison explained hopefully. 
From the moment Harrison jumped into the icy water at the Polar Plunge, she felt inspired like many to keep the Unified movement going especially at the high school. Special Olympics works closely with Harrison so that Unified can be a significant and important course at the high school.  
Harrison expressed, "A perfect Unified School is not having to explain that we're all in this together, that we're all students, it doesn't matter. You know, the color of our skin, the ethnicity of us, the disability we have, you know, to be described as a student rather than the student, you know, even when you say the student in a wheelchair, not just like this is my friend , doesn't matter if he's in a wheelchair or not this is my friend. I think that when you walk into the school it feels very inclusive, you see, you know, all kids talking to each other."