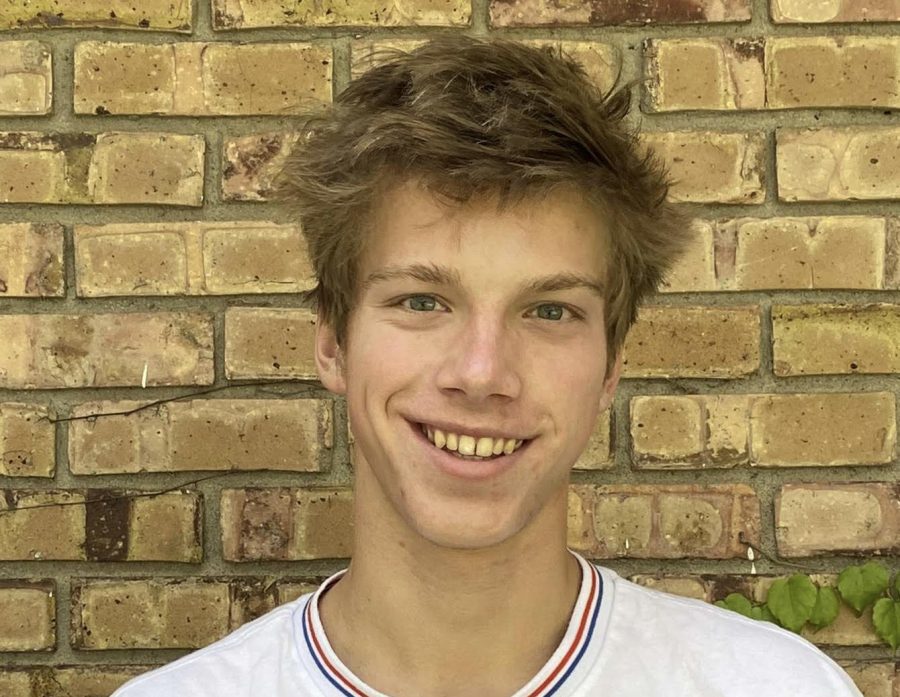 Photo submitted by Soren Gabor
Gabor strives for brilliance
Something was missing from this late summer afternoon. The chilled breeze rustled the hedges outside of his ground floor window as junior Soren Gabor sits at his desk, pondering his purpose. The roar of the hallways and chatter in classrooms are but a distant thought in his mind. The aroma of freshly baked cookies soon flood the house and Soren rushes to the kitchen for a quick snack. All is at peace, but something was missing from this later summer afternoon.
He decides to start studying and preparing for the ACT late in the summer and take the test Sept. 12, just four days after the dawn of a new school year. This proves to be no easy task and a daring decision with the uncertainty of a school year looming.
"I have a strong intrinsic motivation, therefore I innately want to do well," Soren said. "I want to make myself the best person I can be and continually improve myself."
Although Soren reflects the same characteristics of any teenager growing up: constantly changing, becoming more independent, and ultimately maturing. There's one thing that remains constant and true to him in every moment of life; his drive for academic success. Dating back to early elementary school, he was laser focused and determined to learn not only what the teacher was explaining, but go above and beyond. He attended the GATE program from grades four through six and now holds a prestigious 4.0 unweighted GPA throughout his high school career.
Soren's journey begins as the Official ACT Prep Guide book slams down onto his desk. Having only a mere three weeks to absorb as much information humanly possible, this book will be his guiding light.
He takes one practice test for each respective section of math, english, science, and reading. "I would look at the questions I got wrong and try to understand not just what I got wrong, but why," Soren said.
His rise in knowledge brews inner confidence, but taking the ACT in 2020 has a unique challenge to overcome. COVID-19 rattles the foundations of ACT procedures as testing facilities reduce the amount of students they let in, and some are closing entirely. Soren's window of opportunity proves to be limited and precious.
The morning of the test
After a tranquil night of rest, Soren rolls out of his welcoming, soft bed, the sun barely peeking over the horizon as he strolls over to his bathroom. Ice cold water splashes his face and crisp minty fluoride assaults his teeth as he prepares for what could be a life changing morning.
Soren and his father, Quentin Gabor, loaded up their Subaru on the calm morning of Sept. 12, to a local school in Somerset, Wisc. 
"I felt mild stress while studying," Soren said. "But today I woke up and felt zero stress whatsoever."
The ACT testing room was quite different from what Soren expected.
How relaxing and minimal, Soren thought. There were only ten to twelve other students in the room, all socially distanced, just sitting at desks with their masks on. This situation contrasts the traditional cramming of hundreds of students into one room and forcing everyone to take the test quite wonderfully.
The clock strikes 8:00 a.m. as the graphite of his pencil fills in that first crucial circle.
Soren's father figure
"Soren has always been, from my perspective, a good hearted earnest individual who's been naturally curious and interested in learning," Quentin said.
"
Standardized tests are a gauntlet to modern life. They're extraordinarily unfortunate experiences, but there are healthy ways to approach them. Not the least of which is to try to get good sleep, stay hydrated, eat healthy nutrition, and do not take them too seriously. It's important to know performance doesn't equate to the quality of the person."
— Soren Gabor
Renowned psychiatrist and father, Quentin Gabor, has always been a tremendous support and inspiration to Soren. Although the push to take the ACT was primarily driven by Soren, credit must be lent to the thoughtful guidance attained from Quentin.
"Standardized tests are a gauntlet to modern life," Quentin explained. "They're extraordinarily unfortunate experiences, but there are healthy ways to approach them. Not the least of which is to try to get good sleep, stay hydrated, eat healthy nutrition, and do not take them too seriously. It's important to know performance doesn't equate to the quality of the person."
From the overseeing eye of Quentin, the ACT is simply a pawn in Soren's lifelong game of chess.
The results
During a chilly, turbulent night on Sept. 28. The Baltimore Ravens are set to play the reigning Super Bowl champions, the Kansas City Chiefs, in a must watch matchup. On top of this, game six of the Stanley Cup Finals are underway with the Tampa Bay Lightning looking to close out the series against the Dallas Stars, creating history.
What better way to spend the night than at Buffalo Wild Wings, Soren thought as his stomach grumbled. 
He grabbed his phone, added everyone to a group chat, and sent out his plan. Quickly everyone flew to Buffalo Wild Wings to enjoy their night with some spicy wings, and entertaining sports.
Although everything appears to be fun and games, and the experience of his ACT test was distant by now, it is still lurking. On average it takes anywhere from two to eight weeks to receive your score on the multiple choice questions. Being over two weeks past his test, anticipation stirred a hurricane of suspense inside Soren.
The energizing smell of chicken wings fills the building as mobs of hungry fans roar in joy, or despair, every time a play is made. Soren sits down at a table with five of his close friends as they enjoy each other's company. With the school year now underway, there's a considerable amount of catching up to do, and of course some wings to order.
The group is discussing school and possible colleges when junior Stephen Kroeck, one of Soren's long time friends, realizes that he got his score back from his ACT that he took late in the summer. 
A solid score of 30. 
Soren immediately became curious. I wonder if I got my score back yet, he thought. He took a step back from the conversation and reached into his pocket, grabbing his phone once again, but this time it wasn't to text a group chat. He checks his phone, and his heart stops. 
An email from the ACT looms atop his feed.
Soren takes one deep breath, and everything around him goes silent. He's no longer in reality. It was only him, and that email. Not a single person in this building knows what he is looking at, or what he is going through. He trembles as his heart races now wondering what could be behind this message. Mustering the courage to tap on the notification he takes the leap of faith and advances the story of his life. It was only him, and that email.
An elusive score of 35.
Soren bursts out of his chair as his heart drops four stories down. He crashes to the ground as the roaring fans come back to life and the atmosphere regenerates around him. His friends sit embarrassed by this display, but soon understand the true meaning of this sudden celebration.
"I was filled with a sense of satisfaction, happiness, and pride in myself for doing so well and it was one of the most amazing feelings I've had in a long time," Soren explained.
Everyone rejoices in the academic success Soren has just achieved and the tone of the night blooms into a true party. Right as things are kicking off, the food arrives, and Soren devours the hottest wings on the entire menu, the Blazin Carolina Reaper wings. The perfect intense kick for an immensely successful night. 
The future
Following the outing with his friends, Soren rushes home in the heart of the night to break the news to the supporting cast of his parents and his brother.
"It was really nice to see him so happy," Quentin said.
A monumental ACT score of 35 sets the foundation for Soren to achieve acceptance into any colleges he wishes to attend. Schools like Duke, Harvard, and Yale have an average acceptance score of 34, and even the highest tech colleges like CalTech and MIT have an average acceptance score of 35.
"Each door that opens for him is a wonderful thing," Quentin explained. "It creates hope for the future that he is going to be an incredible person. It's increasing his opportunities."
With new horizons and pathways opened in Soren's life he searches for the right decision on where to take his skills, and where he will pursue his purpose. His conversation with his parents sparks a possible idea and inspiration.
"I've always liked the medical field," Soren said. "My dad's a psychiatrist, and I'm interested in psychology, so potentially going into med school could be an option."
The next day, Soren was back sitting at his desk in an all too familiar situation. The wintry breeze still rustled the hedges of his ground floor window, and although the roar of the hallways and chatter in classrooms are no longer a distant thought in his mind, school this year fails to compare to ones previous. Once again, the aroma of freshly baked cookies flood the house, but Soren restrains from leaving his desk. His purpose now fulfilled, but the strive for greatness never simply stops. Even though he completes what he has sought after so intensely and determinedly, something was still missing from this late Sep. afternoon.
Soren explained, "I need to do a little more research, maybe talk to my counselor at school to see how beneficial a 36 would be."