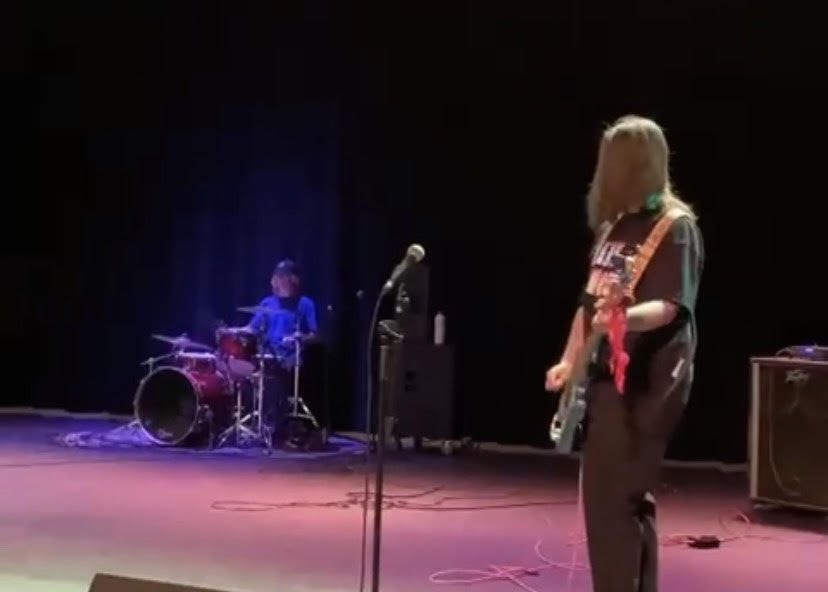 Morgan Molenda keeps punk culture alive
In the words of famous punk band The Exploited "Punk's not dead," at least not in senior Morgan Molenda's garage, anyway. As if it were straight out of a 1980's coming of age film; sharpie signatures and posters decorate the walls, christmas lights hang from the rafters and stickers plaster the front door. It has been a long time since the garage has even housed a car; instead, it has been converted into an angst-filled hideaway of guitars, amps and other musical equipment for Molenda's band to practice in. Anyone who enters is greeted by a cacophony of sound, from intense basslines to rage-filled guitar riffs. Though it might overwhelm older folks and passersby, there's nowhere else Molenda would rather be than in his garage creating his loud, signature noise. 
For as long as he could remember, Molenda has been surrounded by the sound of heavy metal and punk music. He grew up on artists like The Ramones and Green Day, and it ended up inspiring his passion for making his own music. 
"I first started exploring it around age six, because of my dad. He listened to a lot of Rage Against the Machine. My whole entire playlist is comprised of my dad's music, pretty much," Molenda explained. 
How music heals the soul
As he grew up, the music became a little more than just music for him. To Molenda, music is an outlet for his feelings, and growing up with divorced parents left him with a lot of emotions to deal with. The car rides with his father, listening to music on his stereo on the way back and forth between his parents' houses left a lasting impression on him. For him, the music helped channel his frustrations and served as a way to cope with unpleasant situations in his life.
"When things do get rough I always have music to turn to, plus there's nothing like it. It gives me an option to be aggressive without breaking anything… unless it's a guitar string, and that's okay because those are cheap," Molenda said. 
Despite his love for loud and aggressive music, underneath his cold rock-star persona, he is a lot softer at heart than one would expect. Molenda says he is "not an aggressive person at all," but when he picks up the guitar, he really plays with an attitude. His girlfriend, 2020 graduate Abbi Kneeskern can attest to that fact. 
"Morgan is one of the most kind, sweet and talented people I have ever known. He has a softer side that is my favorite part of him. He isn't afraid to show it either. I hope it's not too embarrassing for him for me to describe him as a huge teddy bear," Kneeskern said.
"
Morgan is one of the most kind, sweet and talented people I have ever known. He has a softer side that is my favorite part of him. He isn't afraid to show it either. I hope it's not too embarrassing for him for me to describe him as a huge teddy bear."
— Abby Kneeskern
Morgan's with the band
After honing his guitar skills for many years, Molenda formed a band called the Stellar Jays with his friends Mitch Ardolf, Nathan Weisberg and Isabella Flug. The band met weekly and practiced in Molenda's garage leading up to one of the biggest nights yet in all his years of being a musician, Battle of the Bands. Even though they spent months practicing for the big gig, all Molenda could think about that night was his anxiety to put on a good show. He said the scariest part of the experience was dealing with the nerves.
"It was all of our first times doing a live show as a band. Mitch comes from a background of percussion ensemble and band and Bella goes to a performing arts school, and I was in band in middle school. But none of us have tried performing in front of a crowd like that because it was an actually active crowd and not just a bunch of people sitting in a bunch of seats," Molenda explained.
Unfortunately, the competition did not turn out in the Stellar Jays' favor that year. Ever since then the band's future has been uncertain. After their drummer, Mitch Ardolf went off to college the band quit rehearsing and went their separate ways as musicians. As of now, not even Molenda is certain whether or not they will come back from this hiatus and continue making music together.
"I don't really know if we have any plans, because I know we all kind of distanced ourselves. I mean, Nathan's still talking to Isabella, but other than that there's nothing really happening and we haven't had any motivation. We had a lot of stuff planned for the summer and then it kind of all fell apart when Mitch had to leave because we're having trouble finding a new drummer," Molenda said with a sigh. 
Looking towards the future
Even though Morgan's band may have gone their separate ways, he still continues to harbor his passion for music and continues to practice. In the future, he is even considering the option of turning his love for music into a career.
"It would just be an interesting thing to have in your background, instead of just working the regular nine to five, it would definitely be more exciting than just like going to work a cookie cutter job or flipping burgers for the rest of your life, you know? Having a career in music would just promote a lot of travel, which I would love to do. Like touring shows etc, stuff like that," Molenda explained.
Above all, Morgan stays true to himself and his music. Regardless of what people think, he remains authentic and does what he loves to do, even if it doesn't always work out for him. Senior Ben Norton has known Molenda since kindergarten, and they have been lifelong best friends. When Norton thinks of Molenda, the most defining quality that comes to mind is his inspirational sense of authenticity. 
"I couldn't say for sure, but I don't think Morgan takes all that much influence from others, which makes him reliable I think. No matter what he says or does, I wouldn't think he'd have any ulterior motives or that he would do or say something because of someone else," Norton said.
In the end, Morgan Molenda is more than just your average high school student; he is the future of punk rock, and a fine example of why one should always be true to themselves. Though today he is just a high schooler with a guitar and a dream, he is one of the musicians of tomorrow. It does not take much for him to inspire others, just doing what he loves and being himself works just fine.
"Morgan is just Morgan and I think that's great," Norton said.