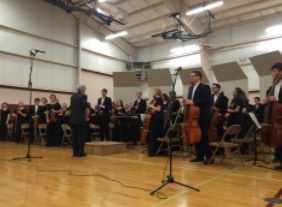 Photo by Maddie Ek
Jerry Jones returned to his former job as a high school orchestra teacher this fall. Former orchestra teacher  Zach Sawyer and his fiancee decided to move back to Boston to see his family. 
"His fiancee just got a new job in Boston and he said in his email that he wanted to start a new chapter in his life with his fiancee and be closer to his family," senior Olivia Hovland said after reading an email Sawyer sent to students, parents and staff.
One issue with him moving away was that his email resignation was just two weeks before the beginning of school. Many students were disappointed with this. 
"Even the week before, me and him were just talking about how one of our chamber groups would be working, so I think everyone was pretty caught off guard by the decision," senior Alex Steil said. 
The need to fill the orchestra teacher position so quickly was another problem as well.
With so little time to find a teacher, many wondered how the orchestra class would be able to function, until Jerry Jones agreed to take over for Sawyer.
Jones originally worked at Duluth High School for 28 years before moving to Stillwater and teaching at the high school for 11 years. He announced his retirement in 2014 and has occasionally subbed for a few other schools. 
"Mr. Jones was a music teacher for about 15 years. He knows Stillwater, and he knows the community well. He eventually retired and Mr. Sawyer came to take his place," Steil said.
After hearing how  Sawyer left without much time for the school to prep with a new teacher, Jones volunteered to sub for the first quarter, stepping out of retirement and returning to his old job. 
"I couldn't stand seeing the kids like this, I felt like it was my duty to help them," Jones said.
Once school began, the orchestra students went into their first class for the year and were greeted by Jones. 
"The first thing Mr. Jones did after introducing himself was that he said 'I am so sorry for your loss' and of course because of all the anger and frustration of losing a friend (not literally of course), seeing them disappear so quickly was very upsetting to a lot of people and seeing him apologize helped people come to terms with it," Steil said.
Soon after classes began, the students began to be accustomed to Jones' style of teaching.
"They both have their strengths, for example I feel like Mr. Sawyer was very nice to students and most people got along with him, but Mr Jones was much better at his job than Mr. Sawyer ever was. I feel like I've learned a lot more from Mr. Jones than Mr. Sawyer and I think everyone can agree," Hovland said.
With school underway, the orchestra class has continued their work, preparing for special events and more. Most of the students agree that Jones has helped them become a better orchestra team and is preparing them for their next teacher.