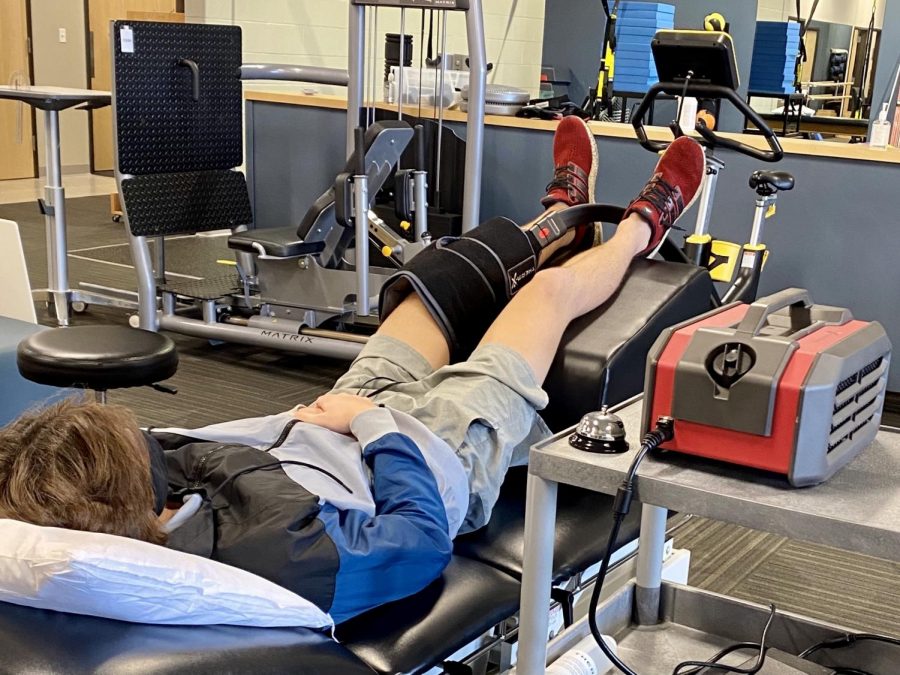 Photo submitted by Beth Dierkhising
Life altered for Drake Dierkhising after injury
His feet stepped onto the cold, dark, wet field after waiting three years to return to the game he loved. Drake's prior injury had produced a major setback to his past football seasons and was struggling with that fact. His teammates looked him in the eyes with hope; knowing how far he had come.
All the anticipation had built up to that moment. The ball was delivered from the center towards the back to the quarterback and the play had begun. Drake went in for a cut and instantly knew what had happened. The pain struck through his leg as fast as lighting.
"I immediately knew it had torn and the pain was excruciating," said Drake Dierkhising.
After the incident
Drake had torn his ACL in his right leg 3 years prior. 7th grade was a hard year recovering from his major setback doing what he loved. Football is a high contact sport, and without being able to walk it makes it impossible to play. Adapting to life and the unknown was hard but he did it with accommodations. Drake switched to online school as a result of not being able to walk around easily. He had stopped doing almost everything a teen boy would do, and had to lay low.
"With Drake having this surgery when he was 12, we kind of knew what we were in for. So we knew what to expect this time around," said Beth Dierkhising, Drake's mom.
There was a 3 week difference he had to wait out until surgery was an option for him. Him and his family had the knowledge of what had to be done, but not knowing how serious it was made it difficult. The uncertainty made them feel limits were present.
Drake is "struggling" to do everyday tasks. As the weeks pass, it is getting a bit easier, but recovery for him is going to take much longer.
"
All in all, he's done really well with coping this time around."
— Beth Dierkhising
It was early Wednesday, Oct. 7th, and Drake knew it was finally the day. Surgery is hard and the recovery time can feel hopeless. The nervous energy had built up in his and his family; it was time.
"While going into surgery, I kind of knew what to expect since I had it done three years prior. They removed part of my Patellar tendon and had to anchor it into my bone to form the ACL," said Drake.
After the 3 hour surgery, Drake was finally brought to the recovery room where his mom met him. Drake was in and out, but seeing the successful surgery brought hope to not only him, but the situation for his whole family. Being a teen and having any injury is hard, Drake is only 15 so he can not drive himself yet. Friends and family have had to step in and help
Drake added, "coming out of just knowing how long the recovery is was hard, and disappointing to miss out on another football season was hard but my goal and intent are to be Ready for baseball in the spring."
The aftermath
Drake arrived home after the surgery and was greeted by Star, his dog. Teammates, friends, and family had been Drake's number one supporters and it was shown. His team stopped by to drop off a get well basket and friends and family have gradually made their way over to see him. Adapting to life has been hard and the first two weeks were the hardest. His room was moved to the main level to reduce walking time and the struggle of the stairs.
"Because of our really busy work schedules at the clinic we own, we've had to get some extra help here and there getting him to all of his therapy appointments. His sister has had to also help out more in regards to getting him to where he needs to be when we can't do it," said Beth.
The recovery for torn ACL's ranges between 6-9 months. For a teen in high school, that can take a toll not only on physical, but mental health. Drake keeps up a positive attitude and always tries to better himself no matter what the circumstance. Recovery for any injury is hard, unfortunately since this is the second time he has torn his ACL the chances of him getting back on the field are very slim.
"We're very hopeful that he'll make a full recovery and not be limited by anything that he can do in the future. But, we're also very aware of the fact that it might not be possible for him to go back to football again," said Beth.
Going through day to day life for not only Drake, but his family has changed drastically and could possibly affect the futures. Drake's sports and social life has been impacted and hurt right now. Seeing it all go on around him while he can not be part of it was devastating. Stepping back on that field with his team might not be possible, but they are all hopeful. Major setbacks have been apparent, but overcoming them is what matters. "I'll hopefully have a whole new appreciation for my health," said Drake
Drake added, "I'm into week three, and starting to feel better."
Life altered for Drake Dierkhising after injury