Stillwater hosts Solo and Ensemble contest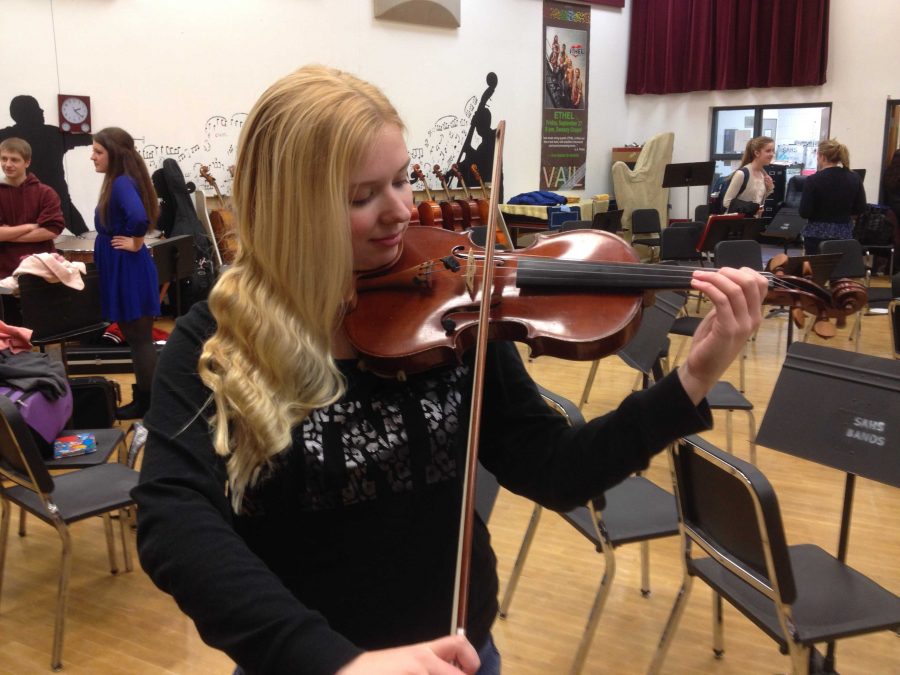 Megan Katula
March 7, 2014
Since the beginning of time, music has been an essential part of life. When words fail, music speaks, bringing joy to those celebrating, comfort to those mourning, power to those in despair and peace to those who are yearning.
SAHS has been given the opportunity to showcase some of the district's most talented musicians in the Solo & Ensemble Contest that will be held on Feb. 22.
"Stillwater has hosted Solo & Ensemble as well as a large group contest many times in the past," said orchestra director, Gerard Jones.
Hosting an event like this takes a lot of preparation and planning.
Jones, attended the event, as an expert said, "Many rooms needed to be cleared, pianos need to be tuned, volunteers' needed to be scheduled. The Black Pony Center needs to be turned into the Solo & Ensemble Headquarters."
"Students are rated on eight different categories: tone quality, intonation, rhythm, balance and blend, technique, interpretation, articulation and 'other performance factors'. Students will earn from one to five points in each. The total of points determines how they place: 21 or below: Fair Rating; 22-27: Good Rating; 28-34: Excellent Rating; 35-40: Superior Rating," explained  Jones.
Based on ratings, students are able to letter in Orchestra for their sophomore, junior or senior year.
The letter looks fabulous on college and job applications, and is something to be incredibly proud of earning.
"I love having my students involved in contests. Some of them are well prepared, others not so much," said  Jones.
Junior Thomas Blackwell has been playing violin for seven years. He takes private lessons from Dana Killam and played a piece entitled 'Air Varie' for the contest.
"I was very excited, but also very nervous," said Blackwell.
This was Blackwell's first time participating in the Solo & Ensemble contest. He hoped to earn either an excellent or superior rating.
Like Blackwell, junior Kyle Badger also participated in the Solo & Ensemble contest for the very first time.
Badger has been playing violin for seven years and performed 'Vivaldi Concerto' in G Minor.
"I was excited for the event, but nervous about crunch time to practice as the event closed in," said Badger.
For many, balancing both music and school is quite challenging, "it is difficult to find time to practice all the time," said Badger.
Despite this, the dedication perseveres.
Jones recommends that students "Practice like crazy, get lots of rest the night before and eat bananas to help with the nerves!"