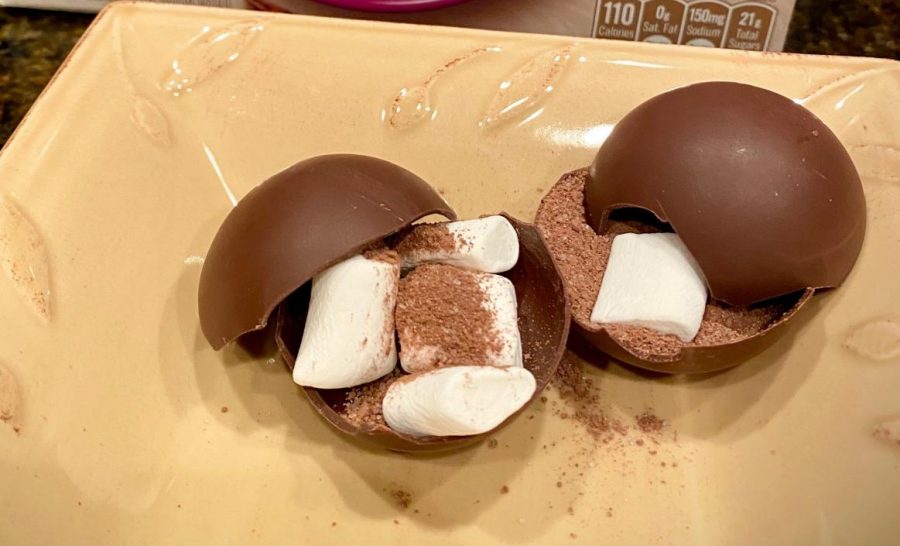 Photo by Calli Dierkhising
Tik Tok Trend Hot Cocoa Bombs
On cold Minnesota nights nothing tastes better than a hot cup of cocoa. This recent Tik Tok video of the hot chocolate bomb trend has taken over the internet. After watching the videos, I decided to change the original hot chocolate drink I had always enjoyed for years.
To begin making these hot chocolate bombs, first pour melted chocolate into half sphere silicone molds. Once the chocolate has hardened, gently remove from the molds and then add ingredients of hot cocoa mix and mini marshmallows. Seal each half sphere by melting the 2 edges together to trap in the goodness. With a few ingredients and a couple tricks your creation comes to life. Dropping the chocolate sphere into hot milk, sit back and watch the magic unfold. 
Mini marshmallows and hot cocoa mix explode into the milk, creating a cheerful drink. The chocolate melts, and the hot cocoa mix dissolves. After waiting for everything to settle, the marshmallows float to the top, I take my first sip. 
A smooth chocolate coating slides down my throat and is balanced out with the swirl of creamy milk. The hot chocolate bombs only allow for smaller portion sizes of marshmallows and hot cocoa mix, making them a healthier alternative to hot chocolate. But, if you are feeling too lazy to make your own bombs, or just don't have the time, many stores, such as Costco, also carry these creations. 
This savory drink resembles Christmas memories, by opening up the chocolate sphere, similar to how we open up our presents on Christmas day, with excitement and anticipation. From the joy to watching the bomb open up, to the sweet savory taste of the drink, this was truly an experience. I've always loved the warmth of a cozy mug during the Fall and Winter seasons. Cozy fires and twinkling lights are all feelings I get when drinking this hot cup of chocolate. 
These bombs were not only fun to make but also fun to watch. So, when you are bored and have time on your hands, during a cold winter day, try to experience something new. Make hot cocoa bombs, and taste a blissful treat, that is sure to bring you warm memories.