Stillwater Chevals Performing at Football Games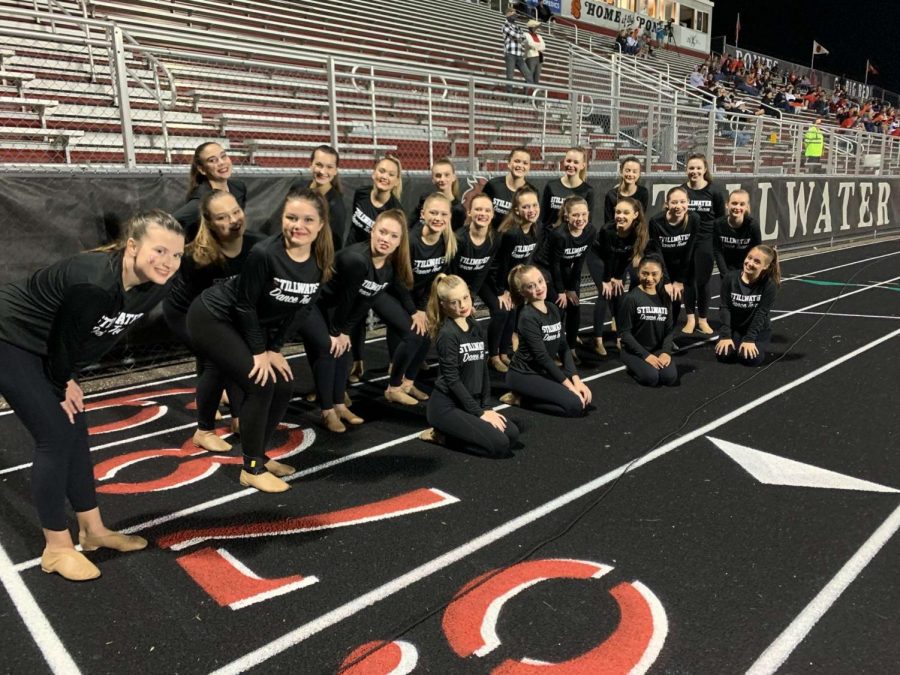 The Stillwater Chevals Dance team has been performing at football games for years. Now with COVID, their performances will not be how they used to be. With only allowed a certain amount of fans in the stands, the Chevals team will have now have to work around that. Their own practices have to be different since they originally thought they were not going to be performing this year. They learned they are allowed to practice, and they have started choreographing routines right away.
The Chevals dance team performs at most football games. For senior captains, Elaina Mankowski,  senior Fiona Stahl, It will be a unique year for them. This year is not what anyone thought it would be. Being named captain this year for the girls is very special to them since a lot of people are counting on them to make this the best year possible even with COVID restrictions. 
"Being named senior caption for this year's fall season is so special and honoring. Obviously, this is not exactly how we wanted our season to go, but the captions are working hard to make it the best it can be," Fiona said.
Crowd sizes always have an effect on performance and games. It's the same with The Chevals dance team, they love having a huge crowd there. The fans in the stands will not be as much this year for restrictions and it is disappointing. Being a dancer or a player is not only playing for themselves, it's also for the crowd there watching them and seeing all the support everyone has. Having a crowd there is important and this year will definitely be strange not having a very huge one.
"Having the crowd riled up really get us going and we put on a better," Fiona said.
The team has been practicing since their fall camp. They practice at least two hours on Monday, Wednesday, and Friday. Practices have been odd this year with social distancing is much harder with dance since with kick dancing everyone is very close together. This year the Chevals team is practicing dances to the styles of Hip hop, Kick, and pom. They try to pick outdances that would be very entertaining to the crowd and would keep them interested. Which at football games is important since they are the halftime performance.
"We will be trying some new choreography this year that will push us to be the best that we can be!" Chelsea Said.
The team's past performances to this year's upcoming performances have been different for the fall season. They are really excited about now having 24 girls max when used to be only about 5 girls on the team. Now they have a lot more variety and skill on the team and are used to make their performances only more entertaining. Their performances this year at halftime will be different since there are a lot more girls and a lot more to consider with Covid restrictions. Some routines like their High kick routine where they all connect can not be performed as a line. They are excited about this year even though they are also figuring out what they can and cannot do. 
 "The biggest change this year is that we are at our max of 24 girls which is a huge accomplishment for us. 3 years ago there were only 5 girls on our fall team so having more is definitely a change," sophomore Chelsea Stahl said.
For the team performing at the football games is an unreal experience for them. Having all the fans in the stadium and singing along to the songs and actually getting into the performance is amazing to them. Since there are smaller crowd sizes this year the feeling will be different since they do count on having a crowd there to entertain. 
"The feeling of being out there and being super nervous before you go on is scary but once you step on the field your adrenaline just starts going and it is so fun," Chelsea said.
The Stillwater Chevals have had amazing growth throughout their years at Stillwater. Now with Covid and dealing with precautions and considering everyone's safety they are still trying to make it the best season they can. Chevals will continue to perform at football games even without a student section. Their routines may be different this year and how they perform them, they will still put on quite a show.
https://stillwaterdanceteam.wixsite.com/stillwaterdanceteam
Chelsea Stahl "The feeling of being out there and being super nervous before you go on is scary but once you step on the field your adrenaline just starts going and it is so fun"