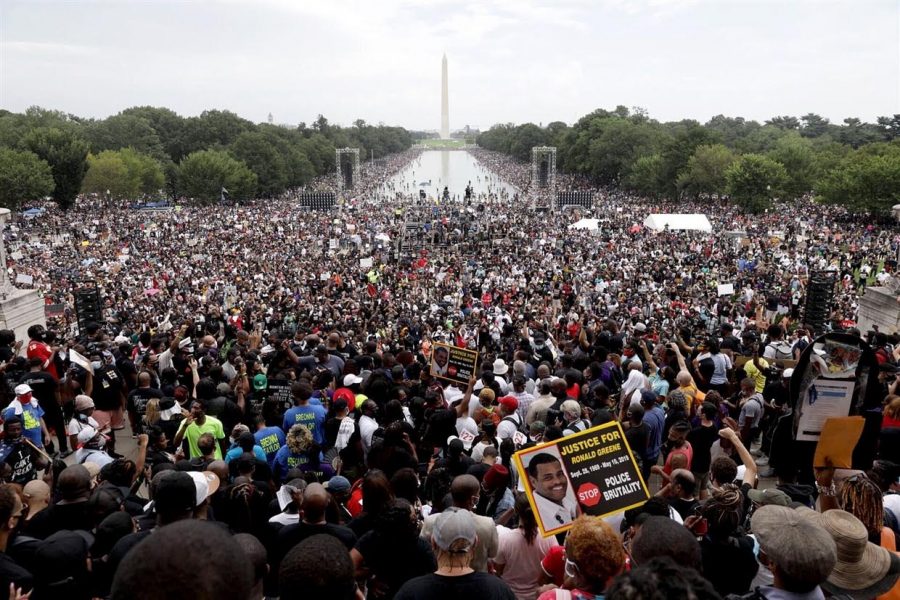 Creative Commons photo by Julius Constantine Motal / NBC News
Civil rights remembrance: how it changed America
Civil rights remembrance: how Rep. Cummings and the March on Washington changed America
"Our children are the living messages we send to a future we will ever see… Will we rob them of their destiny? Will we rob them of their dreams? No – we will not do that." This is the message former Representative Elijah Cummings gave while fighting for civil rights in the United States. Cummings was not the only one to push for civil rights. Everyday citizens had the courage to March on Washington 63 years ago, in remembrance of those who fought for civil rights, those who fought for a better life.
Over the course of Cumming's career, he was an advocate for lowering the price of prescription drugs, the fight of addiction, pushing for gun control and bettering the justice system. Cummings was a strong African American man who fought for civil rights and spent his life doing what was right for the children of the future. On Oct. 17, it will be the one year anniversary of Cummings' passing.
"He [Elijah Cummings] didn't allow life circumstances to stop him from achieving greatness. I think a lot of times, when unfair things happen to us our human nature allows that to stop us from doing the things we desire to do," Cultural Liaison Cornelius Rish said. "If he did that, we would not have the things that he has been able to accomplish. One thing that I admire about Elijah Cummings is that his whole life he had to overcome discrimination, unfair practices, and poverty to become a great congressmen."
Although Cummings journey has come to an end, he inspired many people. Through his words and actions, Cummings made a change in our country that influenced us in one way or another. Even through his long standing health challenges, Cummings took on challenges and faced problems to better our future as citizens of the United States.
To Rish, Elijah Cummings and all the civil rights icons, representative John Lewis, all of them have inspired him because they put their lives on the line during a period where literally "Just speaking out could get you killed." But yet, they were willing to sacrifice their life, lively hoods, or even their families so that they could create a better country for all of us.
"
His whole life he had to overcome discrimination, unfair practices, and poverty to become a great congressmen."
— Cornelius Rish
Similarly, many people fought for their civil rights like Rep. Cummings. One demonstration of this is the March on Washington. Although the first march took place in 1963, the spirit and message of the march is long from gone. Even in 2020, there are people who took to Washington to voice their opinions on how America has to change.
Sophomore Flora Montcho said the march happened for one, "black voices were heard" and two to "show unity in the nation". 
The March on Washington took place past summer. The movement Black Lives Matter played a strong role in the message of the March on Washington: advocating for non-violent civil disobedience in protest against incidents of police brutality and all racially motivated violence against black people.
"I feel like many people had opened their eyes, and tried to become more educated on the discrimination towards black people," Montcho said. "This summer was rough for everyone, but it did start a conversation about BLM, and what it really stands for. The march helped strengthen conversations and discover answers."
Together with the thousands of people who Marched on Washington, students have taken it upon themselves to have an impact on our district and community. They have participated and organized the peaceful protests in both Woodbury and Stillwater. Many students have spread their message through social media as well as promoting awareness.
"Many students became more active about this topic on their social media by spreading awareness," junior Ariam Mussiel said. "Some students began to have difficult conversations with their families, regarding white privilege." 
Anyone is able to help make a change just like these brave men and women have. To help further the progression of civil rights and Black Lives Matter, students can bring these topics into other aspects of their life where they are not spoken about. 
Mussiel said students can post on their social media, talk to their families about police brutality, or even create conversations about these difficult topics in class with students and teachers. Students may also attend local protests and protests in the city.
People like Elijah Cummings and the thousands who marched on Washington will not be forgotten.
"Without the majorities support, the minorities won't be heard," Mussiel added.
Civil rights remembrance: how it changed America