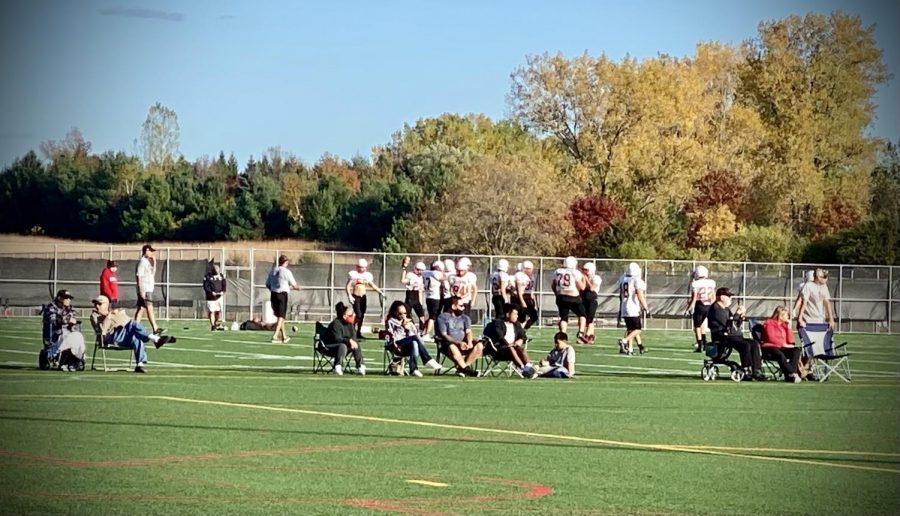 Photo by Mikai Tasch
This fall, starting in late September, football will be played in grades 9-12. Although a deadly virus has struck since early March, football is now resuming despite concerns of the coronavirus. There will be many new safety precautions put into place, such as masks and social distancing.
If a player comes down with the virus, they would be required to quarantine for 14 days. These 14 days would have many consequences tied to them, such as losing the player and the possibility of more players testing positive.
"It would make me feel bad because it is one less player on our team that we will not have for two weeks, and they could be good. They could also have taken more people on with them," Ryan McDowell, a junior on the varsity football team, said.
As this sport is associated with the Minnesota State High School League, they would determine what would happen with the player. In the case of this year, they have decided to resume football, but put into place many safety precautions such as keeping a safe distance and wearing masks when not playing.
Granger Taft, a ninth grade English teacher said in his opinion, the decision of the MSHSL to resume volleyball and football was ultimately the right one. He also stated conversations on both sides of the issue, prior to the vote, revolved around community input and analysis of current coronavirus data.
Because football is no longer in the spring and now in the fall like it has been in the past, this leaves more time for sports. The MSHSL has created a hybrid season for the fall/winter, meaning that students will have to choose between fall or winter sports.
"I like resuming football because I also play sports in the spring, which would have been difficult with football in the spring, cramped and then super busy," McDowell said.
"
Building off the safety precautions, the coaches and staff will always wear masks, even when outside. Although when outside there can be good airflow, this is an extra precaution to ensure everyone's safety. This will hopefully make people feel comfortable when being around other players and not practicing or playing.
"When we are outdoors and indoors we are making sure that kids have masks and are socially distanced. That is what we are doing to keep everybody safe. We are trying to make sure when kids are in close contact, the drill periods are pretty short, roughly 15 minutes," Paul Wieland, an assistant coach who also teaches tenth grade English said.
Another safety precaution taken is there will only be 250 people allowed at the football games. These 250 people must be members of a pep band, family, or event staff.
Wieland said "no more than 250 people" will be allowed in the stands for games this year.
Beau Labore is the head coach of the teams. Some assistant coaches are Taft and Wieland. All of these coaches teach at the high school. 
"I was thrilled when Ricky [Michel] and Beau offered me a coaching position," Taft said. "Whether it is choir, theater, ultimate frisbee or football, these team-oriented activities offer a unique opportunity to lay down self interest for the interest of a team, a group, and its goals."
"I am excited to work with kids again and to coach them. It is something I love to do and to really help those kids do the things that they love to do; not only to allow them to do it but to allow them to do it well," Wieland said. After nearly six months of having sports either consistently delayed or canceled, they are finally starting to resume. Although time will tell whether this choice is good or bad (rise in cases or not), all of the coaches and players are extremely excited to be back on the field.