Weaver helps inspire a character in upcoming Disney+ film 'Clouds'
Science teacher Andrew Weaver has a character based on him in the upcoming film "Clouds", which is being released Oct. 16 on Disney+ about the inspirational life of former graduate Zach Sobiech. Weaver has inspired a role as Sobiech's favorite teacher and someone who helped him push to live his best life.
Andrews's character is being played by Lil Rel Howery. The producers did use Andrew's name, however the teacher in the film will be an English teacher rather than a science teacher.   
"Lil Rel was not at the party, but Justin Baldoni called him and Mr. Weaver was able to leave him a message," guidance counselor and wife, Sandra Weaver said. "Of course encouraging him to make him proud of his character representation.  As we met each of the cast members, Justin introduced Mr. Weaver as 'The Real Mr. Weaver' and everyone seemed genuinely impressed to meet him." 
Andrew and Sobiech also had the music connection. The both of them played the guitar and wrote songs.
"Mr. Weaver planned a little concert for his classes in the spring of Zach's senior year and, although Zach was struggling with his health, he made a special trip into the high school to watch it.  That said a lot to me about the importance Mr. Weaver played in Zach's life.  Mr. Weaver was so touched by that event," Sandra said. 
In 2009, at age 14, Sobiech was diagnosed with Osteosarcoma. He had a very strong family behind him. Laura Sobiech, his mother, wrote a memoir called "Fly a Little Higher" on which the film is based. 
Andrew said Zach had a great family to support him. His mother wrote a very honest and courageous book about her journey in Zach's life. He was loved by many great family and friends. 
Sobiech's song, "Clouds" was created to spread his musical gift and awareness. The song even hit #1 on iTunes seven years ago. 
"
I learned about how to be humble and make the most of your time."
— Andrew Weaver
"I learned about how to be humble and make the most of your time. Zach did great things like creating awareness for cancer with a beautiful song," Andrew explained. "One of my favorite experiences with Zach was attending a musical party which he planned and played at when things seemed at their worst." 
Sobiech was a huge inspiration to everyone who knew him. One of his biggest messages was to live your best life and not wait to do it. Therefore inspiring a wide range of people.
"To me living your best life is taking what life gets you and making it yours. You cannot control what you get in life, but what you make of it is up to you," senior Liv Myers said. "People who live their best lives live deliberately in the moment and make something incredible out of what they are given. Everyone's 'best life' is completely different, but equally inspiring."
On Andrews's science side of things, Weaver heads the Raptor Propagation Program. He has permits in Stillwater for raptor propagation, radio telemetry of wildlife and scientific collections. He also is a member of Marine and Fire rescue. 
Myers said Andrew pushes her and other students to "connect what we learn in class about the natural world to our lives." His class has a heavy emphasis on hands-on activities, challenging his students to "really dig deep and apply our knowledge to real studies." Myers explained. "His sheer knowledge on the subject also stands out to me. You never know where his lectures will take you, but it's always super interesting and opens your eyes to something new."
"The care that went into making this movie represent  Zach's life and the people important to him is really impressive," Sandra added. "He never appeared to be down – always positive, smiling, laughing and joking around when I saw him.  I know he was suffering but he did not let on when he was in public.  He was a real inspiration to everyone around him."
About the Contributor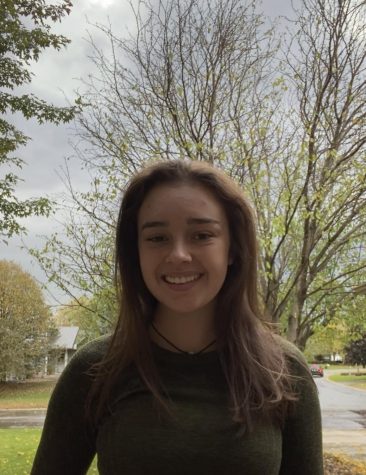 Bella Godfrey, Online Editor
My name is Bella Godfrey, an 11th grade student, and I am an Online Editor for the Pony Express. I run spring through fall and do three day eventing during...