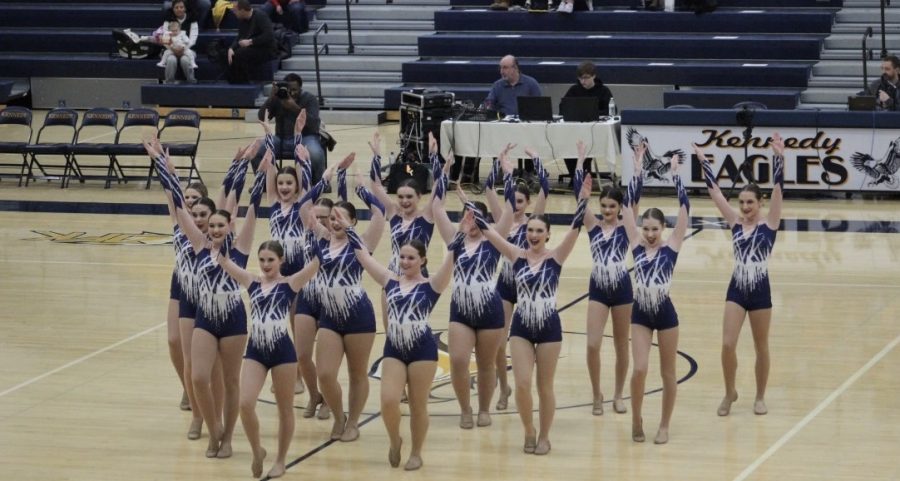 Photo by Abe B. from Stratman Photography
The Chevals Dance Team will practice this fall despite limitations due to the COVID-19 virus. While the performance dance season has been postponed, dancers have found a way to continue their training. Senior Nicole Haley is preparing for her fourth dance season. This year she plans to participate in both the competitive and performance seasons. Haley is looking forward to dancing with her friends again.
While this is subject to change, the dance team's season has been moved to spring. Similarly, details about their winter competition season are yet to be determined. 
"We have no idea really what spring is going to look like yet so I'm kind of just planning it as I normally would and I'm expecting some social distancing protocols, maybe two separate groups," Chevals coach Megan Soukup said. 
As for the newly reinstated fall football season, capacity limitations will mean a reduced number of guests. The cheer team, which is provided through the Valley Athletic Association has already canceled their fall season. Additionally, the Pep Band is not expected to perform at games this fall.
"The talk is football will be limited to crowds of 250 for an outdoor event. Football's not going to be that community event that I think people are used to, you know, the tailgating things, the students coming to the games, all of those things. It's not going to be that way if it's done in the fall," athletic director Ricky Michel explained.
Despite the uncertainty surrounding their upcoming season, the Chevals were able to host their annual summer camp with special accommodations. Additionally, they were approved for a training camp to be held this fall. The dancers will be split into two groups, each with an hour long practice. 
"Dance is my stress relief and where I spend most of my time with my friends. If there's a camp I'll be there!" Haley said. 
Although their fall performance season has been suspended, the Chevals will still be permitted to practice prior to their winter competitions. However, there are few details about these practices as of right now.
Junior Emerson Milby explained that she is excited for what the dance season will hold, despite this year's weird and different feel. 
Due to the limited number of dancers and social distancing protocols, the choreography must also be modified. This means that the kick line, a key part of dance routines, will need to be altered.
"For kick, everybody is connected to each other, we have to think about how we're choreographing things because now they don't have the extra support. It's so much more than just the costumes and the choreography, but it's also about the bond of the team," Soukup explained.
To continue their training, dancers like Haley have been able to take private lessons with their coaches. Like other athletes with rearranged seasons, the Chevals have been itching to get back to their sport.
Haley is eagerly anticipating her senior solo, "it's really a chance for each dancer to showcase what they have learned and can do", as well as being able to dance with the other seniors one last time.
"In the end, without football games I would miss the way I've found a family in the girls on the team," Haley said.