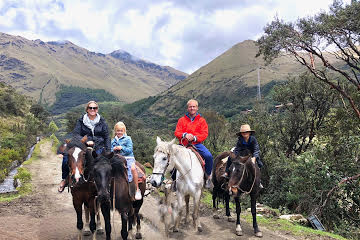 Photo submitted by Brandon Maxwell
Avid teacher returns back from Ecuador to teach in district
"My experience in Ecuador helped me see even more how incredibly blessed we are to have access to the education available here.  I am more grateful than ever to have the opportunity to teach," AVID teacher Brandon Maxwell described his meaningful experience teaching students in the InterAmerican Academy in Guayaquil, Ecuador the past year.
Maxwell's story began when he first met his wife. By exploring various parts of the globe, the both of them knew that they wanted to have their family be able to experience the many cultures that exist across the world.
"My wife and I spent three years teaching in Tanzania," Maxwell explained. "We knew we wanted to give our kids an international educational experience some day, so when an opportunity came up to teach in Ecuador, we took it."
As a parent, Maxwell wanted to indulge his children in the culture, food, music, and language so he did just that. The InterAmerican Academy's goals is to work in close relation to culturally diverse families and communities. Maxwell said one of the most cherished moments of teaching in Guayaquil was that he could see the many accepting people welcome him and his family into the new environment they came to.
"I taught on a K-12 campus, so I got to see my kids at school each day.  Watching them build relationships with new friends was wonderful."  Maxwell explained, "you pack up and leave for a foreign land" you worry most about how your kids will do with the move.  He will forever be grateful for the wonderful people who invited his kids into their lives and homes to make them feel welcome.
"
When an opportunity came up to teach in Ecuador, we took it."
— Brandon Maxwell
One of the main differences that this trip had compared to Maxwell's other teaching trips was that they did not bring big groups of people like they did on their trip to East Africa three years previous. This time, Maxwell brought along his whole family of two young children.
"We went there [East Africa] right after graduating from university, and we go back every year to continue working with our friends there." Maxwell would bring groups, which have "included teachers and students from Stillwater." For him, it is an ongoing partnership with his wife that he hopes will last forever. 
While Maxwell extends his arms to help children and students in other countries, he has not forgotten to aid the students in Stillwater Area High School too.
Junior Mushtaq Ibrahim recalls a time where she was struggling with stress and was able to get through her problems by bringing it up to Maxwell as a class.
"Mr. Maxwell went around and did this activity where he asked us about our stress levels. This was around finals time and our stress levels were pretty high," Ibrahim explained. "Once he realized that this was an issue he told us to stop working and put our work away and we were gonna have an open forum to describe like any of the issues you were having any stress, and why we felt that way."
Since meeting Maxwell in the ninth grade, Ibrahim can say that she has changed for the better. With all of the support she was getting from her peers and Maxwell, Ibrahim could say that Maxwell was able to build a bond between her and the rest of the class. 
Ibrahim said that Maxwell had created a great community in her class that allowed her to widen her horizons.
With the time he spent teaching in Guayaquil, Maxwell noticed the difference in the things we have available here in our school when compared to the schools in Ecuador.
"I am more grateful than ever to have the opportunity to teach, to spend my time sharing what I think is one of the greatest rewards we get to pursue during our lives," Maxwell said.
Maxwell expressed his gratitude to the many people who welcomed him back to our district, "I will say that I cannot properly express my gratitude for the opportunity to be able to teach at Stillwater again.  Thank you to all of the wonderful students and colleagues who have welcomed my family and me back."