Non essential businesses remain open despite public opposition
COVID-19 has unfortunately impacted thousands of Minnesota families in just a few short weeks. Immediately following Governor Tim Walz's state-wide stay-at-home order, non-essential businesses were temporarily shut down leaving parents forced out of work and left to file for unemployment. Some businesses continue to fight for the privilege to be considered essential despite causing public safety risks and continuous government orders to remain closed until further notice.
Increasingly popular chicken finger restaurant Raising Cane's remains open for customers through drive-thru only all over the country. The Woodbury location specifically has incorporated various new safety measures to ensure customers and employees are staying safe while also providing a good experience, including wearing gloves, masks or bandanas and washing their hands every 10 minutes.
"
It's fine that fast food is open as long as companies are updating their policies to make sure everyone is healthy and safe"
— Maria Gorde
Business flow has been consistent for the location over the last few weeks, with the number of cars served between 200 and 300 for lunch only. Despite this huge increase in business flow, employees still manage to keep wait times at a record low. People feel safe ordering from a restaurant which prioritizes people over business.
Gorde explained how business flow through the drive thru has increased significantly due to the dine-in area being closed to customers. The line of cars is consistent throughout the afternoon rather than just having short bursts of business.
Essential businesses include grocery stores, pharmacies, hospitals, fast food restaurants and various others, however businesses that are not considered essential are craft stores. Michaels and JoAnn Fabrics remain open during the pandemic despite being ordered by the state government to close temporarily.
Gorde believes that non-essential businesses that remain open "should be shut down and fined". 
The CEO of Joann Fabrics has made false claims that major U.S. hospital systems had asked the company for help with materials for masks and gowns, which they then denied, saying that they have never heard this claim. Christian craft store Hobby Lobby announced on April 3 it would be closing temporarily in response to public backlash received from remaining open. 
Both Michaels and JoAnn Fabrics requested clarification from Walz to which he responded by posting a public list of essential businesses. Despite craft stores being left off, the businesses refuse to back down and continue to defy government regulations.
Numerous Michaels employees have reported feeling unsafe with the lack of cleaning and sanitization products available to them, as well as the lack of sympathy towards employees. All employees are required to work as usual and will only receive paid leave with proof of a positive COVID-19 test.
These companies need to be fined by law for disobeying public health safety procedures and remaining open to the public, unnecessarily putting customers and employees at risk. Individuals can be fined $1,000 for violating the stay at home order, the same applies to businesses. They will most likely remain open through this health crisis as Walz is now easing restrictions and allowing the reopening of non-essential businesses in the coming weeks. 
About the Contributor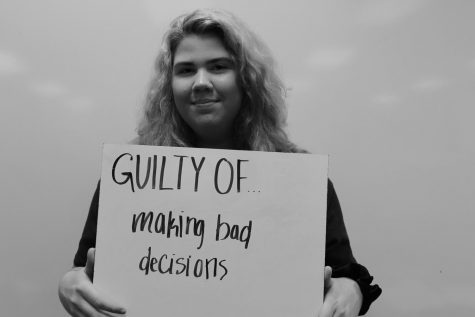 Elle Guggenberger, Graphics Editor
I'm Elle and I'm a junior this year as well as a Graphics Editor in newspaper. I'm super creative and interested in art related hobbies such as painting,...