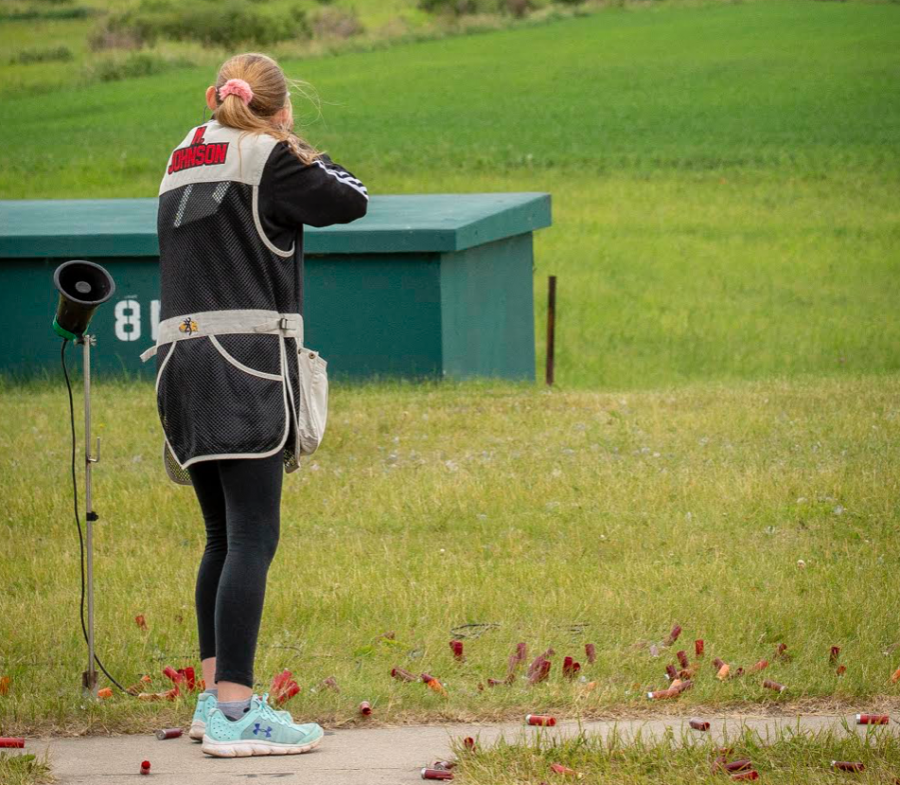 Photo by Patrick McNeil
The trap team promotes the tradition of clay target shooting and trains its members to respect and conserve the outdoors. Practices for the team started earlier this month at the Oakdale Gun Club. The team competes with other schools in the state by gaining points throughout the season. They are progressing forward in hopes to eventually go to the national competition. 
"Trap is different from other sports in that you don't have to have a certain skill set to start as long as you're willing to come and show up and learn and listen to people, you're guaranteed to get better," head coach Valarie Stickan explained.
The 68 member team is dedicated and practices twice a week on Sundays and Thursdays. Each member signs up for different time slots on those days, 11 a.m.-4 p.m. on Sundays and 3-6 p.m. on Thursdays. Each time they practice, they get a round of 25 targets.
"My goal for next year will be to have an average shooting score of about 21 out of 25," junior Sam Leikam said.
There are many things for the team to look forward to throughout the season, including the state championship qualifier, the state competition and nationals. One of the goals that will hopefully be achieved is community building. This has been proven a challenge in past years due to the large team.
Since the members of the team are not all practicing together coaches are "trying to find ways to bring everybody together, time to get to know each other," Stickman added.
During a time slot, a member can choose if they want their round to be practice or a scoring round. As far as scoring goes, it is all done virtually therefore, is one of the many things that sets trap apart from other sports.
Eighth grader Melanie Johnson explained that trap is different from other sports because it is done individually. The group is about 60 kids that all have their own scores and get to compete individually.
The trap team can be a fun activity for anyone who might be interested. They are welcoming of all skill levels and are an exciting experience for people who are intrigued by the idea of going out and getting some fresh air. 
"People come in and they start shooting at zero and by the end of the season they're shooting high teens or 20s. So, as long as you practice and you want to get better and you're coachable you can get better," Stickan said.