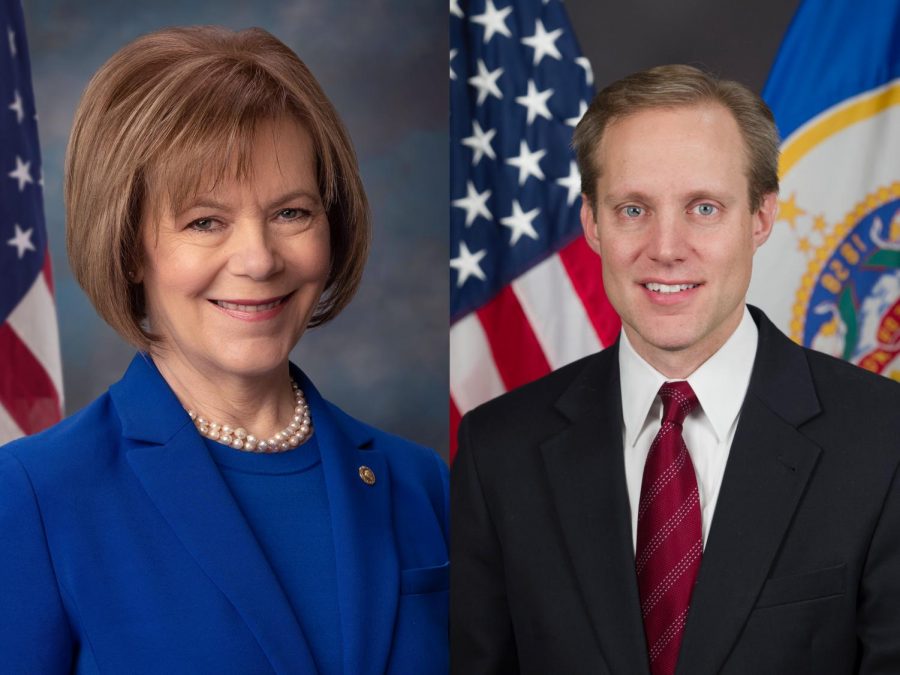 Photos submitted by the Office of Senator Tina Smith and Office of the Secretary of State for Minnesota
For the world's oldest democracy, voting would seem to be the act most unilaterally protected by the government. In the United States, however, that does not seem to be the case. Although states and the federal government are providing basic funding measures for Secretary of States' offices and election infrastructure agencies, this is the bare minimum.
In an email interview with Senator Tina Smith (D-Minn), she said, "Right now, Republican Majority Leader Mitch McConnell is stopping even bipartisan elections bills from getting a vote on the Senate floor."
After the initial intelligence findings of Russian interference in the 2016, a slew of bills made it to the committees of the House of Representatives and the Senate. Since both were, at the time, controlled by Republicans and their candidate had just won, no legislation ever made it to the floor of either chamber.
During a phone interview, Secretary of State for Minnesota, Steve Simon (D), said in the 2016 Presidential election 21 states' voting machines and Statewide Voter Registration System (SVRS) were targeted by Russia. Of those 21, they were able to successfully gain access to Arizona's and Illinois's SVRS. No voting machines were penetrated.
Although initial news pointed to Russia helping President Donald J. Trump win, the targeting of the SVRS systems went largely underreported. The SVRS is an online database of all voter information, such as name, address, and party registration, if applicable.
There are silver linings to this intrusion, such as the fact no votes were changed as a result of this intrusion, governments have yet to implement stronger security measures.
The only strong action from the Federal Government has been to create the Cybersecurity and Infrastructure Security Agency, a subsidiary of the Department of Homeland Security. Even then, the results of tests conducted by CISA are not made public.
As for state governments, the only states that have had a robust response to the intrusions have been Minnesota and Illinois. They are the only two Secretary of State offices that have created a cybernavigator program.
In a phone interview, Minnesota Election Security Cyber Navigator Bill Ekblad described his job as basic as: "My job is to interact with county and local governments that actually conduct elections" to talk about cybersecurity and elections.
But "getting them all interested and excited to talk about election cybersecurity hasn't always been easy," Ekblad added.
Ekblad also said in "some [counties,] the auditor is responsible for elections and tax collection and sewer and drainage permits and all kinds of things."
Receiving federal and state funding to hire not only cybernavigators, but also people dedicated to election security in every county, would protect the most sacred act Americans universally conduct.
Although "Minnesota is among the states leading the nation in protecting our elections," according to Senator Karin Housley (R-St. Mary's Point), the field for cybersecurity is constantly changing.
When asked about Minnesota election legislation, Housley did not provide specifics, but said, "Whether it's additional funding, new initiatives, or changes to existing laws, I will always continue to evaluate our state's plans for cybersecurity."
This is the type of mindset politicians should have. Of course, they should not blindly hand out funding to whichever entity asks for it, but they should not be blind, in return, to blatantly democratic threats.
Some parts of the government are moving the right direction, but most seem to be hampered by libertarian addendums. They are funding the right institutions, but cannot seem to be able to do all that much with the funding in terms of fixing anything.
One of the biggest criticisms of modern day election security failures has been the removal of paper ballots. Of course, a federal regulation from the Federal Election Commission and funding would solve this problem as counties would then be able to purchase the approved systems.
The SVRS, however, is a much more complicated, and underestimated problem. The SVRS is an online database, and that stores all information related to a voter and was the target of Russia's cyberattack in 2016.
Ignoring these threats will not only harm the government, not only the United States' standing in the national security field, but also the citizens of the United States.
"Making sure that Americans, not foreign powers, get to choose our leaders should not be a partisan issue," Smith said. "Election security is not about an election or Party — it's about our democracy."