Ballantyne pushes for first place in synchro
As students walk through the halls, they all look the same. A constant stream of teenagers, trying to fit in as best as possible. 
Students do not see the unique qualities in each individual. Junior Rubie Ballantyne is a perfect example of this concept. From the outside, Ballantyne fits the typical teenage profile. However, once you get to know her, Ballantyne proves she stands out. Ballantyne dominates the synchronized swimming competitions. 
Ballantyne stays motivated, in and out of the pools. Ballantyne explained this determination and said, "I always try to keep going and work on random stuff as much as I can."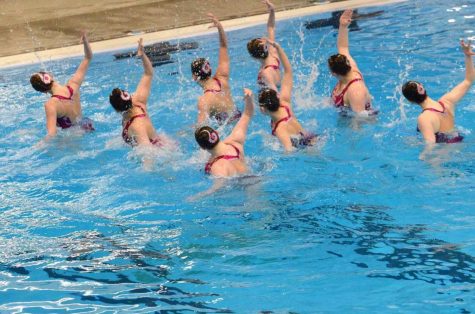 How it all began
Ballantyne has been in synchronized swimming since fifth grade, but took a one year break during sixth grade. Along with her love for being in the water, Ballantyne said synchronized swimming drew her in because it looked exciting.
"It looked different and I was curious," Ballantyne said while explaining her roots of synchronized swimming.
As the years went by, Ballantyne grew closer and closer to her teammates. Ballantyne believes it is because of the team's work ethic as well.
"Over the years I have had routines with the same people over and over again. I think working super hard and all of the stuff we have had to go through really just helps us come together," Ballantyne explained.
Ballantyne is not the only one who has recognized these new found friendships. Junior Hannah Dettmann also has created many connections through synchronized swimming.
Adding on to Ballantyne's feelings, Dettmann said, "The people doing it… are my greatest friends. The girls are always amazing and supportive."
Some people contribute the closeness of the team to the captains. Senior captain Madi Kulzer explained the efforts the captains make to create an inclusive environment.
"We do team sisters. Everyone has a sister, and then we do sister gifts before every meet. Actually, Rubie was my swim sister when I was in eighth grade," Kulzer said.
Not only has Ballantyne created unbreakable bonds, but funny memories as well.
"One time, I was doing a trio, and it was only me and my friend Grace at practice because the other girl was gone. We were like, 'Let's try a lift.' I pushed Grace out of the water and she did a full backflip, which was a complete fluke, but it was so funny," Ballantyne said while reminiscing one of her favorite memories.
When it came to the favorite part of the season, the three swimmers all had the same answer – the competitions.
"The highlight is definitely our show, along with sections and state because you see all your hard work has paid off," Kulzer explained.
Fueling the fire
Ballantyne's determination comes from the heart. The passion Ballantyne feels for her sport is not fake or temporary. This is a trait Dettmann sees in Ballantyne.
Dettmann explained Ballantyne's personality development and said, "I have known Rubie for four years now. I have seen her become one of the greatest people ever, she is so sweet. She is so motivating. Every year she has gotten a couple solos, and every single year she rocks it."
Kulzer added, "I have been on the same team as Rubie since eighth grade… I can pick on her, have her look over things for me, and we have a lot of similar interests."
"
I like to drill over and over again until we get it. Some people will be like, 'Oh let's take a break,' and I say no, we have to do it again to get it right."
— Rubie B
Ballantyne says she takes a more intense view than some of her other teammates when it comes to synchronized swimming. Unlike others, Ballantyne likes to do routines until they are perfect.
"I like to drill over and over again until we get it. Some people will be like, 'Oh let's take a break,' and I say no, we have to do it again to get it right," Ballantyne explained.
When asked who drove her to be her absolute best, Ballantyne responded her coach, Kathy Anderson, is the one pushing her.
"She pushes me to do better so I can help out and do well for the team. I never try to take breaks. I always try to keep going and work on as many skills as I can," Ballantyne added.
The powerful motivation of their coach was a common theme in all three swimmers. Dettmann, Kulzer and Ballantyne agreed their coach amps up the intensity.
Kulzer explained Anderson's positive intensity and said, "[Anderson] is very competitive. We come from a long line of winning, and we really strive on putting the history of the team in from of us. [Anderson] personally believes in us and says, 'You guys can do this. You have put in so much time. I have seen your growth, you can do it.'"
Overall, Ballantyne is fueled by determination to be not only a better athlete, but a better person as well. She decided to give it her all since the beginning, and it has paid off. Through all of her hard work and persistence, Ballantyne hopes to help bring her team to state.
"First place at state," Ballantyne said, "We have to do it, we just need to get the scores up."
About the Writer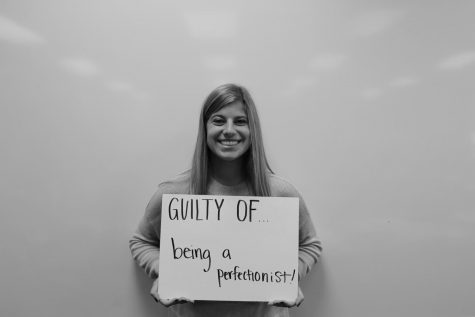 Natalie Williams, Photography Editor
Junior Natalie Williams is a student at Stillwater high school. Her passion for newspaper is stemmed off of her skill as a photographer. Her extracurricular...