Manning takes charge of Pathways Program
From the spotlight in the classroom to a desk in its own hall of the College and Career Center room, Bob Manning, the new coordinator for Career Pathways program, now takes charge in implementing the new program for the upcoming year. This change for Manning began after he finished his first semester 2020.
After getting a BS in Psychology from St. John's University, Manning taught in the classroom for almost 26 year now. Teaching in social studies for many years, he taught both AP Human Geography and Global Studies to mainly freshman.
"I'll miss seeing the students, but one thing I am finding with the new job is I am still interacting with students and I have my own spot in the hallway in the Career Center," Manning said.
Change Can Be Good 
Manning had described his change of environment and interactions as "bittersweet." He taught in a classroom for a while and now he has moved to his own desk in a different room with a different environment.
There are things he will not miss about the job, such as it being difficult and very time consuming. There were things Manning said will be missed for sure, now that he is sitting at a desk instead of standing in front of students.
"
"Some of the things that teachers have to do kind of take you away from the things that you really enjoy about teaching, which is interacting with the students building a good curriculum making learning, meaningful, and the daily task and get you ready for that"
— Manning
For College and Career Center Secretary Amy Carr, the idea of having a so-called "roommate" in her room is something different for her since she has not frequently had other staff in the room with her. Carr has a positive outlook on the situation, stating that it helps benefit many different aspects of both of their jobs.
"It's nice just having someone else in the room you can bounce your ideas off of," Carr said.
Leaving mid-school year was a little different than what usually happens with new jobs. Manning took in a group of kids at the beginning of the school year, then had a new teacher come in mid-year to take over for him. After letting the students know what was happening at the end of their first semester, the students expressed different emotions towards the situation.
"They were ecstatic. They were shocked, but also happy for me. They are going to need to move on because there are things that they may have liked about me that they're going to miss, but change is good," Manning said.
The Process
Starting from scratch, Manning comes in with a list of what he wants to achieve. Making an outline for himself, he hopes to accomplish different aspects of the program to benefit students.
"The first semester I have two main priorities. One is to figure out what we are doing well in the building and leverage individual efforts to help kids find how their interests might match a path and make school more relevant to them," Manning said. "The second priority is changing the image of success."
Knowing people will help get him farther in what he is trying to accomplish. For Carr, the people she has interacted with throughout her years at the school can possibly be helpful with Manning's new adventure.
"He can take advantage of those connections because he is going to try to get different internships for students, which is a new initiative that the school is going to try to pound out," Carr said.
In helping get the program up and running, Manning took a group of high school students to U.S Bank Stadium. The all-day field trip helped the students learn a little more about the career pathways and what their future and others future could look like.
"It shows us how to do the things that we want to and then our goal is really try to share it with other people and get them to learn about it also," junior Gavin Howard, one of the students at the field trip, said.
His priorities are not going to be easy for him to accomplish, Manning believes this program isn't going to be a walk in the park. He believes there will be difficulties that will challenge him to make this program strong.
"Managing my time I think will be the biggest challenge for me, there's a lot of work that needs to be done and I'm getting a lot of invitations to meetings and connections to people that are part of organizations and committees," Manning said.
Another "huge challenge" Manning said would push him in to his best for this program is  "the challenge and priority of finding funding for this. Our district needs to make it a priority, and build partnerships with businesses, and our community."
"The challenge I think through this whole program, it's important to make sure students understand there are spaces for them and that they need to take advantage of it," Carr said.
About the Writer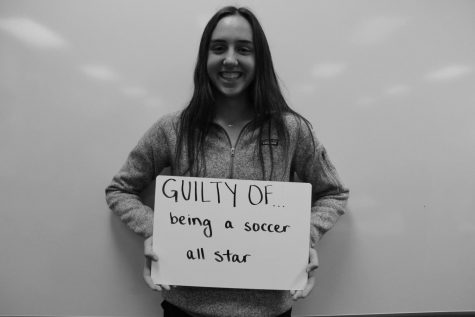 Haley Nelson, Online Editor-in-Chief
Hi, My name is Haley Nelson and I am a senior online editor-in-chief this year. I play varsity soccer for the high school. Besides playing sports, I love...