Speech team works their way to state
The speech team has done a lot of preparation and practice to get where they are now. Students start preparing for their season in November and work hard for about four months. It helps students with many things like standing in front of people and talking, it helps improve their stamina and lots more.
As the season has progressed, the speech team has had many victories at Pequot Lake. They have been putting in lots of effort by practicing multiple times a week after school. As some of the season has been rocky, they continue to practice hard in the hopes of making large gains during the rest of the season.
"It's a one of a kind experience, and it's just full of wonderful people, and you learn so many life skills from it. It's just a great use of time," sophomore Rachel Palmer said.
The speech team has students from all grades, from freshman to seniors. Many of the upperclassmen are leaders on the team, even though many of the underclassmen take on certain leadership roles. Underclassmen take leadership roles within their categories.
"I am the only one in my category," Palmer explained. "So I'm kind of in charge. I think of like bringing people into my category just to try and bring more victories."
Meanwhile, the team is lead by coach Joe Kalka and his many assistant couches including English teacher Laura Hammond. She has worked with the speech team to prepare them for upcoming competitions and life.
"
It's a one of a kind experience, and it's just full of wonderful people, and you learn so many life skills from it. It's just a great use of time."
— Rachel Palmer
The team has worked hard this year to get where they are now, Hammond explained. She is impressed with their critical thought process, critical thinking, watching them understand communication and articulation and how things work together to create persuasively.
During speech competitions, students have to stand in front of an audience. The speeches are typically around 10 minutes long depending on the event. Palmer participates in the category drama interpretation and has only been doing speech for about three weeks, but as a part of the team, they have already helped her grow.
"Speech has helped me with social anxiety," Palmer said. Speech has made her "go in front of somebody, a group of people and just present something that I know that I've worked really hard on."
Furthermore, days at speech meets can be long. They start early in the morning and end in the afternoon. Students compete in one to two rounds depending on their categories, and can easily get overwhelmed with emotions during meet days.
Senior Mason Borchardt explained how speech meets are stressful and hectic. He also touched on how stressful preparing for the meets can be and how everyone has a few nerves before their event. The days at a meet are most of the time long, but very fun for the team.
As the season progresses, the state meet has become closer. Even though the team has worked hard and they have seen major success this season, state is still going to be a tough goal to reach. The meet is coming up in April, but the team is still putting in the work now.
The team has "been getting together several days a week for hours and just going over our pieces, and taking notes from our last tournaments and fixing weird things or bugs," Palmer explained.
However, speech has been "a great experience. There are wonderful people in speech and they're also genuine," Palmer said.
About the Contributor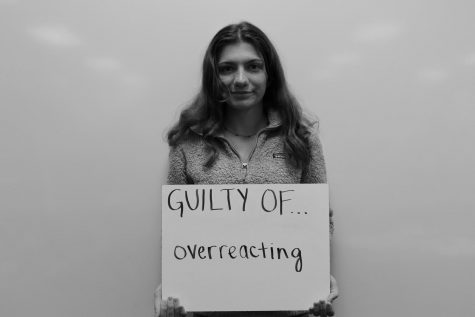 Annabel Lantz, Photography Editor
My name is Annabel Lantz, I am a junior photography editor. I run cross country and track, I enjoy photography, drawing, and painting, as well as filming...