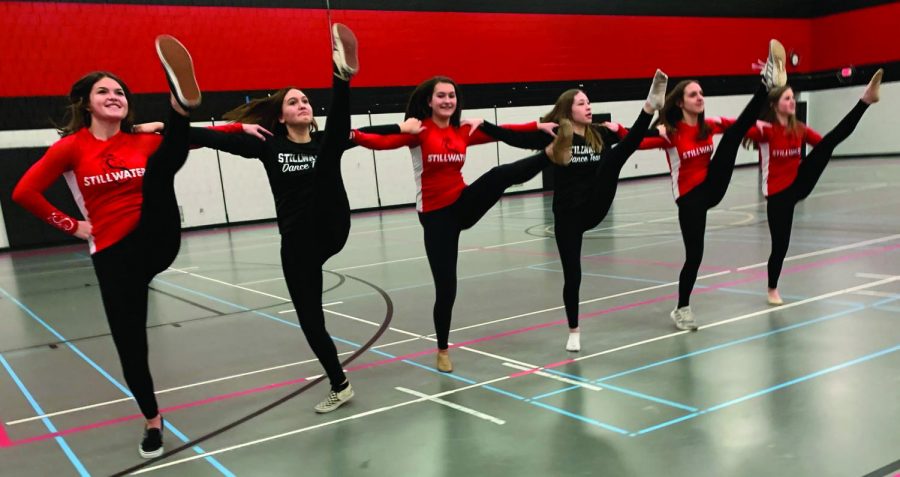 Photo By Ava Hoezel
The girls winter dance team performs at basketball games and competitions throughout the season. The junior varsity and varsity team consists of seventh graders up to seniors. In many of the routines they incorporate pop music and trendy dances. 
Freshman Amelia Synder said she enjoys the adrenaline of performing their songs.
At the basketball games, both the varsity and junior varsity have the opportunity to perform. During the last basketball game, varsity performed a jazz routine and the junior varsity performed a kick routine.  
"It's more of our jazz stuff, but then the kick stuff is like we do that as well," junior Olivia Lind explained.
Some of the routines the girls perform at competitions are performed at basketball games, other times they make completely new ones. Also, sometimes instead of making a completely new routine, they alter the routine and add and take out parts. 
"Either we modify the ones for the basketball games to make them look a little bit harder something like adding some special things or anything," Lind said. 
Many of the girls who are on the fall dance team are also a part of the winter team. In the fall they perform at football games and in the winter they perform at basketball games and competitions. 
Lind compares dancing at the football games to performing at the basketball games. 
Aside from performing at basketball games, the dance team has a competitive aspect. The girls compete against other schools at competitions. The competitions are held at SAHS or at other high schools around the area.
"I feel like the basketball games are a lot closer to the audience," Synder said. "You can like make out more faces, which almost makes it more nerve racking."
Because the competitions are judged, the routines are more restricted. Unlike the basketball games where the girls have more freedom in the kinds of things they can do. 
"Competitions are judged and they're a lot more strict," Lind explained, "for competitions, you can't do anything that makes you look like you're falling or anything. It's really strict about what you do," Lind said. 
Between learning the dances and performing at the basketball games and competitions, the girls have a full season. They have a lot going on, but they enjoy it. 
Lind said it would be fun to perform at other sports games, but they do not have enough time.
With the dance team being so new they are having a hard time competing. The other teams are stronger because they have had more experience. It has been a learning experience, they have new coaches and there are many new girls participating. 
Both Lind and Synder enjoy being a part of the team and working with the other girls.
"I like just being with other people and it's really fun getting to bond with new people and learning about everything," Lind said.