Falzones passion results in her dream
A home run, the cheering crowd as the player races to home base, the statistics of every game holds. Every aspect of baseball Chelsey Falzone fell in love with at a young age and became determined to share with everyone. Her love of baseball all started when she began to watch her brother play baseball. As she watched, she became captivated with the game, unable to tear her eyes away. It wasn't until she was asked to fill in with her brothers team, the Phillies, when she transitioned from being captivated on the sidelines to becoming intrigued as a player in the game. Ever since then, her journey through the world of baseball has only gone up.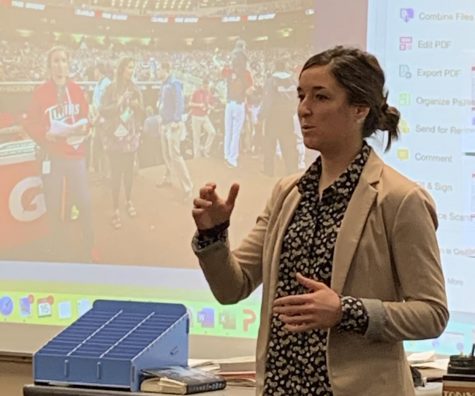 "With that, I loved the game," Falzone said.
From the beginning, Falzone was certain she wanted to pursue a career in sports journalism. She wrote about sports any chance she got, it's who she is. Her student journalism experience pushed her to become the person she is today.
An incredible experience 
Falzone attended Bethel University and majored in journalism and communications, however writing did not feel right. She did not want to go through all the troubles, costs and stress changing majors brings so she made it work. Through her determination and love for baseball, she began her journey into the Twins organization, starting as the only female clinician.
She began to open her eyes to knew opportunities and started becoming more confident as a women in the sports industry.
"I remember being the only female clinician and seeing this frustrated six year old boy having trouble hitting. I walked over and began to help him… Behind me came a legend in Twins history, Rob Carew. I was trying to finish teaching this boy so Rob wouldn't hear me teaching, but he listened and simply said, 'yeah kid, do what she said.'"
When her clinic work finished, Falzone hoped for an internship offer. She was offered one during her senior year, and I became one of the best experiences she had. She worked with MLB players, expressed her creativity and even worked an All-Star game.
At this time, Falzone was "struggling with creativity." This made her internship a challenge, especially when she was told to create games and trivia on the spot at the All-Star game.
"My boss asked me to think of a buch of games for the board. I thought I was inadequate and struggled with creativity, but I did it and it was great," Falzone explained.
Finding herself
After Falzone's internship was over, she was more certain than ever she wanted to work for the Twins, so she quickly took up a job working with Ballpark Operations only an hour after her internship ended. It was here, where Falzone began to struggle with her confidence and questioned if this was who she really was. She began to believe that what she did with her life defined her as a person, and she did not want the heavy lifting dirty work to be how she was looked upon as.
"I went from the most amazing position to one I hated," Falzone said, "I had to wrestle with identity for awhile… My internship was fun, creative and glamorous, and I went to a position that did a dirty work."
"
You are not what you do, you are how you do it."
— Chelsey Falzone
Although this position was not her dream, she made the most out of it, meeting stars like Jimmy Fallon and Thomas Rhett along the way. She found her newspaper layout days to aid her in her disgning of graphics, signs, and more.
Falzone explained the design skill set she learned at Stillwater was incredibly helpful.
Everyone has a story
In 2019, Falzone began working as the Coordinator of Community Relations. While working in this position, Falzone felt more herself and began to love the way her position allows her to serve people of all communities.
Falzone explained she gets to "break down barriers all over and bring the Minnesota Twins to every community."
Falzone defines her job as "to make people feel significant… I want people to be successful, but I want people to feel significant as well, because those two are different."
Currently, Falzone manages a large staff, taking leadership and building her identity. Through her hardship and crisis, she realized, "you are not what you do, you are how you do it."
It has taken a lot to get Falzone to where she is now. She worked hard to find the job fit for herself and for her dream. When asked how she got through it all she responded, "Staying faithful in the little things, and that was a period of one million little things. It'd hard when you're in that stage of who to be, but I knew something is going tp happen for me. That's what the beauty is, staying faithful in the little things," Falzone added.
About the Contributor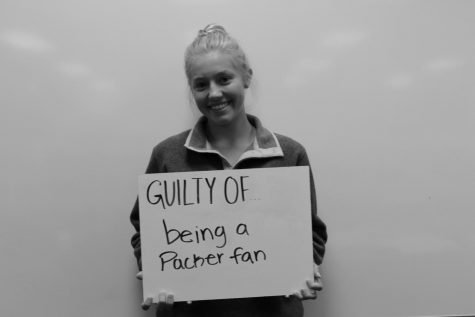 Ella Nelson, Copy Editor
I am a junior Copy Editor for the newspaper and I also participate in tennis year round. I love spending time outdoors with my two dogs especially at my...