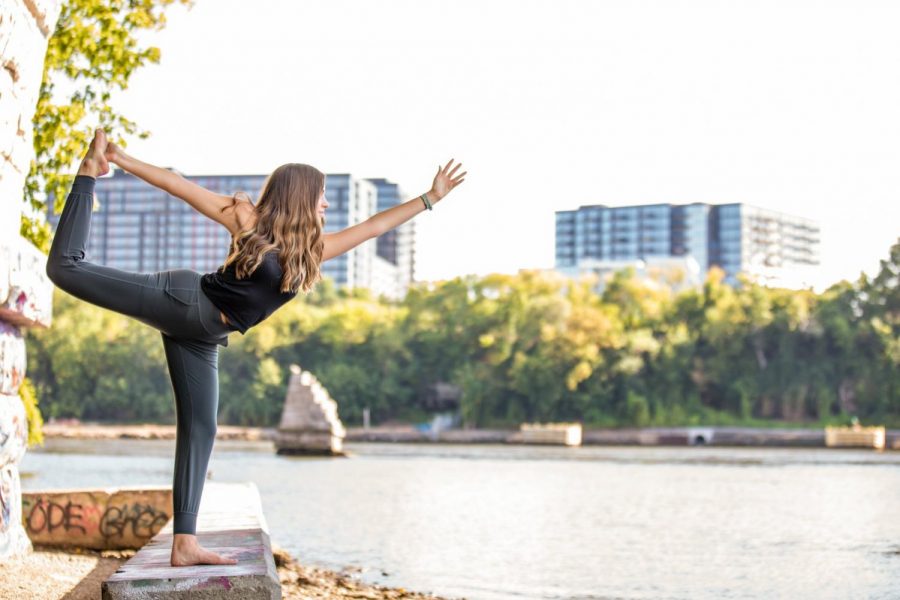 Photo submitted by Sarah Stormoen-Moslemi
Dylan Stormoen begins teaching yoga at local studio
December 15, 2019
The art of yoga has been used as a relaxation exercise for many years. Led by one or more instructors, students will assume various poses in order to simultaneously stretch their muscles and relax. Senior Dylan Stormoen started teaching classes in September at Studio One Yoga in downtown Stillwater. Having practiced yoga for several years, Stormoen finds working as an instructor to be an easy route to earn money while also doing something she loves.
"Being in high school and having a job is really important to me. [I'll be in college next year] so money is a factor for sure, but at the same time I've been practicing yoga since I was 12 years old so it's something I really enjoy," Stormoen said.
Working with family
Dylan's mother, Sarah Stormoen-Moslemi, and her husband Dariush own a small chain of yoga studios. A practitioner of yoga for over 10 years, Sarah encouraged Dylan to take the studio's 200 hour long instructor training program. Although she was hesitant at first, Dylan quickly grew to enjoy the practice of teaching yoga.
"My mom was really encouraging me to take this next step. It wasn't necessarily something I wanted to do at first, but once I started getting involved I actually ended up falling in love with it and thought it was a really fun time. It helps me a lot with just finding a bit more confidence in my voice, and that really helped to encourage me to stick with it," Stormoen said.
Sarah and Dylan are both instructors, which Dylan said has "kind of brought [them] together in a lot of different ways, since we can connect through one more thing." While they do not work together in individual class sessions, Sarah will sometimes observe her daughter's performance in order to give constructive criticism.
"She's doing a good job. She is really well received by the yoga community. Very supported. I think she's thriving and I think she's learning a whole lot which is what yoga does you, you continue to be the student as well as the teacher. She's an excellent teacher. She's really relatable to the younger students," Stormoen-Moslemi said.
Dylan has found the overall experience of instructing to be both challenging and fun. Faced with the pressure of instructing an entire class as well as the watchful eye of her mother, she leads classes of varied age, although the average age is well above her own.
"We have a studio here in Stillwater… I would say most of the people that come to my classes are quite a bit older than me. It's not as common to see teenagers practicing yoga, at least not in an actual studio. It's just something they would do at a gym. I think it's really cool to be somebody who's only 17, practicing something like that," Stormoen said.
"
I think she's thriving and I think she's learning a whole lot which is what yoga does you, you continue to be the student as well as the teacher. She's an excellent teacher. She's really relatable to the younger students"
— Sarah Stormoen-Moslemi
The art of instructing
As an instructor, Dylan leads classes of varying skill levels, helping students through the various postures of traditional yoga. With her voice and some ambient music in the background being the only sounds in the studio, Dylan takes a large role in the successful execution of a class.
"One of my favorite parts about it is getting to connect with students and people in the community that I normally never would have gotten a chance to [talk to]. I always find it really cool when I get feedback from students when they say that they had a breakthrough with a posture or that something that I said in class really stood out to them and helped them with something that they are going through. A lot of yoga is like the Dharma talk that you bring into it as well not just the way you're moving. Feedback from students is always stuff that I really enjoy getting," Stormoen said.
As Dylan prepares for college next year, she hopes to continue teaching due to the good pay, flexible work schedule, and love for yoga that she has. The active role instructors take is a challenging one, as instructors need to make sure their class is enjoyable for students, but not so difficult that beginners will struggle.
"Once I get in there, it's kind of just about creating a sequence that's beginner level but is also challenging enough for students to stay engaged…So a lot of it is making sure you're staying on top of it with cues because it's more than just saying, 'Oh, I want you to stay in this one posture', it's about setting it up and giving them all the information they need within a certain amount of time to get them to their peak in each one of the postures we do," Stormoen explained.
Between the challenges of high school or the stress of college, yoga is certainly an excellent activity to 'unwind'. As an instructor, Dylan will get the added bonus of pay, an exceedingly useful benefit for high school or college aged students. Dylan intends to take full advantage of these benefits as she makes the transition into college and away from home.
"It's not exactly an easy job, there's not a lot of hours that go into it and it can be a lot of pressure to do things right," Stormoen added. "I have a lot of people looking to me to handle the situation and like to teach them for a whole hour, which is a lot, but it's really fun."