Last remaining creators of figure skating team say goodbye
In 2014, a group of figure skaters came together to form a team to perform at hockey games. Senior Julia Bennett, Sydney McNurlin and Britta Hornback are the last remaining girls who helped start the team are seniors this year. They will have a difficult time saying goodbye to their Pony creation.
Coach Erica Schletty said, "The seniors play such a huge role on our team. They are the leaders of our team and the team members that others look up to." 
Furthermore McNurlin has been captain for two years, doing her best to be a great role model for the underclassmen by teaching her peer's life lessons. 
"
"This year we made a lot of improvements in how we've been doing things. We lost a few girls last year who were kind of toxic for the team, but we built that up and I think we're just all coming together this year,""
— Sydney McNurlin
Therefore, the team has a lot of seniors this year and need to find more underclassmen to join the team for next year in order to keep the team lasting. 
"Most of our team is created by the seniors; there are 7 seniors on our team and there will be 5 people left after they leave," sophmore Sophia Hedtke said.
After the original coaches stepped down from the creation of the team, Schletty took over to continue the legacy.  
"Kayla and Addy were the original coaches and worked with the team for a number of years. They decided to step down and I, along with Sarah Keil, were asked to take over the team," Schletty said. 
After McNurlin and the other captains leave, there are going to have to be new underclassmen to step up. They are going to need to take the captainship role to lead the team into next season.
"I would say, Kira Privette as a freshman and Sophia Hedtke as sophomore will lead them to take a captainship role next season," McNurlin said. 
Meanwhile these student athletes have to partake in 150 hours to be on the team. Most of them are doing other skating events, so they need to stay organized as student athletes. 
"I would say the captains help me keep the team organized with off ice events," Schletty said.
"Each teammate plays a vital role in our program. I'm excited to see all of my underclassmen take on the leadership and mental role just like the seniors did," said Schletty.
These seniors have helped create the team and hope that they can trust the underclassmen to keep the team moving forward far after they say their goodbyes. 
About the Writer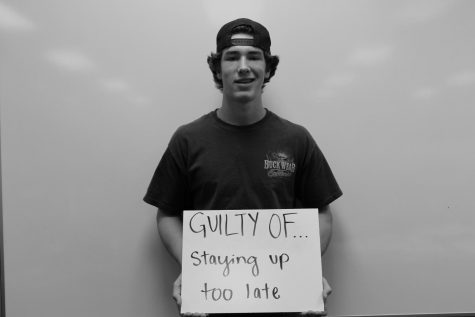 Alex Corbett, Distribution Editor
My name is Alex Corbett and I am the Distribution Editor. I love playing hockey and lacrosse for the high school. I also love building stuff out of wood,...