Karlstad twins share strong passion for the arts
Hang on for a minute...we're trying to find some more stories you might like.
It's a frigid December morning when the 6 a.m. alarm goes off to welcome you to another day of high school. For most teenagers, hitting the snooze button to spend an extra 10 minutes in between warm sheets seem like a necessity. Not for the Karlstad twins. They gladly jump out of bed and get prepared for the day in a hurry. With chamber choir as the first of many "to-do's" on their list for the day, they need to be at the high school no later than 7.
Sophomore twins Ava and Elise Karlstad have been heavily involved in the arts since a young age.  Whether it's choir, dance or theater, the sisters have bonded and found a strong passion for the stage.
"We started danced when we were three," Ava said. "Our parents put us in dance to try it out and we also began gymnastics with that so they kind of complimented each other. We kind of just started from there."
A love for the stage (and the classroom)
The sisters dance through Inspiration Performing Arts Center (IPAC) in Mahtomedi. As well as in the dance studio, Ava and Elise are driven successors the classroom too.  Both are 'A' Honor Roll and Academic Letter achieving students. With three hour dance practices running as late as ten o'clock on school nights, they still get the work done.
"We like to prioritize everything since we are really busy," Elise shared. "We know that we have to do our homework, so there is not really anytime to 'hang around'. We know we have to get everything done before we can do anything else."
The love for dance at an early age grew into an interest in singing. Along with 9th and 10th grade chamber choir, both are members of higher lever choir ensembles at the high school. Ava is apart of the auditioned all girl Belle Chanter ensemble while Elise is a member of the honorary Stillwater Concert Choir. 
"They work so hard in everything that they do and are not afraid to put themselves out there," senior Lauren Johnson, a longtime friend of the Karlstads' said. "They put 100 percent in everything they do and it shows."
A lifelong friend
From the way they dress to both singing soprano II in choir, Ava and Elises' similarities are endless. The differences on the other hand, are hard to come by, even for the siblings. 
"I would have to say that Elise is more creative than I am," Ava said. "I'm less creative and more factual."
Lauren added, "They are so alike and both have such great personalities but Ava is very graceful and smart and strives for perfection. Elise is more on like, I guess the 'fun side' and tries to just make everyone laugh."
While many may think that having a twin sibling would be frustrating and difficult due to the comparisions, the love for the stage and passion for the classroom bring out the tight bond and love for each other the two sisters have.
"I like having a twin sister a lot.  You always have your best friend and you always have a companion," Elise shared. "If you need help with homework there is always someone doing the exact same thing as you."
Ava and Elise help each other get through their busy day and wrap things up at around 11 o'clock at night. Once all settled and ready to relax, they set that alarm for 6 a.m. and get ready to do it all over again.
About the Writer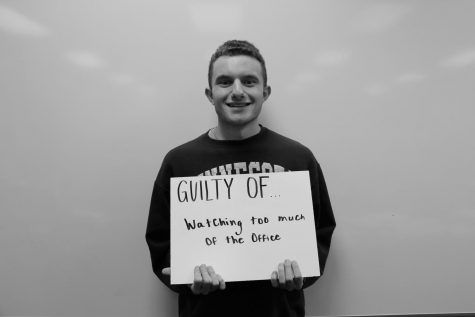 Charlie Valerius, Online Editor
Junior Charlie Valerius chose newspaper because of his passion to write. His hobbies include hanging out with his brothers, hammocking, and working out...