Cote 'scores' with her commitment after high school
Senior Grace Cote continues her basketball career by recently signing to Mayville State University in North Dakota. Cote has played basketball for some time and is thrilled to see what is next for her. She signed to Mayville in mid-October, alongside her parents and older brother. 
Cote explained, "When I went to visit where I am going in Mayville, it was so weird because it is a smaller school, but something clicked and it felt right."
Cote says she is always really surprised when hearing where others have committed to and always feels so happy for them. She will bring many talents to the division two team. Cote is thankful for her outstanding teammates, who are extremely supportive. 
"They were all so supportive, but at the same time surprised. I had not told anyone and had been keeping it a secret until the time I posted it," Cote said.
Sad split              
One of Cote's close friends, senior Mary Fultz, also committed over the summer to Missouri Western State University. The life-long friends will not be attending the same school, but both hope they will have a chance to play together again.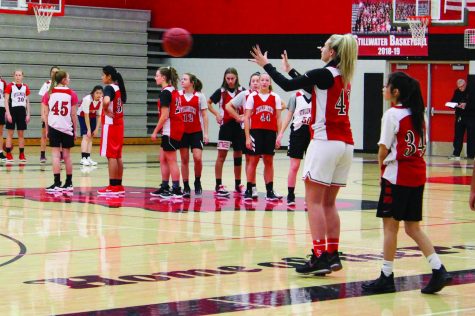 "She is my best friend, so it is very fun playing the sport with her and I think the reason we work so well together on the court is because of how well we know each other," Fultz explained.
A difficult adjustment  
At this point, many seniors are having to make a difficult decision on where they have an interest in going. Cote has many feelings about this journey ahead of her, as many others do. 
"We have such a big high school compared to other schools and going to this much smaller school will be different. This will be a big change, but it is a change that I am excited about," Cote said. 
After asking some of Cote's teammates, she is described as a good team player who is always very encouraging to all. She is passionate and wants everyone to become better. They are very appreciative when Cote continues to tell them "you got this."
"
When I went to visit where I am going in Mayville, it was so weird because it is a smaller school, but something clicked and it felt right."
— Grace Cote
"It is going to be exciting to see how far we both go and it is going to be sad having to be so far apart, but also very fun to watch her journey and how she does," Fultz said.
Another good friend of Cote's on and off the court, sophomore Amber Scalia, has a sibling who committed last year and is currently playing basketball at the University of Minnesota. 
"I have always looked up to her ever since I was on the team in eighth grade. She has been a great role model," Scalia said. 
Hard work pays off
With all of the girls being so supportive of each other, they say how cool it is to see how the team came together from no one having any idea what they were going to do for college, to now having all these commits. Seeing all of their hard work and how much effort they have put in, along with where they are now and all the accomplishments that they have made. 
"Being together outside of practice reflects on the court while we are playing. People can tell because there is just a connection there," Cote explained. 
Scalia has strong feelings about Cote leaving. She explained what she will miss most, "Oh god. Her energy. Her..uhh, I do not know. Literally everything."