LGBT employees wrestle with Supreme Court over discrimination and protection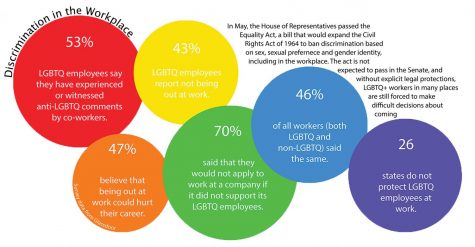 Justices of the Supreme Court clashed over the meaning of "sex" during a blockbuster set of cases concerning the rights of LGBT workers on Oct. 8. Bosses should not fire someone because of their sexual beliefs or orientation, unless it disturbs the work they are responsible for.
The court heard three cases of LGBT employees, two gay men and one transgender woman, who all claim they were fired because of their identities. Title 7 in the Civil Rights Act of 1964 is also at fault, which forbids discrimination because of "sex", but does not clarify the meaning whether gender identity or sexual orientation.
"I do not believe discrimination is ever destroyed. In the workforce, I do not believe there should be any discrimination, whatsoever. However, as in any society there is," junior Evan Ekstrand said. "The problem when it comes to the workforce is that someone should not be fired because they are gay or because they are transgender. It goes to the case of if someone comes into the job and it essentially starts to disturb their work process."
The three defendants who were fired, along with their supporters, say Congress did not have gay, lesbian, bisexual or transgender people in mind half a century ago when creating Title 7 of the Civil Rights Act. Lawmakers have considered and failed to pass updates to Title 7 that would clearly extend employment protections to LGBT people.
"There are protections that were put in place way back when for people who were of different races, of people who were different sexes, and so obviously there's a way that you can implement something to protect everybody," junior Kelsey Shinkle said. "If there is a way to protect people then I feel as the government of our country, they should be obligated to do so."
Issues with expanding Title 7 come to play for religious-based employers that expect workers to live in accordance with their religious beliefs. There's potential that it could massively increase church-state conflict.
"I believe those who are Christian, and those who are hiring should know beforehand," Ekstrand said. "If they are looking for a job position, and they do not want someone who is LGBT, then the hiring process is where to take that out. Then you can hire or not hire someone because they challenge your beliefs and you know there is going to be a conflict in that belief system."
Shinkle added, "We as a society are ignorant about certain topics like what it means to be trans and what it means to be queer. Enforcing it is going to be difficult but I think it is along the lines of just making people more educated."
People of all genders and sexualities are anxiously waiting for the results of the cases which could be released as early as the first quarter of 2020. It should be a major topic for candidates to cover in the upcoming election to establish a more uniform workforce.
About the Contributor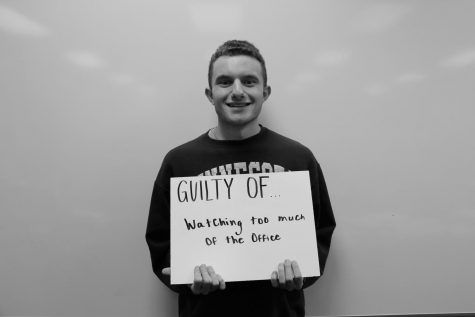 Charlie Valerius, Online Editor
Junior Charlie Valerius chose newspaper because of his passion to write. His hobbies include hanging out with his brothers, hammocking, and working out...