Shane Dawson x Jeffree Star 'Conspiracy' palette hits market
YouTubers Shane Dawson and Jeffree Star released their makeup collection Nov. 1 after almost a year of waiting. Dawson previously made a YouTube series about Star and his life. The series included a look into Star's personal life, as well as his YouTube career and makeup company.
At the end of the series Dawson mentioned doing a collaboration with Star, and another series documenting the process of creating makeup. A few months later the series was announced, the series came out Oct. 1.
"I watched the first series that Shane and Jeffree made and it was really interesting, and you get to see his life in an unforeseen way," senior Elsa Persson said.
Dawson had no exposure to the makeup world before this. Star and Dawson started off the series talking about the basics of makeup and how big the industry is. They later went to Star's office and came up with shade names, colors for lipstick and eye shadow palettes.
"I really liked seeing the process of creating makeup because this is something that has never been done before, and watching the process of nothing to a finished product was really cool," senior Grace Silbernick said.
The collection includes two eye shadow palettes, one with nine shades called 'Mini Controversy' costs $26 and the other with 18 shades called 'Conspiracy' costs $52, 6 of Star´s famous liquid lipsticks costs $18 each. One lip gloss and lip balm costs $18, and various clothing/accessory items.
"I know that the collection is high quality and in high demand right now, so the makeup collaboration with Shane seems natural. I like the 'Conspiracy' theme of the new palette, it´s a clever nod to Shane's content," Perrson said.
"
I watched the first series that Shane and Jeffree made and it was really interesting, and you get to see his life in an unforeseen way"
— Grace Slibernick
Every name in the collection has a special meaning to Dawson. Dawson's career took off when he started making conspiracy theory videos hence the name 'Conspiracy'. Each of the liquid lipstick names are a famous saying of his or someone close to him. Shade 'Ryland' is named after his fiance.
"I like that he [Dawson] was able to tie the makeup in with his own life and that it is not just Jeffree, but the both of them," Silbernick said.
In the sixth episode of the series, Dawson and Star fully revealed the collection and fans went crazy. Star had mentioned they ordered over 1 million units of each item, more than Star has ever ordered for any of his own products. Dawson mentioned multiple times he was worried the collection would be a dud and not sell.
"I thought it was really cool to see how fast the collection sold out, because in the series Shane mentioned how he thought it would not sell," Silbernick said.
On launch day, jeffreestarcosmetics.com had so much traffic it shut down due to the sheer amount of people who wanted to buy the collection. In less than 30 minutes the entire collection was gone, and had sold out worldwide. Dawson and Star were filled with shock and happiness because the collection was such a huge hit.
Fans are now reselling the makeup for ridiculous prices due to how many people want it. According to Insider "Eye shadow palettes were listed on eBay for $130 to $400, while lipsticks were available for $10 to $550.¨
Star and Dawson then announced they would travel to Minnesota to do a massive meet and greet at the Morphe store at Mall of America. Morphe partnered with Jeffree Star Cosmetics for this collection and agreed to sell his makeup in their stores. Only 250 people would be able to meet the duo, but many could line up for a chance to see them. Well over 75,000 people lined the hallways of the mall Nov. 2  for a chance to see their idols.
"I didn't go to the meet and greet but a few of my friends went they said It was absolute mayhem," Perrson said.
About the Contributor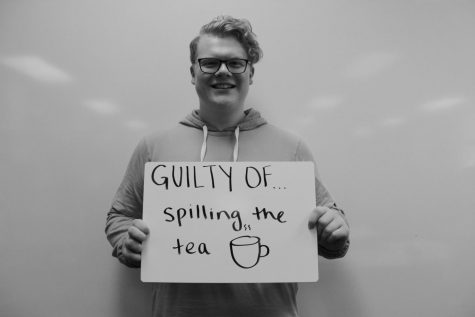 Soren Danelius, Layout Editor-in-Chief
This year Soren is a Senior and a print Editor-In-Cheif, he loves to spill the tea. In his free time he enjoy going to his cabin and hanging out with his...