Top Secret Project returns
The Hazelden Betty Ford Foundation hosted the Top Secret Project on Sept. 30.  The Top Secret Project featured an exhibit and a presentation in the auditorium.  The objective of this event was to inform parents on how to notice abnormal teen behavior, like substance use and mental health issues. 
Julia Geigle, Chemical Health Specialist, said she would attend this event if she were a parent because, "there are no perfect parents. And I think we're all learning to be better parents. And so I think I see this as an opportunity to learn more."
The Top Secret Project focuses on teaching parents more about teen's lives and  how to become more connected with their children. They want to explain to parents, they should not try to look for reasons to punish their kids, but help them.
"The way I see it, this is about identifying the signs that our child or a young person at school might be just suffering, might be in pain. I'm concerned that some people might see this as just a way to get kids in trouble," Geigle said.
From 6:15-7 p.m., an exhibit modeled after a teen's room was displayed. It had a bed, desk, chair and bedside table with many assorted items. Over 200 items from the bedroom had significance. This shows there are signs in teens and something could happen. 
"I saw many things that would of concerned me if I were to see them in my child's room. I never dreamed there were over 200 items in that bedroom that could of potentially have been of concern," parent Annette Koren said
From 7-8:30 p.m., two women presented. In the beginning of the presentation, they showed different ways teens consume alcohol, drugs and other substances. Another goal of the Top Secret Project was to notify parents on the ways students "cope" with their issues.
"
Adults need to be aware that these are health conditions, and we need to come together and say, how can we love and support our young people, and not just punish them?"
— Julia Geigle
"I think it's just beneficial for parents and adults just to get more education around the multiple different struggles that some young people have, whether it's like cutting, like self harming, the presentation talks about the eating disorders," Geigle said.
They also focused on spreading awareness. The presentation did not just talk about teens using drugs and alcohol, but also about mental health issues and why teens might participate in these activities.
"Adults need to be aware that these are health conditions, and we need to come together and say, how can we love and support our young people, and not just punish them?" Geigle said.
This foundation wants to instruct parents on what happens in the lives of teens, so they can then help their kids and maybe other teens as well. Teens have many things going on in their lives, positive and negative.
"I think it's just being aware that those issues are real, they're legitimate health issues, like mental health and addiction. Those are health issues. They're not like choices. Nobody chooses to have depression, nobody chooses to have an addiction, they get the ball rolling, when they start using," Geigle said.
Although parents might think they know about mental health issues already, they can still learn and benefit from attending this event. The Top Secret Project showed parents a lot of new things about teens. 
"I thought I was fairly knowledgeable, but there is so much out there. I did know a lot, but on the flip side there was a lot more to know," Koren said.
"I think at the end of the day, I just want people to recognize that, again, mental health, substance use, addiction issues, or health conditions that we all need to be okay talking about, and that they can affect anybody. These are equal opportunity issues," Geigle said.
About the Writer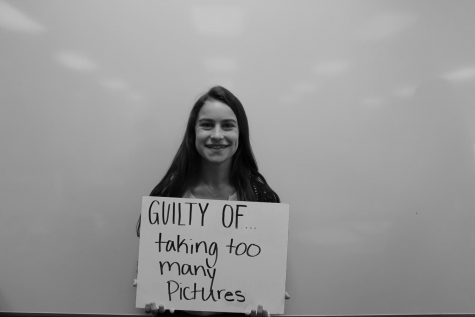 Ava Hoelzel, Photography Editor
Junior Ava Hoelzel is excited to build new relationships and have fun in newspaper. Outside of school she enjoys photography and traveling. She also is...