Student performers look forward to spring coffee house
Coffee House is one of the most popular school events held all year. Students audition for the show put on by National Honors Society (NHS), and share their talents with their peers and the community.
Spring coffee House will take place May third in the auditorium. Opposed to Battle of the Bands, Coffee House is mainly acoustic, and students can perform with a group or solo by singing or playing instruments. There is a tremendous amount of musical talent in the school and performers at Coffee House never fail to impress the audience.
Hannah Dettmann is a sophomore who has been performing for nine years. She hopes to inspire the audience with her voice the same way that she was by her favorite artists.
"Someone who inspires me is Sara Bareilles, I love her and her voice," Dettmann said. "Any woman artist who has made it big, really inspires me to sing."
Coffee House allows first time performers to showcase their talents in a relaxed environment. Artists often view the event as an opportunity to perform in front of a live audience without the pressure of a more formal venue.
Junior Ellie Fisher said Coffee House means "getting together to sing, and exploring the bigger picture of music" with her friends.
The variety of performers is as wide as the type of music performed at coffee house. The audience will enjoy anything from current pop music to ballads or even original compositions.
"I'll be singing Stone Cold by Demi Lovato," Dettmann said. "I'm doing it for a piano recital, and it's just a really pretty song."
Auditions for Coffee House are held by members of NHS. Auditions are open, and all students and teachers are encouraged to try out. Similar to the environment of the event, auditions are laid-back and non-competitive.
Sophomore Noah Goodland said he loves Coffee House because it is another opportunity to get out and sing in-front of a live audience in a casual setting.
Students often perform in groups with their friends. They use the stage to show the audience what they have been working on and what their style of music is about.
"My band and I will be singing songs by local girl groups," Fisher said. "We just have a guitar and two singers which is all we need for what we are doing. Girl power is important for a small girl group like us."
People who have attended Coffee House often leave feeling inspired by all the talent from the performers. The intimate setting of the show is a mutually enriching experience for musicians as well as listeners. It is an event that all students and community members should see.
"I always look forward to Coffee House, it's probably my favorite event of the school year," junior Owen Kiser said. "It's cool to see how much talent everyone has."
Leave a Comment
About the Contributor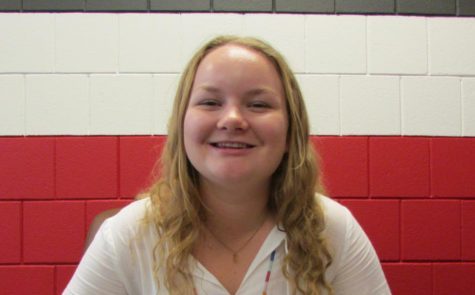 Annika Brown, Business Editor
My name is Annika Brown, and I am a junior. I am a business editor for the Pony Express. I play on the Stillwater girls golf team. I enjoy traveling, and...