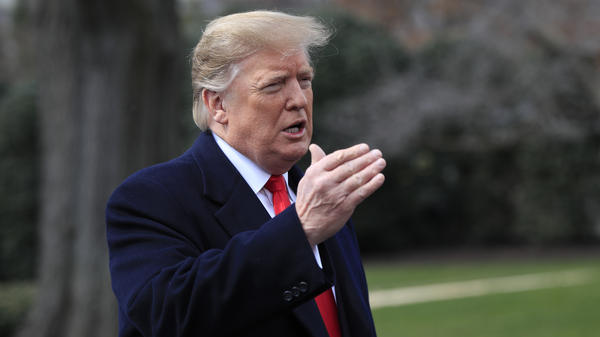 Creative Commons photo through WKU public radio
Recent Trump investigation raises many questions
Ever since the 2016 election, there have been allegations against Trump that he had communications with Russia. There have been several investigations, however, Mueller started up the biggest investigation yet. He had been looking into the efforts of Russia during the campaign.
The investigation is relooking into the false statements about the 2016 election to seek the truth behind the ties between Trump and Russia. As the investigation is wrapping up, some people in office, including Paul Manafort, Trump's campaign chairman, have been charged with other frauds not related to the Russia collusion.
Now that the investigation is coming to an end, the report will be released with all of the information learned. For now, all people know is that there was no Russia collusion. There are still many unanswered questions about the investigation especially because no one in the White House has read the report yet. There are loose ends to tie up in the papers, however, the Congress has set the report's due date for April 2.
The middle ground
The Trump investigation is in-depth and well researched. All information between Trump and Russia will be founded and the dispute can finally be settled. This is why the investigation has taken so long.
History teacher Ryan Miller said, "Investigations take a long time to complete so the way that Mueller is doing it is very systematic. There have also been a lot of indited people tied to Trump so that causes a lot of suspicions and continued investigation."
These allegations have been a setback for Trump and have caused a lot of whiplash on his presidency. He needs to work on recreating his image after the investigations are over if he plans on staying in office for the future.
Miller added, "Based on approval ratings, it has not been great for him. Depending on the poll, he is still in the high 30s, low 40s as far as the percentage for approval so it is something he is going to have to try to work on adjusting by the 2020 election if he wants to get re-elected."
Trump has tweeted many things about the investigations and Mueller, saying the whole thing is a "witch hunt" and other bold comments. However, this could create a worse image for Trump and he should just lay low and let the investigation play out.
Miller believes Trump's best move would be to have no comment on it until the facts are released. The more he tweets and brings attention to it, the more he reinforces people talking about it.
"
Investigations take a long time to complete so the way that Mueller is doing it is very systematic. There have also been a lot of indited people tied to Trump so that causes a lot of suspicions and continued investigation."
— Ryan Miller
Democrat point of view
Many people do not like Trump due to his ignorance and egotistical personality. Many Democrats strongly suggest Trump be impeached, and these investigations are the starting point for his impeachment. No matter who the president is, the investigations should still happen because the claims that are being made are crucial.
"I think that a lot of people want Trump out. People are working extremely hard in order to get this information because they want impeachment and that is the goal. Either way, it would be investigated very thoroughly because these are really serious allegations," senior Maryn Johnson said.
Republican thoughts
Trump has done many good things for our country such as improving the economy. Trump started the historic tax and regulatory reform. Due to this, the United States is in its third consecutive quarter of above three percent growth. NATO is now stronger because of Trump. He was able to get them to contribute $12 billion toward the U.S. collective security, something Obama and Bush failed to do. Accomplishments like these are overseen by the investigations, casting a dark shadow over every bright thing he has done during his presidency.
"It is going through all his personal information. It is decrepitating his reputation. Trump has tweeted about it numerous times, pointing out to media fake news showing that they [Democrats] are just setting up a plot to gain something," junior Dante Moreno said.
The Russia collusion investigation raises many questions about Trump's future in the office. Trump needs to make his next moves carefully if he wants a future in the White House. Citizens may never know what the conclusion is for the investigation if Mueller decides to hold his finding confidential. This worries citizens because many want to know information found out about their president and any relations he has to Russia.