Billie Eilish drops new album after quick rise to fame
Hang on for a minute...we're trying to find some more stories you might like.
Billie Eilish is 17 years old, has over 13.5 million followers and had her United States tour sell out in less than a minute. She is pop music prodigy and is one of the fastest growing singers. Eilish released her sophomore album titled, "WHEN WE ALL FALL ASLEEP,  WHERE DO WE GO?" on March 29 and going on a United States tour in May.
Eilish is coming to the Armory in Minneapolis on June 1. Many people questioned why she is coming to such a small venue when she is such a large artist.
"
"She is making new songs and the word travels quickly. She has a very unique style and I think that is what attracts people to listen to her music.""
— Grace Anderson
Her album was released on March 29. She has released four songs off the album as singles, including "When the Party's Over" and "Bury a Friend." Most of Eilish's songs are dark and deal with topics such as heartbreak and mental illness.
"I feel like her name gets tossed around a lot when she is making new songs and the word travels quickly. She has a very unique style and I think that is what attracts people to listen to her music no matter what genre you're into," junior Grace Anderson said.
Eilish has a very different style of fashion, with clothing that is very baggy and mixes various patterns. She expresses her point of view with her fashion and music.
"I think she is different because of her style and the type of music she sings. She is not afraid to be herself and likes to express that throughout her clothing style. She doesn't wear the typical clothes most girls her age would and I think that sticks out to most people," junior Sophie Watkins said.
Eilish has 32 million monthly listeners on Spotify, as one of the top five most listened to artists on Spotify. This is shocking to many people since she is only 17 years old. She started singing and writing music at the age of 11, while taking after her older brother who now writes music with her.
"I can't imagine living her life and having fans at this age. It's amazing that she has such a large fan base while only being 17 years old; she has accomplished so much in such a small amount of time," junior Sophia Weiss said.
Many people could never imagine being 17 years old and having such an extremely large following. Beyond being homeschooled her whole life, she is constantly traveling around the world doing concerts. She is doing an Europe tour right now and right afterwards she begins her North American tour.
Eilish is a pop singer that is very well-liked. Many people are very excited for her to come to the United States and perform.
About the Contributors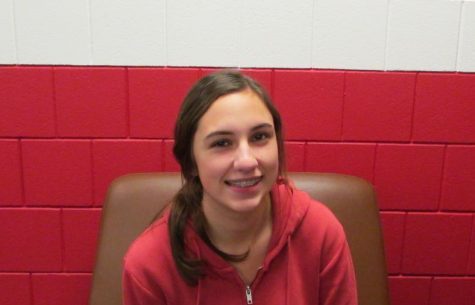 Hannah Genosky, Distribution Reporter
Hi! My name is Hannah Genosky. I am a junior and a distribution reporter. I love hanging out with my friends, traveling, and photography. I am looking...