'Captain Marvel': a safe step forward for heroines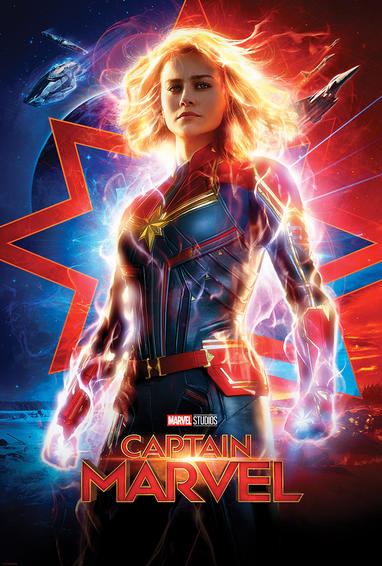 "Captain Marvel" sets new standards for the Marvel Comics Universe. The film, featuring a fighter pilot turned alien soldier turned cosmic superhero, is the first Marvel movie to center around the story of a female superhero.
The heroine Vers (Brie Larson), a warrior with no memory from the planet Kree, crash lands on Plant C53, aka Earth circa the 1990s, alone after she and her team are ambushed during a rescue mission. Here she encounters a young Nick Fury with whom she forms a contentious friendship. The pair work together, against orders in some cases, to keep the shapeshifting aliens known as Skrulls from invading Earth and taking over.
Vers (pronounced "Veers") main struggles through the film are controlling her powers and deciphering the remaining glimpses of memory. However the question remains, how did she lose her memory? And who is her real enemy?
Vers, who's real name is revealed to be Carol Danvers, reunites on earth with a friend from her past Maria Rambeau (Lashana Lynch) and her young daughter Monica (Akira Akhbar). Together they work to piece together her memory as well as figure out their plan for defeating the Skrulls.
It is evident that Captain Marvel will play a prominent role in "Avengers: Endgame." However, Refinery29 reporter Sydney Bucksbaum speculates that "Monica could be the one follow in her footsteps to save the universe from some unknown cosmic threat in the future."
Danvers handles herself extremely well in a franchise dominated by men. She is told repeatedly to control her emotions and smile, comments most women today are familiar with, but she fights all her battles with passion and a sassy smirk on her face. Maria, a no-nonsense Air Force pilot, also holds her own as an engineer and mechanic, nontraditional roles for women, particularly women of color, at the time.
"
This is the first film to be fronted by a woman in the male-infested galaxy of Marvel."
— Anthony Lane
"This is the first film to be fronted by a woman in the male-infested galaxy of Marvel—quite a burden for Larson, who shoulders it with ease, executing her duties, not to mention her opponents, with resourcefulness and wit," New Yorker film critic, Anthony Lane said.
The film takes a conservative approach to introduce Marvel's first female superhero. The feminist ideas are presented in a way that does not stray far from their base. Its patriotic, bombastic view of the Air Force is reminiscent of the 1986 film "Top Gun" and the friendship between the two women also seems to be based mostly in the solidarity of warriors rather than personal connection. While the movie feels very similar to many of the other male Marvel superhero movies, it is a step in the right direction for women as superheros.
Because of this conservative approach, the film is sure to please a wide range of audience members from Marvel comics fiends to a nonchalant wanderer. "Captain Marvel" also has a similar message to DC Comics "Wonder Woman." Be that as it may, Variety film critic Owen Gleiberman said, it's "a savvier and more high-flying fantasy than 'Wonder Woman,' because it's the origin story as head game," so it is sure to please Wonder Woman's fans as well.
Moral of the story: do not expect anything extremely out of the ordinary from the film. As The Atlantic's David Sims said the film "is a perfectly fun time at the movies that deftly lays out the stakes of its new character for many future appearances. But more often than not, it feels a little routine."