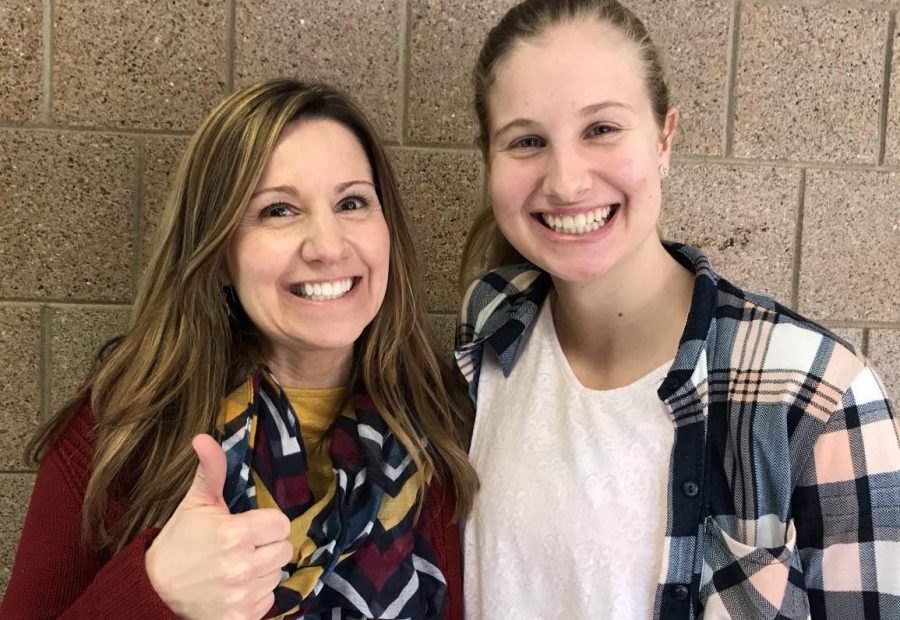 Photo submitted by Kris McCarthy
Every year, eight teachers in the Stillwater district are honored and awarded by the Partnership Plan. This year, social studies teacher Kris McCarthy was one of few people awarded the 2018-2019 Partnership award.
A public banquet is being held in honor of the award winners on April 15, at the Grand Banquet Hall. Tickets are $22 online.
Along with Kris McCarthy, Brandon Auge, Suzee Berner, Pamela Bloom, Mike Kaul, Beth Leavitt, Mary Rudeem and Kim Schneider were also awarded. Each of the winners receive $1,000 for a school of their choice.
McCarthy knows the importance of education because she used to work as a social worker at a shelter for homeless women. Her experience there inspired her to get her teaching license. Having the knowledge that her students hold on to the lessons she has taught them throughout their lives, is a "great accomplishment" for a teacher.
"The award is greatly appreciated and I am honored," McCarthy said, "Knowing that you have made a difference in a student's life is truly inspiring. I think one thing I have learned in my years of teaching is to empathize with my students. Knowing their backgrounds and understanding their perspectives has been instrumental in my teaching."
McCarthy was nominated by a former student of hers, senior Olivia Walsh. McCarthy makes an effort to connect with her students, she wants to learn about them as people. McCarthy pushed Walsh to become a better person and she helped her through the school year.
"She changed my life, and I know she changed other people's lives. She's just one of those people that really deserves an award. She inspires students to go and figure out what they really want to do, what are they going to do in college and what is a job they can have but still really love. She really makes an effort to know each of her students, even though she has a lot of them, on a personal level. She knows athletics, clubs, family situations, she doesn't just know your name. She knows a lot of things about you, she asks you about them," Walsh said.
The Partnership Plan was informed of McCarthy's accomplishments as a teacher, and the connections she makes with her students. Only eight out of over 1,000 people working for Stillwater area public schools get awarded each year, making it quite a big accomplishment for them.
"We're looking for the details and the enthusiasm that the nominators have for these individuals. You can kind of tell how special these people are in the eyes of the nominators because they they are just so passionate and praiseworthy about the people that they're nominating. You just can't help it being sort of swept up in it, because they're so enthusiastic. Olivia Walsh talked about how much McCarthy really cares about students and just really praised her for her teaching style," Executive Director Beverly Petrie from the Partnership Plan said.
McCarthy has worked hard in her years of teaching to build connections with her students, and to better their knowledge not only in social studies, but also in life.
"I recently had a student stop by and visit me who had graduated a few years ago and is currently a Marine serving in Germany," McCarthy said. "She came back and talked with me about that lesson and how her definition of 'great' and 'legacy' had changed, what that lesson had meant to her and how she thinks about that lesson even to this day."