Fredkove gains medical experience traveling in Peru

A New Experience 
Junior Tyson Fredkove held and soothed the crying baby as both of them prepared for the upcoming surgery. This Peruvian child was born with a bilateral cleft lip and had it corrected through surgery. A large, gaping hole and two tiny teeth were in place of what should have been lips and skin at the top of his mouth. After surgery, he and up to 50 other children had the opportunity to have a "normal looking face," Tyson explained.
Through the San Francisco de Assisi mission trip program, Tyson, along with his mother and a large team of doctors traveled to Arequipa, Peru to help fix underprivileged childrens' cleft lips, cleft palates and help heal severe burns to prevent contractures. The mission trip lasted eight days over the 3 day weekend corresponding with Martin Luther King Jr. day. Tyson's role was to help dress and calm over 50 children who were preparing for surgery.
Dr. Lisa Koenig is Tyson's mother and an anesthesiologist by trade. She explained the procedures she and the other doctors performed in Peru and why, "[There is] the cleft lip. We do that at a very young age, we can do those when the baby's only a couple months old."
"A cleft lip occurs when the palate or the upper part of the mouth is formed well, it's just that they unfortunately have a cleft lip or the upper lip isn't formed well," Koenig said. "That's significant for them in being able to eat appropriately, especially in a third world country."
Cleft palates are a more severe type of cleft lip.
"When the kids are a little bit bigger, if they have a cleft palate, we fix those," Koenig added, "[it is necessary when] they get bigger so that they can talk and drink without milk coming out their nose and so they can be more accepted socially, since they don't look so different. [Children with cleft lips], a lot of times, are normal in every other way. These defects might make them, socially, not as acceptable so being able to help with that. Plus, intervening with those surgeries right away helps with their speech, which is important because you want to do that as early as you can so that they can develop proper speech and not be hindered by having abnormal speech for their life."
Another procedure they performed was on burns.
"We also do burns, because a lot of people in very remote rural parts of Peru cook around open fires and the kids might get burned. They'll develop contractures, the plastic surgeons try to help them so they don't develop a big scar and can't use their arm," she continued.
This was Tyson's first time on a medical mission trip like this. Tyson, who enjoys playing baseball and traveling with his family, said he "has a new appreciation for what [his] mom does because she's in medicine."
"[During the trip,] I learned about medicine and all the challenges that medical people face every day, even in a foreign country with limited supplies and how tough that is. [Also,] how life for the rural Peruvian children is very challenging if they have holes in their faces… I have an appreciation for how easy life is in the United States," Tyson explained.
Not only did Tyson have the opportunity to learn about medical practices in Peru, but he also took the opportunity to use his language skills during the trip.
Tyson jokingly explained, "I tried to use my Spanish, but failed a lot."
"
[During the trip,] I learned about medicine and all the challenges that medical people face every day, even in a foreign country with limited supplies and how tough that is. [Also,] how life for the rural Peruvian children is very challenging if they have holes in their faces… I have an appreciation for how easy life is in the United States."
— Tyson Fredkove
Family Ties
Koenig has gone on many medical mission trips like this before, but this is her first time taking one of her three children with her. Like her son, Koenig got to use her Spanish; it was her major in college that she "[doesn't] speak as much as [she would] like to."
"I have gone on mission trips and have been talking about mission trips ever since Tyson has been a baby. It's always been something we've talked about doing together when he was old enough to go and do it. He was excited to go. At first, he was nervous about having to use his Spanish. It ended up being an awesome trip for him. He worked so hard. He used his Spanish, he did the best he can, he was flexible, he helped in any way he could. As someone who is not in medicine, he was very good at helping," Koenig explained.
Koenig was impressed with Tyson's hard work. "As a parent, you don't get to see your 17 year old work and volunteer and do all those things in that environment. Being able to see him there, I was very proud of him," she added.
Freshman CJ Fredkove is Tyson's younger sister. The two, along with their youngest brother, are "getting closer as [they are] getting older," according to CJ. "[Tyson is] a really good brother," she added.
CJ has never gone on a mission trip like this, but she is looking forward to when she gets to go on one most likely next year. Her role would be the same as Tyson's this year, "just help wherever I'm needed. Go along with everything. Help the babies, hold them before they go into surgery and stuff." She explained she is "thinking about [being a doctor]" when she grows up.
Tyson, on the other hand, is thinking of going into engineering. His mother may have other ideas.
"I think, before the trip, Tyson didn't think he wanted to do anything medical. I think, after the trip, he's opened his mind to a definite possibility," Koenig explained.
Koenig encourages Tyson to "leave an open mind" because "you never know when you start college what you might like."
What it is Truly About
Koenig chose to work in medicine to hear her patients' stories.
"I start with 'where did you come from to get here?' Some people would come from a town called San Jose, which is about a 36 hour trip to get to where we are, so that they could have this surgery. The thought of taking a small child from your remote village that doesn't have money, water or that doesn't have electricity. [Yet,] they venture out on a 36 hour trip to come and have surgery and stay somewhere that they've never been. [To have] basically strangers that might or might not speak their language is probably pretty profound. So, when I hear those stories, it's pretty incredible. I can't think of how we would have that repeated in the United States where we live. It's pretty unbelievable if you think about it," Koenig said.
Koenig's decision to work in medicine was an easy one, but quite the journey in and of itself.
"I always thought I wanted to go into medicine. I started at the University of Minnesota and my pre med courses were pretty hard as you can imagine, science and math, all those courses were hard. I really wanted to find out if medicine was really what I wanted to commit myself to because it is a big commitment. So, after my sophomore year I traveled to rural Columbia and worked in a village hospital there. A woman from Columbia helped set it up for me, and it was an awesome experience. When I got back, I knew I wanted to be a doctor. I worked hard and got into medical school," Koenig said.
Koenig enjoyed working in the operating room more than working in the a clinic setting; she chose to be an anesthesiologist.
"I'm really glad I chose anesthesia, it's fun and fast pace," she added.
About the Contributor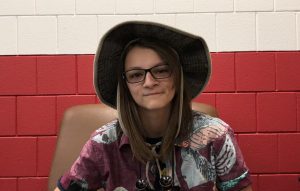 Taylor Lee, Distribution Reporter
Traveling around our community in search of the right lead!

Hello Internet! I'm Taylor Lee, I'm a Distribution Reporter at The Pony Express this...