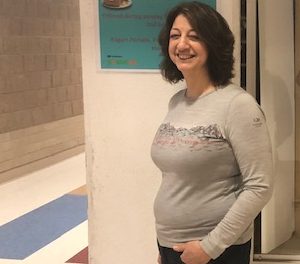 Photo by Nathaniel Willius
A Polar Plunge is an event in which the participants jump into a cold lake. There was one planned for Feb. 9, for when some students were going to participate to help raise money for T.R.U.S.T buddies and the school's Unified P.E program.
Unified P.E teacher Paula Harrison thought of trying doing the plunge. Not only would it be a fun experience for her students, but also a way to raise funds and awareness for T.R.U.S.T buddies and the unified program in general. She had over 40 students to sign up to take the plunge, however due to extreme temperatures, they had to postpone.
It was planned Feb. 9, around 1 p.m., however with temperatures as low as -12 Fahrenheit, Harrison realized the potential risks, and decided to postpone.
Harrison said that because of the high liability with the temperature, she did not want to risk it, since it was her first time doing an event like this.
The plunge is currently scheduled for March 1, since by then the temperature should rise enough that it is no longer a hazard.
Senior Aubrey Kelley explained, "I am grateful for the reschedule due to the extreme winter weather conditions, however I am disappointed to extend the plunge until March due to my excitement to participate."
The Polar Plunge means a lot for the T.R.U.S.T buddies club, and Unified PE in general. While the event was delayed because of low temperatures, participants are still excited to plunge.