'Glass' shatters box office
Glass is a movie written, directed and produced by M. Night Shyamalan. Taking a different view of how superheroes are portrayed on the silver screen. Premiering Jan. 18, Glass took the top box office draw of the weekend. A thriller with a trivial end Glass is an anticipated movie that missed the mark that its predecessors hit.
All of the anticipation going into the movie was the climactic battle between Unbreakable "The Overseer" and Split "The Beast". The Beast is brilliantly played by Charles Mcavoy who can change his personalities within seconds. Mcavoy's character has Dissociative Identity Disorder and has many different personalities known simply as the Horde. Mcavoy changed body language and speech patterns for 24 different characters.
Cutaway teacher Debbie Drew decided to see Glass after seeing the movie Unbreakable "Mcavoy is by far the best part of the movie he's just such a great actor and he can literally change characters at what's going in a second. We see a ton of movies anyway, we don't really have a life," Drew said.
"
Mcavoy is by far the best part of the movie he's just such a great actor and he can literally change characters at what's going in a second. We see a ton of movies anyway, we don't really have a life."
— Debbie Drew
Unbreakable came out in November 2000, and it starred Bruce Willis as David Dunn a man that was a sole survivor of a train derailment. In this movie, Willis befriends a mysterious man played by Samuel L. Jackson who has a disease that causes his bones to be very brittle. Willis soon realized it was no mistake he survived and starts to find he can withstand almost anything, he has never even gotten sick but his one weakness is drowning. The mysterious man turned out to be Mr. Glass and he caused the derailment to find other superhumans like him. At the time there were not many superhero movies and unbreakable set the precedent for future installments in this particular franchise.
Split was Mcavoy's solo film portraying his complex character "I saw the movie split a couple years ago. And that was really interesting to me. So I thought the glass might be a good sequel to it," junior Lily Cosgrove said.
Split came out in September 2016, and it was Mcavoy's take on his superhero movie, expect his personalities are evil. One of Mcavoy's personalities "Dennis" kidnapped and psychologically tortured three girls in hopes to free the beast. Throughout the movie Mcavoy tries to contain his identity to no avail, he can only be stopped by saying his full name. In the climax the Beast kills off three of the victims leaving one left and she said his name. He pleaded for her to kill him but the Beast came back and she ran. She escaped and the movie ended with a shot of Willis's character in a diner.
Glass gave an awful end to a beloved character of David Dunn "In part, this ending is a rebuke of the blockbuster superhero movies that have come to dominate pop culture in the 19 years since M. Night Shyamalan put Unbreakable into the world." said Eliana Dockterman of Time Magazine.
Glass tries to incorporate the ideas from the first two loosely connected films, but fails to show the massive showdown between McAvoy's "The Beast" and Willis's "The Overseer". The Overseer ends up drowning in a puddle and the beast died in the arms of his previous victim. The overseer definitely deserved a better ending especially because it was 18 years in the making. On the other end, McAvoy's sentimental ending have heart to the movie and improve the overall tone of the movie. Glass is a sequel to Unbreakable and Split and provides a dubious ending to an exciting trilogy.
About the Writer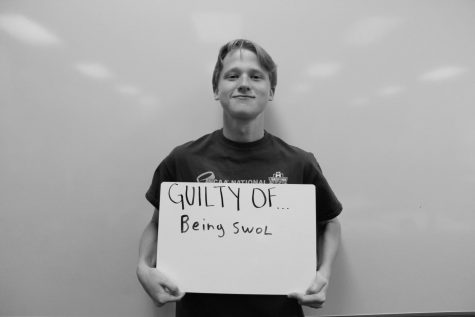 Joseph Devins, Business Editor-In-Chief
My name is Joseph Devins and I am the Business Editor-In-Chief. I work as a host and server assistant at Lake Elmo Inn. In my free time I enjoy working...