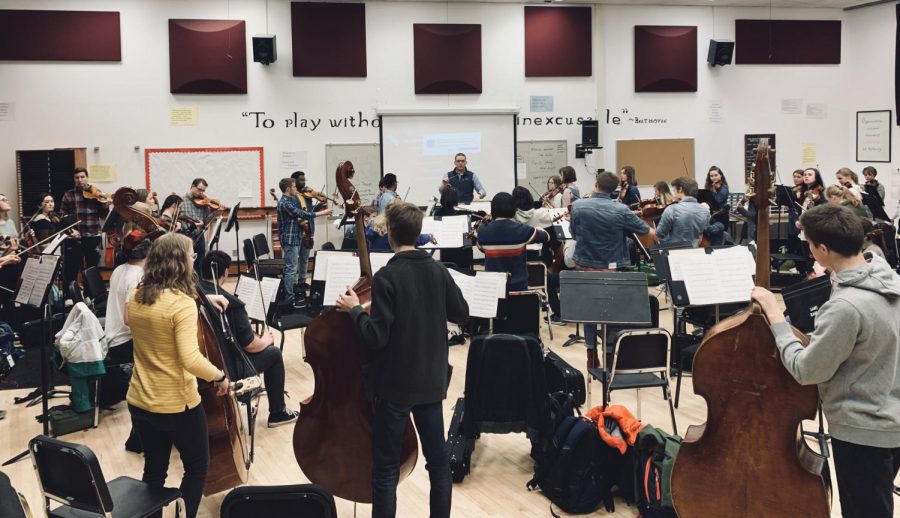 Photo by Chas Morgan
As the orchestra students prepare for their trip to Boston, Mas. their teacher and director, Zach Sawyer is just as excited as they are. Sawyer, who has been Stillwater's director for the past four years, orchestrates a trip every year.
"Concert Orchestra goes on a trip every spring.  We choose a different destination to travel to every year." Sawyer said.
In the past, the trips have been successful, but the group is very excited for the trip this year. Both the students and teachers feel like this trip is a bonding experience and that it makes the group less like a class and more like a family.
"I have made so many friends from orchestra and wanted to get closer with them," junior Anna Lindeberg said.
"My favorite part of the trip is that the orchestra becomes even more of a family than they already were before the trip.  We spend four days with each other performing, learning and exploring a new city," Sawyer added.
The trip is not just a fun getaway for the students to relax, even though there is plenty of time for relaxation. While the students will be sight-seeing, there is also an opportunity for students to better their musical expertise. They will be working on their "opportunities for musical growth," Sawyer said. With an opportunity to meet some exceptional musicians and workshops to improve their talent, the students have quite the itinerary for the trip.
"[This trip includes] a clinic on stage at Symphony Hall in Boston with a member of the Boston Symphony; a workshop with grammy-award winning composer Eugene Friesen, who is a professor at the Berklee College of music in Boston; a performance at the JFK Presidential Library; an and exchange concert with the orchestra program at the Boston Latin School," Sawyer said.
Lindenberg, who went on the Chicago trip with her 9th grade orchestra, has wanted to go on a trip since then and knows "how much fun these trips are and the memories and the new friends you can make."
The group has done fundraising as according to Sawyer, "This is a costly trip, so it has been helpful to have fundraising to help offset the cost for students and their families."
Sawyer is just as excited as the kids are and has very high hopes for the trip. "It is also an opportunity for students to experience the culture of a city many have never visited.  We are going to attend a concert by the Boston Symphony, watch an opera at the New England Conservatory of Music and visit the Museum of Fine Arts in Boston, among other activities," Sawyer said.
The trip will be a great experience for the teachers and kids involved. The group leaves on March 28 and gets back March 31.