Passion and integrity responsible for Falzone's dream job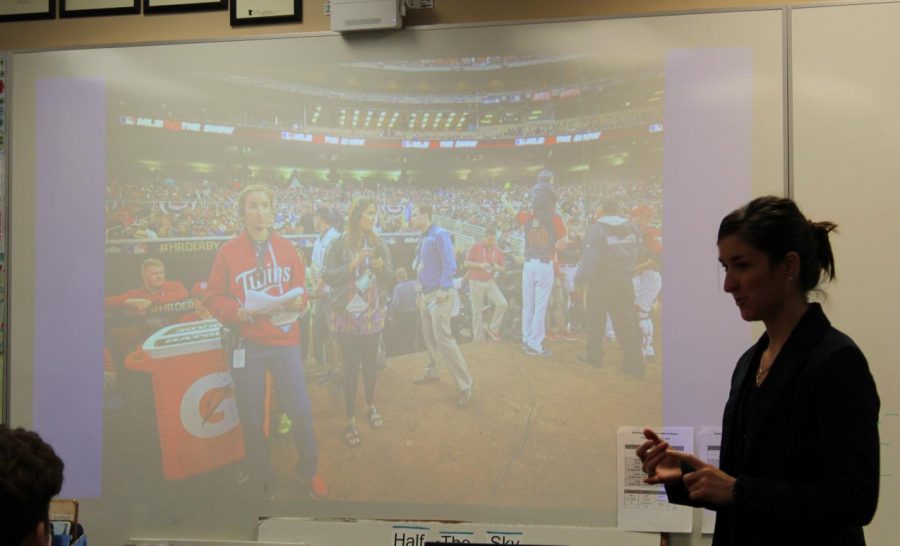 Chelsey Falzone can't remember when she began to love baseball. All she knows is that she was the girl who would go home after school to study stats and watch old baseball documentaries.
"I think baseball has some beautiful parallels to life," Falzone said. "Maybe that's why I liked it."
However, a beat-up Twins mug never left Falzone's hands, belying her love of a very specific baseball team.
Falzone has loved the sport since she was young. She now works at Target Field in what she considers her dream job as Ballpark Operations Coordinator at Target Field, overseeing anything from graphics to giveaways. Falzone was hired in 2014 after an internship, and was recently promoted to her current position in 2018. Every day marks a new challenge and can lead to Chelsey going completely off-book to meet the needs of the day. The variety in her daily work means she needs to be constantly vigilant.
"We treat Target Field like it's our home," Falzone said. "I might go into a day with 20 things on my to-do list, and I might not touch a single one because so many other things came up. I just have to always be prepared and ready to assist in those situations."
The Grind
The 14-degree weather faced by Minnesotans does not scream baseball season. But for Falzone, the months leading up to the spring baseball season means long hours preparing for their new season. All the planning that goes into each game happens according to a carefully scripted plan made by Chelsey and her coworkers during the preceding months.
"It's a grind. If you want to be lazy, don't work in sports," Falzone said. "But don't be lazy either."
During the 2018 season, Apr. 5 marked a proud moment for Falzone. The Twins played a game at Target Field, after the Twin Cities received 18 inches of snow two days earlier.
"We were working 20 hours a day and trying to clear snow, melting snow, lighting it on fire," Falzone joked. "Just moving snow towards the drains. We broke like every snowplow and every snowblower we had, because it was really thick, heavy snow."
The Guidance
"Dead-set" on being a sports journalist during her schooling years, Falzone's background is in News media. After being an editor-in-chief on her high school publication, the Stillwater Area High School Pony Express, she went to Bethel University for her degree in communications studies and journalism.
"It's so fun to find people's stories, take an opportunity to feature somebody who's never been in the spotlight before or uncover problems in society," Falzone explained. "I didn't do that a lot, because I primarily wrote about sports."
However, as she progressed in her studies, Falzone realized that she wanted to work for the Twins and that journalists do not work for the team. Connecting with Brian Raabe, the Bethel University head baseball coach and Erik Lovedahl, the batting practice pitcher for the Twins, she applied for an internship with the team during her junior year.
"I was completely ghosted by the Twins," Falzone recalled. "They had no interest in me, which is okay. I've forgiven them. But my senior year of college I became the Twins' Productions Intern. We did the fun stuff."
The Grit
After 8 months of the 'fun stuff," such as stage managing the 2014 All-Star Game, getting her phone stolen by Derek Jeter and working on the Celebrity Softball game, it was difficult for Falzone to go to her next job, working for an accountant. What got Falzone through that experience was perseverance and the belief that "you can learn something from every experience that you go through. "
Falzone said, "You might think that you're wasting your time because you don't want to be somewhere. That is the wrong attitude. Because you can always learn something."
When she was rehired by the Twins in 2014, Falzone was ecstatic. Integrity and honesty are two qualities which Falzone cites as highly important for her career trajectory. Skills she gained along the way pale in comparison to the value of those intrinsic traits.
"I got hired basically solely on good reputation," she explained. "My boss asked everybody within the organization who had to say what they thought about me and people spoke highly of me. And that's just because I worked with high integrity. I was honest when I made mistakes. I owned up to them. I was compassionate. I was loving. I was just a hard worker."
The hardworking spirit follows her through her career today, with only a few weeks off after the end of baseball season. She will take what she calls "rest days," but it all serves to help her work harder for the season and continue doing what she loves.
"Don't let anybody tell you that it's not important or that it's not cool to rest," Falzone said. "You need it. I promise you that you need it for your mental health and your physical health."
As an important part of the Target Field team, Falzone's passion outweighs exhaustion sometimes. She cannot pinpoint when she first began to love the Twins, but says she has never felt as inspired as she did when she toured Target Field for the first time, a feeling of being "alive" that she carries with her still.
"Being with the Twins, being at Target Field, that lit a fire in my soul that nothing else that nothing else could," Falzone said. "I know that I can't really replicate that elsewhere."
About the Writer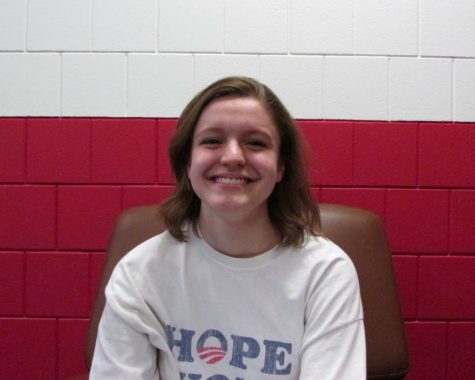 Abby Banks, Editor-in-Chief
Abby Banks is a senior and is a Print Editor-in-Chief on the Pony Express. Her favorite fruits are pineapple and passion fruit. She is junior officer of...