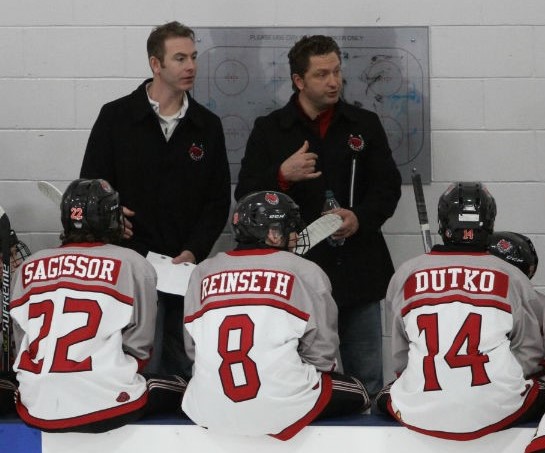 Photo by Kevin Kerber
Teachers Pete Hamilton and Mike Parker, have been friends for a long time and they both love teaching math. They teach math together with each of their classes have about 60 students.
They have to teach in the same classroom because they work so well together and improve the classroom in such ways extravagant ways. So the administration combines classes into one with double the students and two teachers.
Hamilton and Parker have been friends since college and have been working together ever since. Hamilton loves working with his best friend because it creates some fun for the teachers and for the students.
"I love teaching with my best friend because it makes the job more fun and it creates a positive environment in the classroom for the students," Hamilton said.
Hamilton is one of the coaches on the hockey team and he loves doing that. He talks about how much fun the kids are and how well the team forms together.
"I love hockey and I love teaching so I became a teacher and hockey coach at the same time," Hamilton said. Hamilton describes his love for hockey and teaching.
Parker loves to teach as well and he loves to do it with his best friend. Parker says how he loves the combined class because it causes the students to break out of their comfort zone, being that there is twice the amount of people.
"I believe the combined classroom is a very good idea for many reasons. One because it causes the students to come out of their comfort zones, Hamilton and I help them do so by making jokes and having fun," Parker said.
Combined classrooms and working with friends seems like a dream, but it does have some problems. Parker and Hamilton said some problems include getting off track often due to the large class and lack of supervision. Another downside would be that not everyone gets one-on-one time with the teachers.
"Yes the large class and working with my friend is great, but there can be problems. One problem is the class tends to get off track easier than a smaller class because there are not enough teachers to supervise. Also, students don't get as much one-on-one time with teachers," Parker said.
Students absolutely love Hamilton and Parker for many reasons. The students really love when Hamilton and Parker make their jokes and improve the class with their positive attitude and teaching skills. 
"I feel that the large classroom makes the class as a whole more positive and upbeat. Also, the two teachers, especially Hamilton and Parker, make the classroom experience positive and upbeat," Jake Hegner said.
Hamilton and Parker love to teach together with a large class because it is more fun and creates a better environment for the students. They have been friends since college and continue the fun in their professional lives.