Alexis Pratt shoots toward basketball success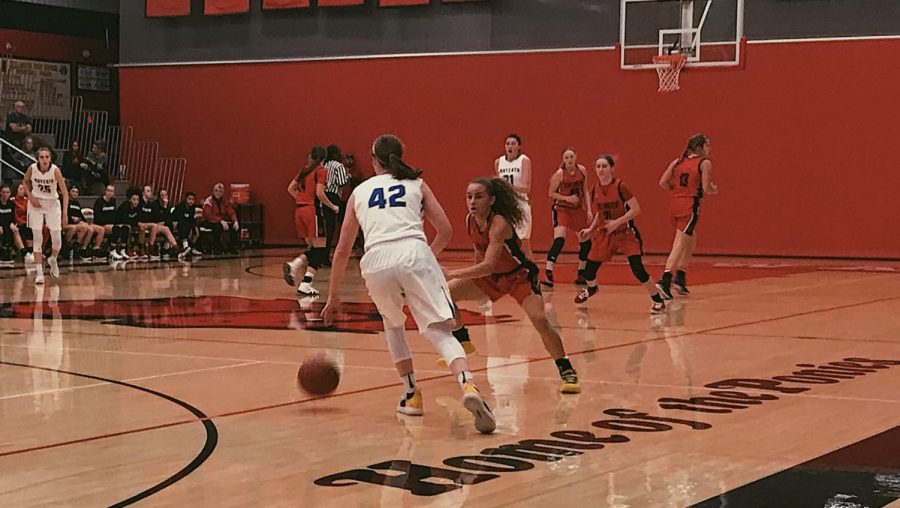 Sophomore Alexis Pratt is one of Stillwater's all star basketball players. At 5'3, standing out on the basketball court may seem like a difficult thing to do, however, Pratt has disproved that standard.  A spectator would not leave a Stillwater girls basketball game without noticing Pratt's outstanding skill. She can be seen dribbling and shooting through out the entire game and is rarely seen on the bench.
Pratt joined the team her freshman year after she had transferred schools from North St. Paul. Since then, she has been a great addition to the team not only on the court, but off the court as well.
"She just has a winner personality. Being 5'3, she has a heart of a lion. She is fighter on the court, a great kid off the court and a great teammate. She's a fantastic kid she likes people and she loves to laugh," girls basketball coach Willie Taylor said.
"She is always hyping me up. Before she joined the team, we only had Sara Scalia as a scorer and our only source of points, but since she joined, we have more people to pass to to score points," teammate Delaney Wagner added.
Pratt scored more than one- third of the teams points on Dec. 17 in the game against the Wayzata Trojans, the number two seed in the state. Stillwater, ranked 17, challenged the Trojans into an overtime game that ended with Wayzata only coming on top by two. Pratt's 27 points helped lead the Ponies to a near victory against an elite team.
Pratt began her basketball career after being introduced to the game by her friend's dad. He asked her if she wanted to give it a try, and obviously something clicked.
"Ever since then it's just been me and my dad playing, practicing and competing," Pratt said.
Pratt and her father have a close relationship and the love for basketball keeps it strong. You can often see her dad in the bleachers of the gym watching and supporting from the sideline. Her dad is a key figure in her continuous improvement and she aspires to make him proud.
"
The sky is the limit for Alex. I think she has the potential also to become one of the best players in the country. There is no one faster than Pratt."
— Willie Taylor
"My dad inspires me to keep improving because he loved the game. He wanted to do something for himself with basketball but he could never do it, so I would love to do it for him," Pratt explained.
Pratt continues to make him proud and takes advantage of her own skill even after the high school season is over. Her off-season is not a typical off-season. After the high school season finishes up in the early spring, her traveling team is just getting started.
"In the off-season I play AU ball. I have tournaments every weekend and have practices at least three times a week. I also shoot almost every day outside in my backyard," Pratt said.
During the high school season she works just as hard. Last year as a freshman, she scored her 1000th point. She is just one of two players on the team to have scored that many points. She shares that accomplishment with senior Sara Scalia, who has just recently scored her 2000th career point.
"At first I didn't even know that I scored it until they announced it. I was very excited and happy for myself," Pratt said.
Taylor said that playing with someone like Scalia, who is committed to play next year at University of Minnesota, is a good experience for Pratt.
"The big thing for Alex right now is playing against one of the top ranked players in the country everyday in practice, so that is making the both of them better players," Taylor added.
This never ending practice and hard work has paid off in many ways. As college approaches, Pratt knows she wants to, and can, continue her basketball beyond high school. She is interested in schools such as Texas, UCLA, and Maryland. Pratt stated that Maryland is also interested in her. When she started to really develop skill around sixth grade, she knew she wanted to play basketball in college.
"I am hoping she goes where she wants to go to college and I am sure she will get a lot of offers, but I also hope the school she likes offers her a scholarship," Taylor said.
The future is bright for Pratt. As she continues to improve, doors will continue to open. No matter what the future holds for her, her supporters will always be there for her. Her coaches, teammates, and dad will always be proud.
"I just have so much fun playing the game. It's just something that I love to do and it keeps me active," said Pratt.
"The sky is the limit for Alex. I think she has the potential also to become one of the best players in the country. There is no one faster than Pratt," Taylor added.
About the Contributor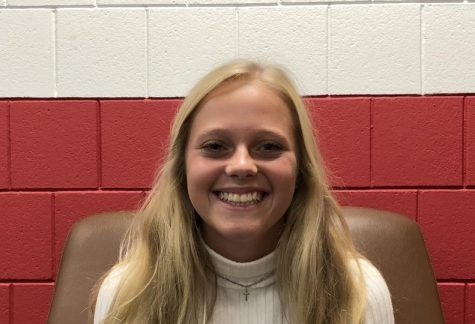 Catherine Monty, Distribution Reporter
Hey! I'm Catherine Monty and I am a Junior. My position for the Pony Express is a distribution reporter. I enjoy playing sports, specifically golf and...