Alumni, new Manger owners bring new flavor to Bayport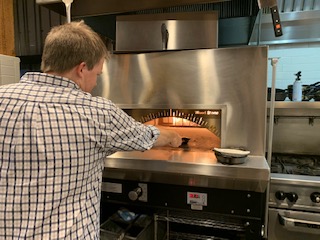 Two Stillwater alumni Mike and Nicole Willenbring have taken on the challenge of opening a restaurant. Manger will take over the space of the previous L'Etoile Du Nord, located in Bayport, mid-January. It will offer a variety of foods from oysters, to pizza cooked in a wood fire oven, along with a wine bar. The Willenbring's hope to have their official opening within the first week of January.
For the last five years, spouses Mike and Nicole Willenbring have been planning to open a restaurant. With Mike's chef background and Nicole's background in business, opening a restaurant sounded like the perfect idea for the two. So they decided to jump on it, bought the space from the previous restaurant, and are now preparing for their grand opening. For the two, Manger will hope to serve almost all ingredients sourced locally and will have a homey feel. They want to make the customers feel relaxed and welcomed, so they are able to enjoy a delicious meal together. Mike and Nicole are excited to serve the local Bayport community.
"It's always the chef's dream to have their own restaurant," Mike said about what motivated him to start a restaurant. With the combined skill set of cooking and business between Mike and Nicole, they are able to put their own touch on their dream of owning their own restaurant.
Upon visiting the un-opened restaurant to talk to Mike, he kindly served a plate of oysters, a beef tenderloin, and a Pepsi with "apple rosemary shrubs," all presented in a very aesthetic manner.
Of the three oysters served, the first was topped with steak tartare with cornichon and red-veined sorrel micro-greens, which brought forth great flavor and texture, a nice amount of meat to go with the oyster, and in my opinion was the best. The second oyster was plain with a house mignonette, very similar to salsa. This one also had great flavor and great texture. The last oyster was topped with pickled beech mushrooms and a few drops of sesame oil and roasted orange sauce. This oyster was the most "oyster" tasting, though the hint of sesame oil and roasted orange did add some good flavor.
Along with the oysters, an entrée was served. The dish was a beef tenderloin cooked on a skillet in a wood-fire oven, sided with amazing caramelized onions, roasted beech mushrooms, and cress micro-greens. The steak was cooked at a perfect medium rare. It was juicy, very flavorful and perfectly portioned. The caramelized onions were most likely my favorite part, incredibly flavorful and a nice treat. For not being the biggest mushroom person, these roasted mushrooms were actually very good. They were very similar to sautéed mushrooms, and the greens were a nice compliment to the meal, not too flavorful.
Before the food was served, Mike made a drink. He poured me a glass of Pepsi, and being under the age of 21, he made it a "mocktail" by mixing it with something called shrubs, a sweetened vinegar-based syrup. It was topped with a torched piece of rosemary to give off a very pleasing scent. The Pepsi "mocktail" was very good to my surprise, a nice combination of two things people would otherwise think to keep separated.
My experience at Manger was exceptional. Delicious food was served, cooked and prepared to perfection.
Manger will bring a flavorful new twist for the people of Bayport, or anyone from out of town who is looking to experiment. For people looking to try new restaurants, I highly suggest Manger. This comfortably welcoming restaurant has high-quality food and is run by high-quality people.